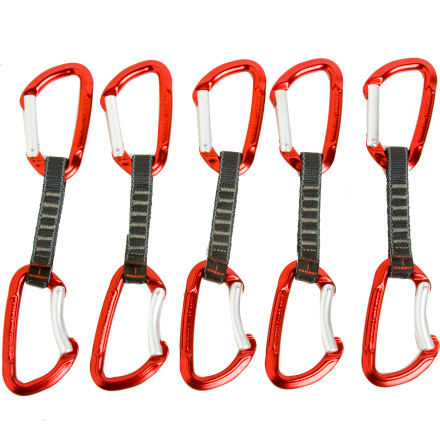 Detail Images
Enjoy a new level of safety and awareness when you clip into any of your shiny new draws from the Mammut Element Key Lock Express Set 5-Pack. Mammut sheathed a uniquely colored core in tough polyamide, and the end result is a durable sling that lets a new color show through when it's time to replace your gear—so you never spend a minute hanging off of questionable draws.
Clip in with confidence
Familiarity:

I've used it several times
These quickdraws are easy to clip, stiff dogbone, and pleasantly light-weight for a non-wiregate. I also appreciate the alternate colored core that lets you know when the dogbone needs to be replaced. But lets be honest, a lot of draws are going to work just as well as another. These just happen to get the edge for me with a wealth of style points.
Great product!
Familiarity:

I've put it through the wringer
As someone who is just getting back into climbing after a multi year break I have fallen in love with these draws. My friend has had the same set for a while now and we've put his through the tests and trials plenty of times. The gates are incredibly smooth and the dogbone is stiff. I absolutly love the bent vs. straight gate.
Great sport draws
Familiarity:

I've used it several times
I often wind up using my partner's alpine draws, as I'm in the process of building a trad rack... but I picked these up and absolutely love them.



They are surprisingly lightweight, and have great action. The gates are smooth and I've yet have one pinch or bind. They have a very nice, assertive action on the gate, and feel great (even with big hands) when clipping. The dogbone is nice and firm, and supremely durable... and helps keep the draw steady while grabbing and clipping.



I picked up two sets of five and absolutely love them. I'd definitely buy them again.
Perfect Sport Draws
Familiarity:

I've put it through the wringer
I've had these draws for nearly five years, and I love them. (In fact, I have 33 today; I had to leave 7 in Rodellar in 2009 due to injury and early rains. Oops!) They're perfect for sport climbing: light enough that you can literally have 15 on your harness and not notice them. Yet they're sturdy enough to grab in a pinch--and they don't spin crazily out of control if you accidentally bump them, unlike lots of ultra-lightweight draws. The gates have extremely smooth action, and never pinch or grab my fingers. Best sport draws ever!
where are these manufactured?
where are these manufactured?
I know that all of their ropes are made in Switzerland. While I can't confirm that their carabiners and draws are also made there... I'm fairly sure that all of their gear is made in Switzerland.
Exactly what you expect when buying mammut gear, good build, sturdy and makes u look good! awesome color and well its a mammut, enough said.