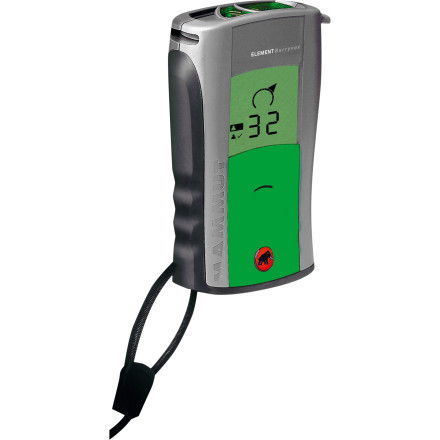 Colors
Description
The next-best thing to beaming up.
Sadly, the technology to simply particle-beam you out of harm's way on the mountain doesn't exist yet, but Mammut offers the next best thing: the Element Barryvox Avalanche Beacon. The Element is the little brother of Mammut's famed Pulse beacon, and while it can't break down your cellular structure and reassemble you in safety, it does have a 50m search range and three digital antennas designed to make locating avalanche victims as easy as possible. It's also super intuitive and easy to use, with a one-button interface that eliminates confusion, audio cues, and a symbolic LCD display that shows and marks multiple burials (Another cool feature: there's an unmistakeable "U-Turn" signal that pops up if you're following a flux line in the wrong direction.)

If a signal hasn't been received for eight minutes, the Element will revert to send, eliminating the chance that you forget to switch your beacon back to the appropriate mode. Every time you switch it on, it performs an automatic self-check, and also gives you option to perform a group check to make sure your companion's beacons are working properly. It's light, too, weighing just over seven ounces with batteries, so you won't feel like you have a computer strapped to your chest, a benefit that everyone from beginners to crusty vets can appreciate.

Three-antenna analog beacon with 50m search strip width
Multiple-burial recognition with flagging function
Simple one-button interface
Reverse direction "U-Turn" function
Automatically switches to send mode after eight minutes with no signal detected
Audio cues
Automatic self check
Group check feature
Keep it simple
Familiarity:

I've used it once or twice and have initial impressions
After getting the backcountry bug a few years ago, I proceeded to create an avalanche safety system (beacon, probe, shovel) for future trips. This system's cornerstone is the Mammut Element.



I didn't want to skimp on my beacon, and did a lot of research and some field testing. I tried an Ortovox, though when I twisted the beacon's switch from "send"to "receive", and the switch popped off and spat the batteries on the grass, I knew that the Mammut was a superior product (To be fair to the BCA Tracker line, I wanted flagging abilities...something that should never be needed, though is nice to have).



With no instruction, I was able to turn on the beacon and switch from "send"to "receive" easily and quickly. The location indicator is easy to read even in bright sunlight, and the beacon emits a clear note as the searcher walks the beacon into the victim's location.



A plus is a small, red LED that blinks occasionally inside the send/receive/off switch, to indicate it is in search mode. This is easily seen from the position of the wearer, while the beacon is holstered. The harness is comfortable and secure. Overall, a great product.
Simplicity
Familiarity:

I've put it through the wringer
Never had to use it in a life or death situation, but its very simple to use, which makes it confidence inspiring. Simplicity is the name of the game for most backcountry enthusiasts.
easy to use
Familiarity:

I've put it through the wringer
easy to use. very intuitive, including the multiple burial options.
Will this work in Europe as well?
Best Answer
Yes, it will work in Europe. All avalanche transceivers send and receive 457 kHz signals to locate each other (this is a standard around the world). The Barryvox beacons from Mammut have an additional channel called "w-link" this allows the beacons to communicate additional info (with the Barryvox Pulse it allows for vital signs to be sent and received). W-link has different frequencies based on geographical areas (North America, Australia and New Zealand have a different w-link frequency than Europe). With the Element the w-link capabilities are limited to updating the firmware of the device, which is done with a wireless transmitter at a few Mammut dealers as well as their service centers. If you want to use the w-link features in Europe you will have to send your beacon to a Mammut Service Center to have them change the w-link frequency, but unless you are using the Pulse there isn't much to gain from it in my opinion. You will still be able to locate and be located in Europe without changing the w-link.
This was my first beacon, and after taking an Avi 1 course with it, and doing all sorts of burial exercises I must say I'm happy with how it works. It's fast to get that first signal and the range is better than most BCAs. I got right on top of the "victim" every time without fuss. The tricky part is multiple burials. This just finds the closest victim . You must get with in say 3 meters to "check" that victim off. Would be nice if you could switch to the next closest burial if say, your other buddies are working on a closer one and you decide to find the next victim. Not huge deal, but something to be aware of if you're ever in that situation.
Favorite beacon I have used
Familiarity:

I've put it through the wringer
I love the Mammut Element. My first beacon was a BCA Tracker and after using a few different models in an avalanche class a couple years ago I loved the Mammut Pulse. When it came time for me to get a new beacon I checked out a few similar options and settled on the Element. The search feature is extremely reliable, easy to use, and I have never had any issues with multiple burial situations. This is my second full season using the Element and I absolutely love it. Hands down, this is my favorite beacon on the market.
Does this come with a chest harness?
Does this come with a chest harness?
seriously superior
Familiarity:

I've used it several times
replaced my old Opto 3000 Barryvox with the Mammut Element. This is the easiest and quickest beacon to use. Great range and the marking feature is great. Very happy with the purchase. Love the harness also.