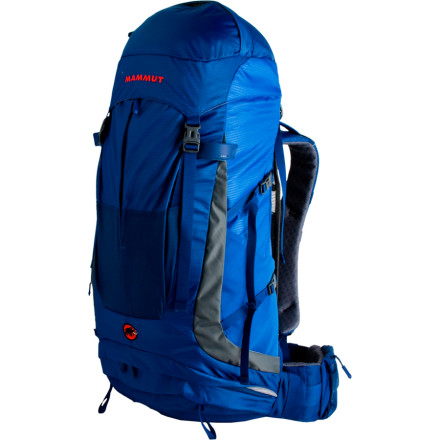 Detail Images
The Mammut Creon Pro 38 Backpack's innovative suspension provides support and ventilation for long hikes and lightweight backpacking trips. Durable fabric protects your stuff from eager tree branches, so no need to bring along the duct tape for hasty patchwork.
4-Stream system lets hot air escape upwards and brings the pack closer to the body for better control and weight balance
EVA back panel and hip and shoulder belts cushion on high-contact points
Integrated, detachable rain cover lets you hike through hard weather without soaking your load
Removable bottom compartment for when you need the pack but not the entire load
Side zip access to main compartment makes it easy to find your extra layers or stove
What do you think about this product?
Have questions about this product?
Freakin' Fantastic Pack!!!!
This is a beautifully-built pack with top-notch materials and workmanship. It has a feature set others would die for in this size and price range, and the ventilated back panel is a complete game-changer. This thing is so incredibly comfortable to wear, and it fits a wide range of body sizes and types. I also beleive it to be conservatively rated in terms of capacity.Tthis puppy holds a ton of gear!

I've had 30 lbs in this baby and it handles it with supreme comfort and stability. The hip belt is sturdy and sticks like glue. And, when I take the pack off after a 7-8 mile jaunt in 90-degree weather, my back is dry!

Mammut packs are clearly in the upper echelon. The materials are the best and durability is outstanding. I've had mine almost two years and have over 300 miles on it, and it looks new.

I love the sleeping bag compartment, as it allows me to stuff an entire tent and fly inside, freeing up space in the pack for the rest of my gear. I've used it on weekenders with great success and it also makes a great winter bag if you pull on the shoulder straps and bring the pack close to your back to keep out blowing snow.

Great carry, supreme comfort, super-durable, great looking and extremely well-ventilated. Truly one of the best packs I've used or owned!
good idea, not so good execution
I wanted a midsized pack that i could do an overnight or maybe a light weekend with. Also needed to have a raincover included. This pack is very well made, and very comfortable. It has a wicked beefy frame (like could carry 60lbs) that does add a little weight but the comfort is worth it. The problem lies in the mesh suspension back panel. it does not keep the pack away from your back adequately. i will be buying a pack from a pack specific company like deuter or osprey. it's a decent pack but for the same price you can get something truly amazing.
Amazing I love this pack.
I don't know where to begin the bag looks great and the workmanship is top notch like all Mammut gear. Everyone of the bags features serve a function and I do not find any of the to be gimmicky at all. I live in Florida so the fact the pack does not rest on my back directly is great. I love the side access zippers they come in very handy. If anyone is thinking about this pack I would highly recommend it. Just another great Mammut product.