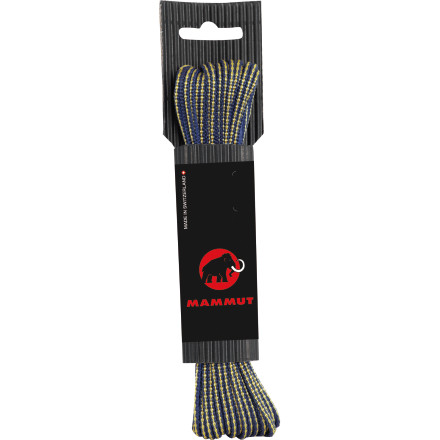 Cord is one currency of your climbing gear setup, and the Mammut Cord POS provides a wide range of protection and utility options for classic alpinism, mixed and ice climbing, and expeditions.
Tie down loose gear in camp with the small-diameter cord
Beef up top-rope anchors with the thicker diameters
This cord is the best i've seen
It's just so supple and usable. Until another company makes something comparable, this is all i'll get.
Is this the same as the MAMMUT PRO cord? Is...
Is this the same as the MAMMUT PRO cord?

Is the core linked to the outer sheath?
Pretty sure they are the same yes - not sure about your second question.
These are very small diameter cords and are quite light. They are probably no lighter or heavier than similar cords in similar sizes.

Visit the spec chart on the left to see how the various offered sizes (diameters) rate on strength and weight.
Thanks for answering. I already ordered this and returned it (forgot to delete my question). It actually was pretty heavy compared to para cord 500.
getoffamycloud, what diameter did you purchase? I am curious because 550 paracord's strength should be roughly equivalent to the 3mm - 4mm cord. But I am not sure about weight. Thanks.