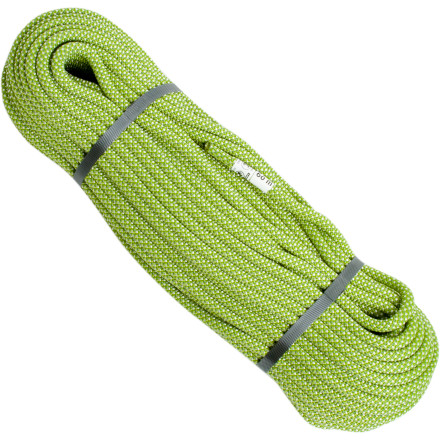 Detail Images

Community Images
Since you aim to climb sunny, dry rock anyway, the lightweight Mammut 9.6mm Climax Classic Climbing Rope makes sense for both your wallet and your summer weekends at the crag. Built as a fair-weather workhorse for sport or gym climbing, this non-treated rope provides smooth handling and minimal weight at 64 grams per meter while still priced for the average underpaid rock addict.
Choose the 60-meter rope for all-around climbing or the 70-meter rope if you need a little extra length for long raps or multi-pitch routes
Visible center mark keeps you aware of the remaining rope when rappelling
Put through the ringer to match UIAA test regulations, including impact force, elongation, and falls
Sick nasty rope
Familiarity:

I've put it through the wringer
This rope is great for sporty routes with long approaches. It is so light and compact, you can shove it in the bottom of your backpack and forget its there. When it comes time to climb on it, it handles great, and it has the perfect diameter. It has a lighter construction, which means it cuts down on weight. But it is still large enough to have the mental security that comes with a beefy rope. The price is awesome too. You can still afford it even if you are a broke dirt-bagger. (Most are!) It is also surprisingly durable despite its very streamlined, elegant look. I have lowered people across a series of jagged edges, (I know, it's stupid) and walked away with very minimal fraying. Me and this rope have had a bromance together for a very long time. I would definitely recommend it.
Would this would be a good rope for sport...
Would this would be a good rope for sport climbing?

Then some trad climbing on the side?

Thanks for any input!
It'd work great for either, but I wouldn't plan on using it for a lot of laps or toproping. It's a little thin for that and it'll stretch out pretty quickly.
WOOHOO
Familiarity:

I've used it once or twice and have initial impressions
Great rope, really easy to handily, great color to.

I recommended to anyone who wants a Single rope, for sports climb, climb gym, and classic climbing.


Climb in the Sun
Gender:

Male

Familiarity:

I've used it several times
I picked this rope up a few week ago to replace a Petzl Nomad 9.8 that I've been running around with for a while and I have to say I am very happy with the change. This rope has a great feel, sliding smoothly through my GriGri2 with a low friction sheath and soft handle. The rope is so soft it packs down into my rope bag much smaller than other ropes I've had. There are also two marks at the middle that are super obvious, so it would be hard to miss them.



If you manage to climb in the sun, or the gym then save yourself some money and get this instead of a treated rope.
Great 70M
Familiarity:

I've used it several times
I purchased this rope in fall '12. 70M. 100% sport climbing. 9.6 mm thickness works well in both GRIGRI and regular ATC. Would definitely recommend.
Corona Arch Swing - Moab, UT 2-24-2012
This is a great rope and it has treated me well for climbing. I have used it for Top Roping, and lead climbing both sport and trad. I've never had any hard falls on it but have had lots of soft falls. All in all I have loved this rope and would buy it again! I recently put it to use in another sport... Swinging!

Here is my disclaimer: I know I'm going to get some guff about this video from other climbers because the just don't understand the precausions and experience that I and the others who helped set it up have and haven't been apart of the setup so they didn't see what went into setting up the swing. I've been climbing for 6+ years and canyoneering for 4+ years and I know my knots. It took us 3 hours to set up and we even did some testing to make sure it was safe. This setup we did for the swing is safe and I'd do it again in a heartbeat! We used multiple anchor points and redundancies and lots of webbing, all screwlock carabiners, clean/pretty knots, 2 dynamic ropes (1 was brand new), and had a 25ft garden hose on both ropes to protect the ropes from rubbing on the rock. They way it is set up there is a nice swing with no hard fall factors so it is easy on the ropes. Nobody got hurt and everyone had a great time, and I'm sure if you were there you would have given the green light too. We had 5 experienced climbers and 3 experienced canyoneers help set it up and I'm sure it was safer than lead sport climbing. Enjoy the video! ;)
Would this rope be good for use as a safety...
Would this rope be good for use as a safety for a highline?
Why wouldnt it be? If you are asking questions about highline rigging on backcountry you probably shouldnt be rigging them...
Pros: This rope stretchy! Good rope for rock climbing. I Ice climb and rock climb and got this to separate the sports. Water is a consideration when rock climbing. As understand it: If the rope gets completely soaked as this is a non-treated rope the chemistry of the core changes to have less strength (to withstand about 30% less force). This I assume to mean that it stretches more but with a lower maximum impact force.

Cons: Since this is non treated it will not be appropriate for lead climbing when wet or over wet rock.

Final thought: Not to be ones only rope if alpine climbing, mountaineering, and most importantly Ice climbing is likely to be a practical hobby or interests.