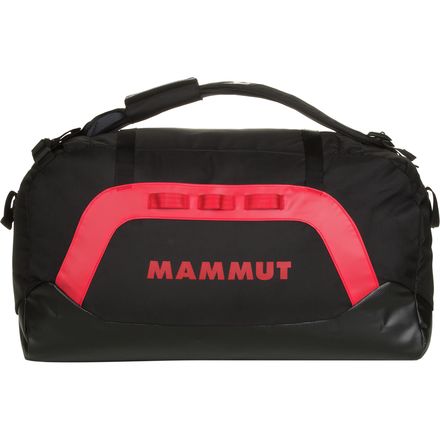 Colors

Videos

Community Images
Description
This dedicated load hauler doesn't know the meaning of the phrase 'not enough room.'
Based on, but not to be confused with, fictional bottomless bags, the Mammut Cargon Duffel makes stowing and organizing large loads a snap. Stash your climbing gear and head to the car for a weekend crag adventure.
Ballistic polyester and burly nylon fabrics resist abrasion and wear while adding longevity
Detachable, anatomically shaped backpack straps distribute pressure over a wide area to maintain comfort
Side and internal pockets organize smaller gear
Daisy chain accommodates last-minute clip-on additions
Eco-friendly EPO nylon comprises floor material
Cargon 40L
Familiarity:

I've put it through the wringer
I only use the bag specifically for gym/bouldering use. I have used it 3-4x a week for a couple of months now.

Pros
- nice style
- water proof base
- can carry like a back pack, fits a good amount of things for a 40L (I usually put 1 pair of climbing shoes, 1 shirt/1shorts, 1 bouldering chalk bag, 1 rider chalk bag, 1 refill chalk bag; can still put more)

Cons
- The 40L has very basic functions, (like any other normal duffel bag) - one big opening, 2 side pockets; the larger duffel bags offers more functions.
The Cargon 60l is perfect for week long travel, perfect size for a carry on fits in the overhead with no problem. Three important travel features:
1. Has a good size end pocket, convenient to store flight stuff, and snacks.
2. The main reason I purchased the Cargon is the back pack straps to free up my hands so I can carry my board bag . These straps are articulated well which makes it easy on, and off as well as comfortable while performing as a back pack. Straps convert into carry handle .
3. large entry, and tabs on the zippers is great for packing, and un packing.
Inside has small pockets for chargers, ear buds and more small stuff that you want to neatly store.
Awesome bag.
Great travel bag
Familiarity:

I've used it several times
I bought the 40L bag to use as a carry on for a trip out to the east coast and It worked perfectly. I've used it for camping, travel, and all sorts of things. It's awesome. Super solid.
Are you guys going to have more of the 90l in the next few days?
As of now we will be receiving any more of the 90l. We may have more in the future but unfortunately it will not be available this season. Alternative options would be the Patagonia Black Hole duffel or The North Face Base Camp Duffel.
Oh alright, do you have the dimensions for the 110 version of this bag? I need the length,width and height in inches, thank you!
Unanswered Question
Do you plan to stock the 60L version anytime soon?
40L
Familiarity:

I've used it once or twice and have initial impressions
Very durable and comfortable to carry. I use it to hold my ski gear in the winter and climbing gear in the summer. Would bring on flights as a carry on. Lots of compartments inside and carabiner attachment loops along both sides on the outside..
At the larger size ranges, Mammut makes 110 and 140-liter models. They are proportioned shorter and stouter than other brands of similar capacity, a feature that surprisingly makes them more comfortable to carry. By the way, they run small for their claimed capacity. I was in the market for a 120L model since that's the ideal size to avoid airline oversize baggage limits (L + W + H < 62 inches). But the 140L Mammut works just fine if it's cinched down a bit with the compression straps. The shoulder straps are well-positioned and padded so, of all the brands I tried fully loaded with 40+ lbs, it was the only one that was comfortable and stable on the back, and it didn't bang into the lower hamstrings while walking. The bag is lined with a light color so you can see your gear, and has super sturdy construction without excessive weight. The 140L model has a zip pouch to stow the shoulder straps, and the buckles at the lower mount are nicely pocketed to keep the grime out. The features and design are well thought out. All the straps are 1.5+ inches wide, not the narrow, twisty straps found on other brands. The zipper is smooth-acting, with lock-loops and is pocketed under a weather flap. I liked this duffel so much that I kept both the 110L or 140L models. Will update this review after 40 days in Asia, lashed on yaks and through airports.
Just Right
Familiarity:

I've put it through the wringer
I love the size, shape and quality of these duffels. Perfect for air travel or road tripping to keep things organized. They're simple and well built. I especially like the side straps, of tubular webbing.
Sorry for the random sizes, but I've managed to get together dimensions for three of these:



60 liters- 22? long 10? deep 15.5? wide

90 liters- 25? long 12? deep 12? wide

140 liters- 28? long 12? deep 18? wide


I know that there are few literally...
I know that there are few literally waterproof duffels and I don't assume this one to be perfectly waterproof, but I was wondering if anybody had made experience with heavy rain, maybe even a quick dunk u/w?! Thanks!!
Best Answer
Water is a tricky thing, it will always find its way in. I'd stick to dry bags, duffels, or if there are just a few items that need to be absolutely dry, I'd put them in a dry sack and then put them in this.
A North Face Basecamp duffel will put up with steady downpours... (but is not submersible...)
Gets compliments at the airport
Familiarity:

I've used it several times
Came to know about the Mammut Cargon Duffel thru a Japanese outdoor gear website. I was drawn it by its stark good looks!. Jet black with ferrari red trim!

The build quality is excellent. From the materials to the thoughtful pockets, the haul straps that double-up as a back-pack straps.



I got the smallest version as i already have a L size Base Camp Duffel from The North Face.



This duffel has received compliments twice! Both times at the airport from the immigration officers :)



Check it out!
Durable duffel
Familiarity:

I've put it through the wringer
Excellent and durable duffel bag. Built for abuse. I use the 90,110 and 140 for organizing and travelling with gear. Large opening, robust locking zippers, multiple pockets. I use the shoulder straps to carry it and stow them away when I check the bag into the airlines. I've been using them for a few years now and have yet to put a hole in one.
Multipurpose do it all bag
Managed to get my hands on this bag (40L) via frequent flyer miles, so couldn't be happier. The bag is built like a tank, the material its made out off is so thick and takes a beating,Been using it for almost everything , from a gym bag to hoarding my climbing gear. The bottom has a very nice almost waterproof layer which makes it convenient to just lay ti down almost anywhere. The straps can turn this from a duffel to a backpack quite easily and there are handles on both ends of the bag which make pulling out of the trunk or dragging it so convenient. Plenty of inside pockets lining on the inside of the bag and 2 zippered compartments on the duffel door and 1 additional outside zippered one. Multipurpose do it all bag.
Surprised there aren't more reviews of these duffels. I've looked at TNF, Patagonia, and Marmot, and several other duffel bags. It really came down to a dead heat between Marmot and Mammut. I ordered the Mammut cargon 60L bag and am highly satisfied. I needed a 60L bag to carry my canyoneering equipment. I did like the Marmot bags as well, but they come in atypical sizes: 50L and 75L. I thought about the 75L bag, but that bag is too long IMO (it is 29.5" long), making it difficult to carry and stow. Both Marmot and Mammut duffels seem to use the same strap configuration, which can be used as backpack straps or can be joined together as a single handle (comment by reviewer below about "tuck away" shoulder straps--at least the 60L does NOT have this, I don't know what he is talking about). Of course, these backpack straps can be removed. None of these duffels are waterproof, but the bottom of the Mammut is a water-resistant vinyl material--good if you are setting your bag down on wet ground or damp grass. In contrast, the vinyl material on the Marmot appear to be on the TOP & SIDES of the bag (judging by picture). The Mammut has one "outside" zipper pocket on one end of the duffel, which is of good size. The main compartment is easily packed and accessed through zippered lid. There are two zipper "mesh" pockets on the underside of the lid (for personal items,e.g. keys, cellphones, etc.). Finally, on the inside front there are three "organizer pockets" for holding items that partially close w/ velcro tabs. On the outside of the bag, there are two sets of three attachment points for clipping items to bag w/ carabiner. Two compression straps and two handles (on the ends) round out the features of this bag. To me, this bag is a keeper.
Love this duffel! Bought the big size 140L and went back for a small one. Such great Mammut quality and design. Have owned several Base Camp Duffels from North Face and they are good but the fabric over time has cracked and the base get worna dn has holes. This Mammut duffel seems more bomber and love the tuck away shoulder straps as opposed to the ones you need to undo to take off. Also the compression straps turn into a carrying handle which is really nice to be able to set it up either way. Strap the small one on the back of my motorcycle and have ridden many miles in the rain and the thing stays dry for hours which is great as its not designed to be waterproof. I think if it sat in water or water sat on it it would leak but on the bike the water rolls off. great little pockets on the inside and outside. Cost a bit more but these should last a long long time. Always happy with Mammut stuff.