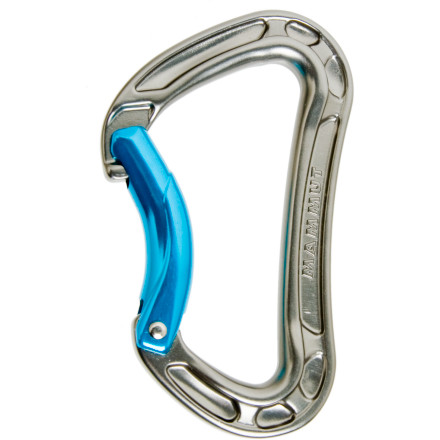 Community Images
Description
Rack 'em up.
Mammut's Bionic Evo Key Lock Carabiner is the updated version of the original Bionic biner. Produced using hot-forged technology, this carabiner has a higher breaking load capacity in a lighter weight package. Without skimping on the details, the Bionic Evo Biner has a straight gate for easy racking, and a keylock nose that won't snag when you're placing pro or building anchors.
Everyone on here got theirs for climbing but mine was simply for me and my keys! Wanted something that looked good and would last. Well it really is cool looking. Sorry guys.
the boss
Familiarity:

I've put it through the wringer
these are nice smallish bent gates made in the DMM factory (So I hear) 100% hot forged and with the impeccable finish of a Mammut product. highly recommended. the wire gates are awesome too.
I just got back from the crag yesterday after using these. My first pair of draws were the posiwire BD's. After much research and play, I found a combination I liked. I use the Evo for my clipping into the bolt. The angle of the biner with the bent gate is unreal smooth. The gate barely opens and its already clipped.... The Evo is also super easy to come off the bolt when cleaning the route. I'm using the WC Helium rope the rope end. Absolutely love this biner.
I bought a good amount of these to use on my main draws and I love them! They are perfect for hooking to bolts on sport climbs as they don't have a hook where the gate closes. They are pretty light and a funky fun color in this neutral colored world of climbing. Giiit 'em!!