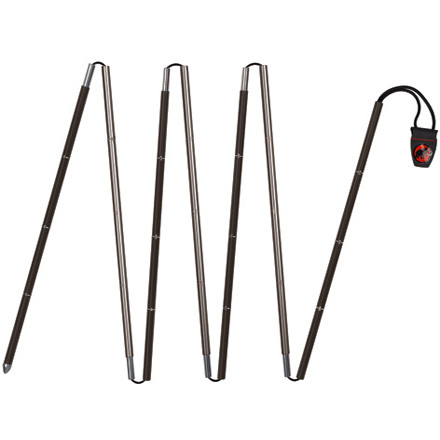 You want your probing to be the far-reaching kind. The Mammut Avalanche Probe Plus puts 280cm of aluminum at your disposal. A Dyneema cord minimizes weight, and the telescopic lock makes for quick, easy interlocking. This aluminum probe collapses down to seven 44cm-long sections and comes with instructions and an emergency plan.
Decent performer when put to the test
Recently I had a chance to try out several probes on a large-scale, multi-day victim search. I learned a lot about what makes a good probe! Pro's for this probe were: Lightweight, easy to slide through dense layers, fairly comfortable top that didn't cut up my hand, and especially the cord, which unlike a wire, did not fly around and threaten to cut up my face. Cons: Should be a full 300 cm, and it did end up with a bend in it after hours and hours of use.
Handy little (that's not little) probe.
A buddy recently got this probe to add to his bc kit. It packs really small and is very very light thanks to the stronger than steel cut proof Dyneema cord! This probe should not have any problems fitting into any winter pack. It locks into place via a pin that pops out from a blank attached to the cord that pulls out the top. Once the blank is pulled out the pin pops out and you let go of the cord and the pin prevents the blank and cord from going back in the probe, locking the probe in place. As mentioned with the review by ale3639619, the small pin is very hard to push back in thus requiring the user to remover their glove and almost loose some skin if not done carefully. That is the only fault I can see in this probe. It is very sturdy when assembled, has a good length to it (280), and has a mushroom tip which aids in the probes movement in and out of the snowpack. A worth probe for sure, but not my choice probe.
After writting the review below i did have a problem with this probe. i went to assemble it when digging a snow pit,when i pulled on the cord,the cord cut through the end of the metal tube about 1 cm and in doing so cut the sheeth of the cord.now if it had done this on a multiday tour or say it cut right through the cord if i needed it for the unthinkable i would of been put up a creek without a paddle. the consequences could of involved alot more digging,luckly it happened at a time when it was more of an inconveience then a problem.-just take it easy whilst assembling i guess.


This probe does everything it says on the tin. it is robust enough to with stand frequent use and on the longer end of the scale to be useful at 280cm.
it is extremely quick to assemble and is everything you need it to be.
i find however when collapsing the probe i often have to take a glove off to push the locking button back in.apart from this i cant fault it for its design.a good standard piece of kit for any backcountry adventurer!