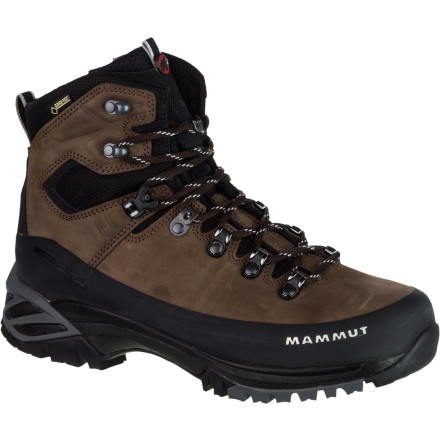 Videos
Mammut's Appalachian GTX Backpacking Boot caters to the all-seasons' hiker who's most at home with a full pack and a clear trail ahead. Lace up this adventure-oriented footwear, and make for the treeline. And don't stash the aptly named Appalachian in your closet after your thru-hike; keep it handy for winter adventures that require crampons and ice gear.
Gore-Tex membrane ensures total waterproof protection while maintaining breathability
Integrated Motion Control technology offers enhanced lateral support without compromising front-to-back flex
Rolling Concept technology encourages a natural and healthy gait with targeted cushioning zones
PD Cage sole optimizes energy transfer through heel and supports your arch
All-around rubber rand resists abrasion and protects from rocks or stumps
Crampon-compatible to accommodate your winter adventures
Do you have these boots in size 12 or...
Do you have these boots in size 12 or 12.5?

Are these boots 2013 model? Other photos I've seen of these boots have some yellow trim! is this the 3S model? What is the difference with the 3S model?



Regards

Rob.
Rob,

I am not sure if you are still in the market, but we currently do have the Mammut Appalachian GTX Backpacking Boot available in a size 12.0.



I have never seen the Appalachian with yellow trim though it is possible you may be thinking of the Mammut Chilkoot GTX Boot which looks very similar to this one.
Mammut Appalachian GTX Backpacking Boot
Outstanding comfort and a quality hiker
This ranks as one of the most comfortable boots I've ever owned. Don't know if I just got a good match for my bony and banged up feet or if it's outstanding design or a combination of both, but these are as close to boot heaven as you can get. Mammut's tend to run a little snug so went up a half-size and got a perfect fit wearing one merino- silk sock. Excellent materials and workmanship. Great traction on a variety of terrain, although (as with any hiker) you still need to exercise a little caution with slippery surfaces. Bought these in black which is being discontinued--a shame as this is one very cool looking hiking boot.
mammut slippery boot dont go outside, n
slipping and a sliding dont go out in the woods today, as when this boot hits a wet patch on hard ground you are gone, The shame of it all is that they are great in every other way,and the company dont give a rats, pissed chris