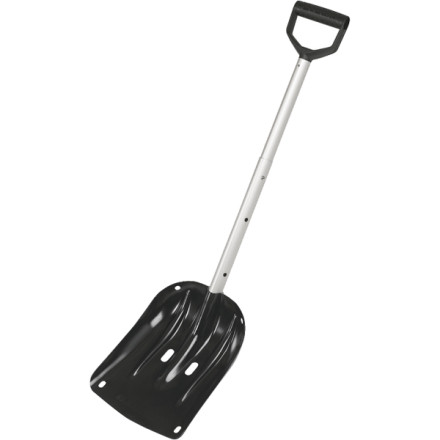 The Mammut Alugator Expert Shovel provides all the size and leverage you need to move some serious snow in a really big hurry. Your ski partner will certainly appreciate it if he happens to get caught in a slide. Mammut added a big D-shaped grip at the end of the extendable handle to allow easy use even with mittens. This large shovel makes a great choice for anything from backcountry tours to base camp chores.
top 3 backcountry shovels
Familiarity:

I've used it once or twice and have initial impressions
thaught design for assembly, usage, and transport. Like its features, ergonomy, amount of snow carried in the blade.
Big Blade Light Build
Familiarity:

I've used it several times
We're still early in the season, but I've used this to dig out a number of beacon bags (often in hard snow) and to dig some substantial snow pits.



Loses one star for a plastic ring that cracked where the blade and handle meet. I've not returned it because the function was unimpaired. I'm pretty sure the piece was cosmetic.



Shovel is very light for the size and I love the extending handle. Your friends will be happy that you aren't digging them out with a spoon-sized blade.
Big snow mover
Gender:

Male

Familiarity:

I've put it through the wringer
Very strong and large shovel. The quality is top notch. Let me just say, this shovel is large! the blade has a hard time fitting into my packs (osprey karve 16, BD Bandit) and the handle is too long to fit into the regular slot in others (BD outlaw, Dakine pro 2, Mammut RAS 30). The shaft can be taken apart into 2 pieces which will fit but that takes up valuable space. If you know you will be digging lots of pits or use a larger pack\sling I do recommend this shovel. Its burly and light. but if your space is limited look into the Alugator Light.
The size of the blade looks large? Will...
The size of the blade looks large? Will this shovel fit in a Snow Pulse Guide 30 pack?
This shovel is massive. Look into the Alugator light. smaller blade and just as strong
I have a DAKINE Heli pro pack and Im looking...
I have a DAKINE Heli pro pack and Im looking for a shovel to fit the front pocket with a handle that breaks down to a max of 13 inches
This will be way too big for your dakine pack. But being able to strap the handle to the outside is handy. Check out the Black diamond transfer or BCA Bomber 2.
So im completely new to backcountry skiing...
So im completely new to backcountry skiing and know absolutly nothing about shovels. Im wondering why it looks like there are hole in the blade and if you could recomend a good shovel that would be awesome!
Thanks!!!!
There are holes in this blade, which is not uncommon, but seems like a bit of a bad spot in my opinion. They are suppose to serve as a dead-man rigging anchor, for rescuing a partner. A really good shovel design in my mind is the Black Diamond shovels, either the Transfer or Deploy series. Depending on how long you want or how much surface area. As you are a beginner, I would recommend the longer, bigger blade of the Transfer 7 shovel.
Its also awesome for making a bombproof emergency evacuation sled.
the Mammut shovels are tough, this one is very large though. long handle shaft and blade is massive. Very solid. I prefer the BCA shovels overall. Tough and light.
this shovel is pretty sweet, and mammut added some really nifty features to make this top notch. it is all aluminum so you know it will be lightweight and durable. it has a d-grip handle for comfort and ease of use. The coolest part is that blade and shaft have special designed button so that there is no need to take off your gloves to depress the button to set it up. it slides right in. great time saving feature, when you need to dig in emergency situations. great shovel overall, and nice size blade too. definitely take a look at this one.