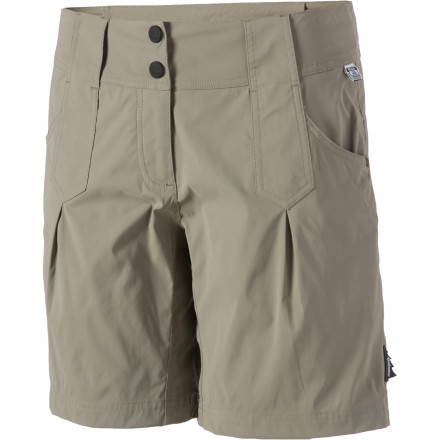 Detail Images
Mountain bike shorts don't have to feel awkward while you ride. Loose shorts tend to snag on your saddle and make you feel like you borrowed them from your boyfriend. On the flip side, slim fitting shorts often restrict your movement, making it hard to get comfortable in the saddle. Majola solves these problems and delivers a great pair of cross-country mountain biking shorts in the Women's ZenziM. Shorts. Made in a slim fit with fabric that stretches, you'll never compromise on comfort or performance.

The ZenziM. Shorts are made of Cordura Stretch. This tough fabric can take spills on the trail and come out looking good. The stretch of the fabric keeps the shorts from getting in the way of pedaling. Stretch inserts have been placed where your saddle and shorts meet to help facilitate better movement. The waistband on the ZenziM comes with an internal waist adjustment system. Use this system to adjust the width of the waist so it sits exactly where you need it. The added bonus of belt loops helps when you want extra security.

The Maloja Women's ZenziM Shorts come with two front pockets and two back pockets to store your keys and ID for post ride drinks. They are available in Pine, Moonless, Hazelnut, and Granite. Sizes run X-Small through X-Large.