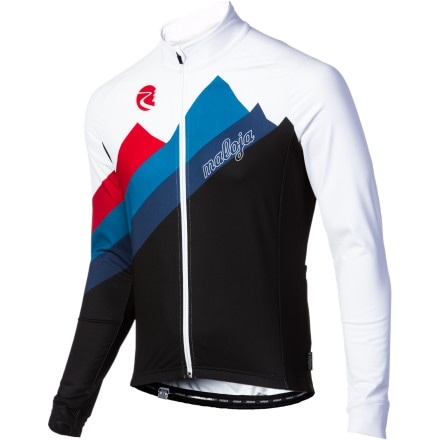 Detail Images
Description
A future for fashion.
There's something to be said about the old idiom 'form follows function.' We have to say that we agree, but being a collection of perfectionists, we're also starting to feel like this is a cop out for non-innovative minds. Seriously, we can't figure out why it took so long for a piece like the Maloja UlrichM. Long Sleeve Jersey to surface, but regardless, we're glad that it did. Finally, one jersey combines top quality functionality with an aesthetic that says 'sophisticated' more than 'I ride a bike.'
Maloja's UlrichM. long sleeve jersey is made from the lightweight, breathable, and warming Lycra Sanded fabric. Renowned for its elasticity and conforming shape, this material provides a supportive layer that minimizes the muscle fatigue caused by under-bike vibration. And while the fabric is supportive, its stretchable characteristics allow a total freedom of movement. Additionally, you'll also find that Lycra Sanded's fleecy interior loft provides a consistent level of thermo-regulation. This is due in part to its breathable layer of insulation, and also because of the fabric's efficient moisture management. Basically, sweat and vapor is rapidly pulled away to the quick-drying surface of the jersey. So, the jersey provides the confidence that you'll remain dry and comfortable after intense efforts in the saddle.
And just to make sure that those intense efforts don't contribute to a funky fabric, Maloja has treated the jersey with Polygiene. This is a technology that uses silver, a highly effective antimicrobial, woven into the fabric to inhibit foul odors. The result is an even cooler, drier, and more comfortable jersey that will withstand hours of riding.
For storage, the UlrichM. includes three ample rear pockets. And for heat dumps in the intensifying sun, you'll find full-length, semi-auto lock zipper.
The Maloja UlrichM. Long Sleeve Jersey is available in four sizes from Medium to XX-Large and in the colors Granat, Moonless, and Pine.