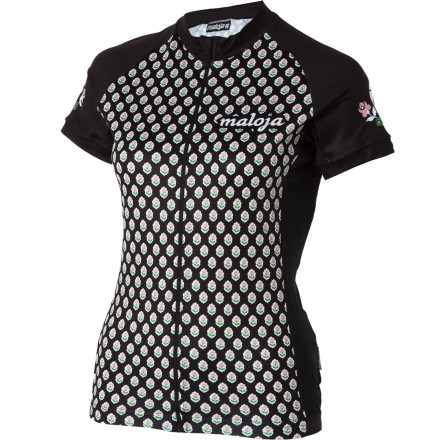 Detail Images
Solid colored jerseys adorn our closets -- combinations of Black and White cut into purpose-driven fits and styles to meet our training and racing needs. And while these Jerseys have the technical features that we require, they tend to lack any sense of style. This absence of fashionable riding wear could be our own fault, but with the newest line of Maloja cycling jerseys, we can ride in style without sacrificing race-day quality. The Maloja RomyM. Short-Sleeve Jersey has all of the technical features that we need with a nod to fashion that isn't over the top.
Maloja's RomyM. Jersey is made from the lightweight, supple, and stretchy Ibisco fabric. This material is used on the front and rear panels to prevent the all-to-common points of abrasion. The side panels feature Interpower-treated, perforated inserts that maximize airflow and moisture-transfer on hot summer days when you need it most. The design utilizes Raglan sleeves to eliminate seams over your shoulders. This prevents the jersey from pulling when you're stretched out or shouldering the bike in a 'cross race.
A full-length, semi-autolock zipper makes dumping heat a breeze, and better yet, you don't have to hear the annoying tick of a hanging zipper tag. The silicone gripper on the waistband keeps the jersey in place to keep you from tugging at the fabric for an entire ride. Maloja also added an antimicrobial Polygiene treatment, comprised of silver and natural silver salt, to control odors and keep you smelling fresh after hours of riding. Three rear pockets have been added to keep your nutrition and spare tube secure, while a single zipper pocket can store your ID and cash for a post ride drink.
The RomyM. Women's Short-Sleeve Jersey is available in the colors Pine, Moonless, Granat, and Denim. It is comes in five sizes from X-Small to X-Large.