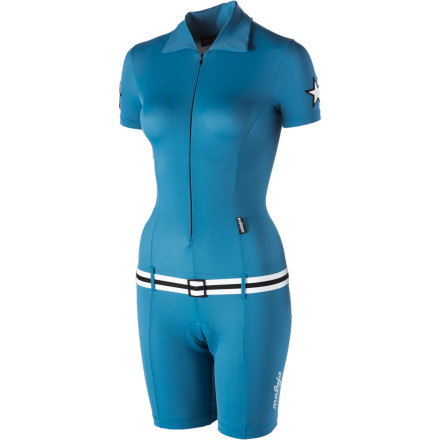 Detail Images
Two is usually better than one, but when a jersey and a cycling short come together, one is suddenly better. Such is the case with the Maloja MatildaM. Skinsuit. It uses a one-piece design that's an amalgamation of comfort, functionality, and aesthetic charm. With the MatildaM., you get the unwavering support and aerodynamics of a skinsuit, spliced with delicate accouterments like a folded collar and integrated hip-belt. The MatildaM. is one part catsuit, two parts mountain, and every part an eye-catcher on the 'cross course or the road.
Maloja's MatildaM. Skinsuit is made from the ever popular Lycra fabric. Choosing this material was the obvious choice due to its light compression, contour following fit, and high wicking abilities. Lycra manages to minimize fabric abrasion, and also supports the muscles to keep you riding longer. Most importantly, the fabric is highly breathable, so you'll experience a consistently dry and cool internal temperature over the miles. The most notable addition to comfort, and our favorite, is Maloja's incorporation of its anatomically engineered HD ERG chamois. This chamois is made with a seamless, bi-stretch construction that minimizes friction and stretches in several directions to follow your body's movements, not stand rigidly against them. The padding uses a variable density design that's thinner or thicker in accordance to typical weight distribution. This creates a layer of comfort without the sweaty bulk of typical padding. To top it off, Maloja gave the chamois an antibacterial treatment that keeps you and the pad clean after long hours in the saddle.
For warm fuzzies, you can sleep well knowing that the MatildaM. Skinsuit is made to the ecologically responsible Bluesign Standard. Bluesign requires that compliant manufacturers follow a restricted chemical and substance list, be conscious of consumer safety, and make steps to lower water and air emissions throughout the manufacturing process. Maloja is, literally, saving the planet, one skinsuit at a time.
The Maloja MatildaM. Skinsuit is available in sizes from X-Small to X-Large, and in the colors Blue Steel, Hazelnut, and Moonless.