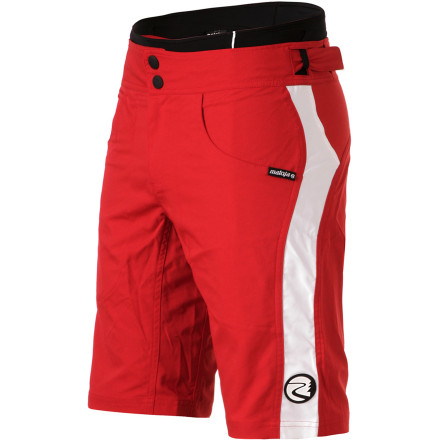 Detail Images
Belt loops can be utilitarian, and decorative as well. How they would be utilitarian on mountain bike shorts escapes us. Not only do belt loops cause pressure and friction hotspots -- i.e. irritation -- no rider in their right mind is going to hang a multitool, tube, and tire pump off a belt like a handyman. What's useful on mountain bike shorts is an adjustable waistband, like the one found on Maloja's LorenzM. Short.
What works best is a wide waistband with adjusters placed where they won't interfere with hydration-pack contact points, won't pinch the stomach when in an aero position or hanging off the saddle, and won't come loose during a big descent. The German designers at Maloja placed the LorenzM. Short's waist adjusters along the sides, where they equally distribute waistband pressure, securely hold them in place, and seamlessly mesh with a pack or jersey. And that's just one aspect to these thoroughly designed mountain biking shorts.
Another is the LorenzM.'s fabrics. The outer shell is constructed from Polystretch, a lightweight, highly breathable, and quick drying fabric that's resistant to grabby trailside vegetation and abrasion from rocks. Polystretch also has natural give -- yet, to provide ultimate maneuverability and unrestrictive pedaling, Maloja adds a rear stretch panel for total freedom of movement.
One of the great features of the LorenzM. is its removable chamois, a Lycra inner that's fast drying and supportive, offering light compression and a seamless integration with the pad. The pad is stretchable along all planes for a countered, consistent fit around the saddle for all-day comfort. Maloja also hits the pad with an antibacterial treatment to keep discomfort at a minimum.
The Maloja LorenzM. Shorts comes in three colors; Moonless, Granat, and Denim. They are available in sizes Small through XX-Large.