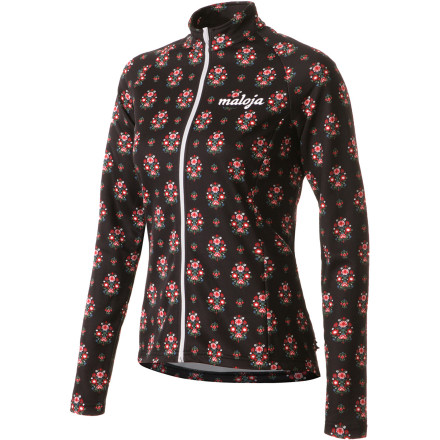 Detail Images
Rural folk art? Traditional Northern European flower prints? Cycling jacket? Sounds like three fantastic things coalesced into something beautiful, and that something is the Maloja GudulaM. Jacket. Made from a breathable, wicking fabric, the GudulaM. combines form and function in a practical way that's more backwoods than Paris runway. Perfect for the shoulder seasons, the GudulaM. is a jacket that's easier to ride in than it is to pronounce.
Maloja's GudulaM. Jacket is made from the patented Thermolite fabric. This material provides substantial weight savings, without sacrificing warmth, by using hollow-core fibers for its construction. These fibers cover more surface area, and are better suited for trapping air between the jacket's surface and the skin to make a well regulated insulation layer. This results in a layer of warmth that's responsive to internal and external heat conditions and makes the jacket feel more like jersey. Pleasant warmth aside, the GudulaM. features a full-length, semi-autolock front zipper for when you're approaching the top of a hard climb and need a little extra ventilation. Thermolite's soft, fluffy fibers not only provide predictable warmth, but they also reduce rough fabric abrasion after long hours in the saddle and provide a conforming fit. The GudulaM. is also equipped with a silicone waistband that prevents the back from rising up during the movements of cycling, so the jacket retains its precise, anatomic fit throughout your ride.
The Maloja GudulaM. Jacket is available in sizes from X-Small to X-Large, and in the colors Blue Steel, Granat, Hazelnut, Moonless, and Pine.