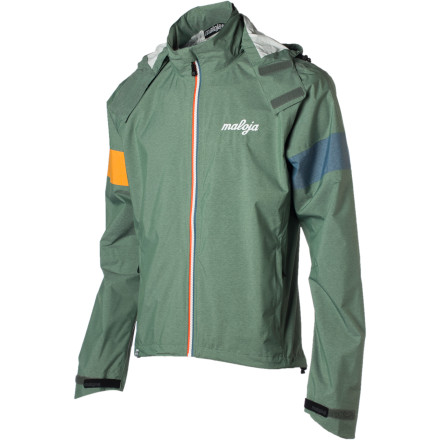 Detail Images
It happens all the time; you check the weather, you expect clear skies, and then the heavens open up 10 miles into your ride at the exact moment that you get a flat tire. As if things aren't bad enough, you didn't bring a rain jacket because you don't own one. Don't caught in the elements; get the Maloja ElmarM. Jacket,toss it in your pack, and go hit the trail.
The ElmarM. isn't your typical cycling jacket. A cross between a hiking jacket and a cycling jacket, it combines wind and waterproofing properties with essential cycling design features. Constructed from Mele Bike Shell, the ElmarM. uses a bonded 2-1/2 layer membrane and fully taped seams that make the fabric impervious to the monsoons that cross your bike's path. And as you heat up under the pounding rain, the fabric moves vapor and moisture away from your skin, because repelling rain is worthless if you're getting soaked from sweat. A laminated, water-resistant PU-layer has also been added to the full-length zipper to keep water from leaking in, while a flap-collar and adjustable wrist cuffs add additional shielding from the rain.
A covered flap has been placed on the back to let heat escape while you are hammering back to the trail head. For convenience, the ElmarM. has a removable hood for protection when you need it. Two zippered front pockets, and a single zippered rear pocket, give you ample storage when you left your backpack and need easy access to your ride essentials. Contrasting stripes have been added to the sleeves to make you feel at your best when wearing it around the city.
A Maloja logo on the left breast gives the jacket brand recognition, and the reflective Maloja tag on the back adds a small measure of visibility during low-light rides.
The Maloja ElmarM Jacket is available in the colors Pine, Granite, and Blue Steel. Sizes run from Medium to XX-Large.