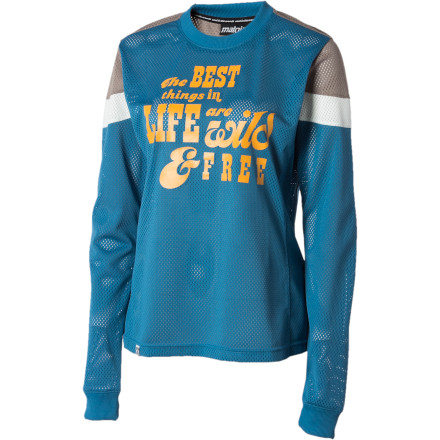 Detail Images
hile it's normal to be hesitant of wearable slogans, they sometimes ring true. Case in point, 'the best things in life are wild and free' is a truth that we can rally behind. And when paired with a jersey design that you won't see anywhere else in the park, the Maloja BiancaM. Long-Sleeve Jersey becomes an obvious staple in our freeride attire. Whether you're bombing singletrack or clearing sets at the park, the BiancaM. jersey is the easy come, easy go accompaniment to a fun day.
Maloja's BiancaM. Long-Sleeve Jersey is made to live and breathe wherever people are catching air on bikes. The jersey is made from Maloja's Freeride Mesh fabric, which uses a perforated construction that's guaranteed to keep you cool as you cut through the air at the bike park. Maloja loaded the BiancaM. with comfortable attributes, from the tee-style collar to the anatomic, multi-panel design. The jersey's cut is made to follow you whether you're taking hits or sprinting out of the saddle. For durability, the mesh surface is resistant to normal abrasion, and the integrated elbow patches will take the brunt of your bails.
The Maloja BiancaM. Long-Sleeve Jersey is available in sizes from X-Small to X-Large, and in the colors Blue Steel, Cream, Curry, Granite, and Pine.