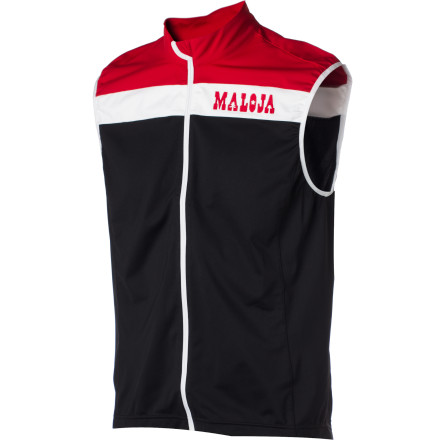 Detail Images
Regardless of season, a good vest is always useful to have, and the Maloja AnderlM. WB Vestis light enough to pack in your jersey pocket before any ride. Offering total protection from the elements wasn't enough for Maloja; the AnderlM. vest had to look great, too. The design says more with less, and features a minimally branded aesthetic that doesn't overwhelm the senses of passersby. Simply put, with looks and functionality like this,the AnderlM. WB Vest removes any excuse for being caught out in bad weather without protection.
Maloja's AnderlM. WB Vest is made from a blended collection of comfortable, weather-fighting fabrics. The front and upper-back have been constructed from the Stormshell material. This fabric has been placed directly into the wind's line of fire because of its windproof, knitted polyester construction. Both lightweight and durable, Stormshell eliminates windy chills on winding descents without drowning you in sweat. For extra protection, the fabric has been given a DWR water-repellent coating for when the wind turns to something worse.
The lower-back is made from the Piquee fabric. Piquee was placed here because this part of the body is a prime exit point for heat and moisture. This material's highly breathable characteristics reduce a buildup of heat, and allow any excess moisture to pass swiftly to the vest's quick-drying surface. For total comfort, the whole vest is crosswise stretchable for an applied fit that allows a total freedom of movement in the saddle. Incredibly, even with a strong weather resistance, the AnerlM. is still light enough to be folded and packed into a jersey pocket for just-in-case protection. The vest also features a full-length, semi-autolock front zipper, and a zippered rear pocket for your ride essentials.
For warm fuzzies, you can sleep well knowing that the AnderlM. WB Vest is made to the ecologically responsible Bluesign Standard. Bluesign requires that compliant manufacturers follow a restricted chemical and substance list, be conscious of consumer safety, and make steps to lower water and air emissions throughout the manufacturing process. Maloja is, literally, saving the planet, one vest at a time.
The Maloja AnderlM. WB Vestis available in sizes from Medium to XX-Large, and in the colors Denim and Moonless.