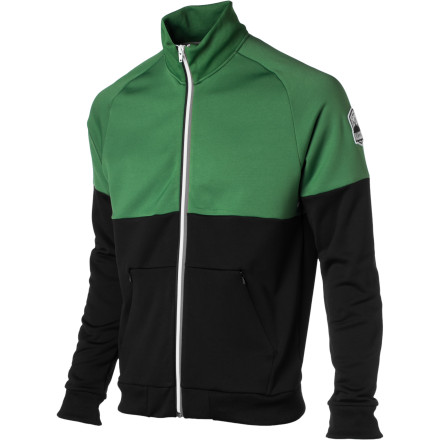 Detail Images
As history dictates, the most memorable style has always been the simplest style. Loud colors, wild prints, and vogue designs never stand the test of time, and unless you're completely obsessed with the zeitgeist, should probably be avoided. When we're looking for a jacket to wear on and off the trail, we prefer the classic layout and modern construction of the Maloja AlfonsM. Jacket. With minimal branding and a comfortable fabric selection, the AlfonsM. will be the perfect companion on the mountain or at the bar.
Maloja's AlfonsM. Jacket is made from a blend of Italian four-way microfleece and technostretch fabrics. Combined, these fibers provide a controlled stretch that resists abrasion and wear. The microfleece has been integrated with bi-elastic on the surface, and has been soft-brushed on the inner-lining. This system allows a malleable fit that's soft on the skin, wicks away moisture, and provides consistent thermal insulation. Compared to standard polyester constructions, this calculated fabric blend is better suited for trapping air between the jacket's surface and the skin to make a well regulated insulation layer. This results in a layer of warmth that's responsive to internal and external heat conditions and makes the jacket feel more like jersey. Pleasant warmth aside, the AlfonsM. features a full-length, semi-autolock front zipper for when you're approaching the top of a hard climb and need a little extra ventilation. The AlfonsM. is equipped with a silicone waistband that prevents the back from rising up, and it also features two rear pockets for quick access to your ride essentials.
For warm fuzzies, you can sleep well knowing that the AlfonsM. jacket is made to the ecologically responsible Bluesign Standard. Bluesign requires that compliant manufacturers follow a restricted chemical and substance list, be conscious of consumer safety, and make steps to lower water and air emissions throughout the manufacturing process. Maloja is, literally, saving the planet, one jersey at a time.
The Maloja AlfonsM. Jacketis available in sizes from Medium to XX-Large, and in the colors Moonless/pine, Moonless/granat, and Moonless/blue steel.