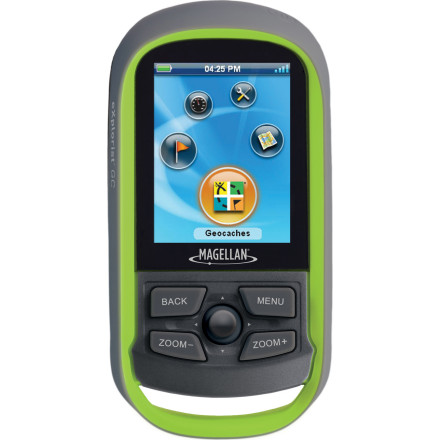 Detail Images
Geocaching has caught on like wildfire in the past few years and now, with the Magellan Explorist GC GPS in hand, even novice geocachers can easily join the fun. Download information about geocaching hot spots or select one of the preloaded locations and this rugged, waterproof and submersible handheld GPS unit. A host of geocaching-specific features, an easy-to-navigate menu structure, and a colorful screen make it easy for both young and mature to try their hands at finding a cache.
Color screen is transflective for easier reading in direct sunlight
SiRFstarIII GPS chipset provides accuracy down to 10 feet (3 meters)
Free 30-day membership (offered through Magellan) and seamless connection to geocaching.com allow you to download geocaching maps to supplement the pre-loaded maps of popular spots
Download more than 20 unique characteristics of each cache, including name, location, description, hider, size, difficulty, terrain, hint, spoilers, attributes, and last 20 user logs among a number of other details
Overlay a variety of compass styles, see latitude, longitude, heading, and bearing distance, and track your progress with a breadcrumb trail
Starting points and waypoints are easily mapped so you can navigate to and from the geocache with ease
See a summary of your distance traveled, complete travel time, moving time, stopped time, average time to find, number of caches found, and more
What do you think about this product?
Have questions about this product?
My son is doing the CDT hike now. I wanted...
My son is doing the CDT hike now. I wanted to send him a GPS will this one help keep him on track ? He's already started so don't want something he has to download a bunch of stuff either. ???
Best Answer
This is probably not a good choice. This appears to be design for Geocaching, which means it has a lot of features that a hiker wouldn't want.



Also, if you are sending him a GPS while he is on the trail, it would require that someone set it up for him. (It won't be good for the CDT right out of the box... and loading a map/route onto this sort of device is not that easy.



Does he need a GPS to find his way? Track his hike? Serve as a back up to a map and compass? Send updates about where he is? Serve as a rescue transponder? Those answers would direct you to some different products... and it sounds like you'll want to talk to a hands on expert in this arena.
Pam,



You're in luck. I just found this site which is built by a guy who specifically addresses using a GPS on the CDT!



https://www.sites.google.com/site/frankgilliland/home



... and the site includes both links to the maps you'd need to install on the device AND a list of recommended GPSs.



He recommends the Garmin eTrex 20.



NOTE: Your son would ALSO need a way to charge this device while he travels, so keep that in mind. And your son also may have considered bringing a GPS/charger and decided against the carrying the weight...



I've only spent a few minutes on this site, so I can't really vouch for it, but it sure seems like this guy knows what it's talking about!



I hope that helps!
Does device send a "ping" to designated...
Does device send a "ping" to designated recipient to provide current location as a safety device?
no, not the same product, this is a map tracker helping you track your outings
My son is doing the CDT hike now I wanted to send him a GPS is this something that will help him keep on track ???