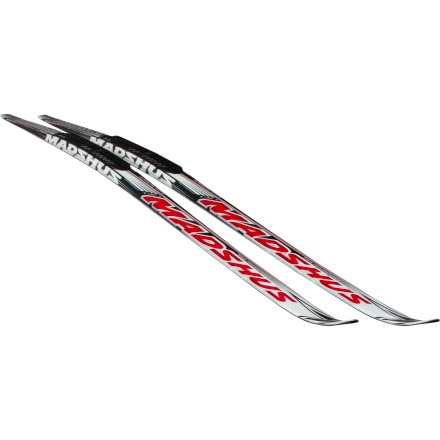 Detail Images

Videos
Description
Lose the weight to accelerate.
Even for the non-racer, speed is still a critical asset. And as Madshus designed its Ultrasonic Skate Ski, basic physics decisively trumped the industry commonality of piling grams in the name of compliance. The equation was elementary, and it served as the building block for the Ultrasonic's innovative engineering. The equation is Newton's Second Law of Motion, force = mass x acceleration.
Basically, when ski mass is reduced, two outcomes arise. 1) Your acceleration will increase with the same applied force, or 2) your acceleration will remain the same with less applied force. Either way, your life on the track gets easier with a lighter ski. Accordingly, Madshus designated the Ultrasonic as its first ski to feature the all-new Paulownia with carbon fiber reinforcement in its core construction. Essentially, the core uses a fiberglass layup with a carbon fiber reinforcement. Not only does this lower the ski weight, but the carbon adds a touch of responsiveness that would otherwise not be there. Additionally, this reactivity is complemented by the Ultrasonic's P-Tex 2000 Electra Sintered Racing Base. And for added stability while you're refining your form, Madshus shortened the already moderate sidecut of the ski. So, the actions of strides and kicks have been completely simplified, and with Madshus' new technology, the days of sacrificing speed for ease of use are behind you.
P-Tex 2000 Electra Sintered Racing Base delivers a touch of extra speed to its smooth glide
Moderate sidecut and a 42mm width increases stability and handling
NIS plate included for easy mounting of NNN bindings or SNS bindings with adaptor plates
NIS 3 plate allows you to mount a NIS-compatible binding quickly without needing to drill into the ski. To ensure a proper boot-to-binding compatibility, make sure that you use a NIS binding and either a NIS or NNN boot like the Madshus Nano Skate Boot
Binding plate allows for multiple mounting positions, so you can match your set-up to accommodate different snow conditions