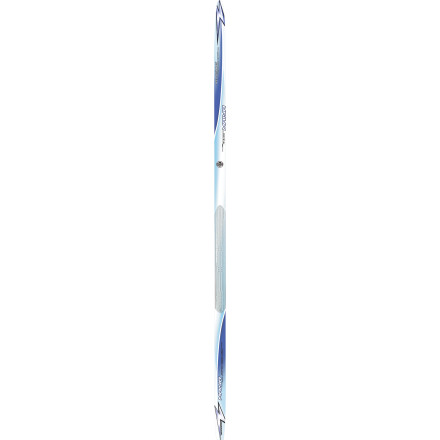 Videos
The Madshus Maiya Skate Ski isn't going to start a revolution or make other skis obsolete, but it doesn't have to. What it does have to do is offer a stable platform, easy kick, and versatility for fitness-oriented skiers or recreational racers, and we're pleased to report that it does exactly those things, and does them well. Built with a paulownia wood core that's reinforced with carbon fiber, the Maiya is lightweight, but sturdy enough to handle aggressive skating and not let the energy you put into it go to waste. The torsion cap construction keeps it from become a twisting noodle underfoot, and moderate sidecut keeps the Maiya running in your direction of momentum, not squirreling out from underneath your feet and leaving you skating side-to-side. A sintered P-Tex 2000 Electra base holds wax to stay fast without requiring obsessive, World-Cup-caliber care. If you're looking for a recreational skate ski that can stand up to the vigors of the occasional race or training ski, the Maiya was built with you in mind.
Paulownia wood core with carbon fiber reinforcement
Torsion Cap construction
Moderate sidecut makes for easy skating
Sintered P-Tex 2000 Electra base is quick and easy to maintain
Comes with an NIS plate that's compatible with NNN bindings
What do you think about this product?
Have questions about this product?