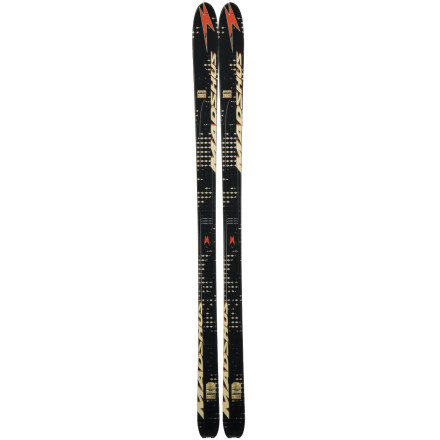 Videos
Making its home on the more downhill-oriented end of Madshus' backcountry line, the Annum Ski blends Nordic heritage with a burly construction to create a ski that's half tourer, half lightweight telemark ski, and fully comfortable in any conditions you'll encounter in the backcountry. Made with a highly-durable Multicore wood core that's light and lively, the Annum has full-length metal edges that will give you plenty of control on the way up as well as the ability to make confident turns on the way down, whether you're full-on knee-dropping or surfing some mild upright turns.
Unlike traditional tele and Nordic skis, you won't have to mess with skins or kick waxes, since the Annum has an Omnitrak waxless base, which features sharp, tightly-set scales under foot for maximum grip and rounder, more well-spaced scales in transition zones to improve uphill and downhill glide. If you plan on trying to go with an extra-light setup, the Annum accepts lightweight NNN BC bindings, or mounts up with traditional telemark, 3-pin, or even tech bindings you're more interested in control and downhill performance.

Durable, lively Multicore wood core
Omnitrak waxless base with transition scales
Full-length metal edges
Accepts a variety of bindings
Four wheel drive XC ski
Familiarity:

I've put it through the wringer
If your skiing involves lots of up and down transitions and breaking trails then this is a good choice. I've used the ski from doing cross country to black diamond downhill runs with tele bindings and plastic boots. Pairing these with the Fischer BC 875 boots works well for moderate cross country on ungroomed trails. These skis are a bit heavy for extended climbing and I have since moved to A"T gear for that and they are slower downhill given the scales but overall if your goal is cross country then this is a good ski.
perfect design: off-trail xcountry
Gender:

Male

Familiarity:

I've put it through the wringer
I have been an avid nordic skier for over 30 years. My everyday skiing has always been off-trail, backcountry, kick and glide xcountry; on rolling terrain with the occasional steep climb and descent. For most of my years I have always assumed that something as fat as the Annum is really a telemark ski; and have reserved them for that use alone (with 75mm telemark bindings). (In recent years I have only needed telemark gear a couple of times a season). For a few years now; my everyday choice has been a Madshus Eon/Karhu XCD GT (83-62-70mm) with NNNBC bindings. I have always been very pleased with this ski; especially when I manage to maintain my own backcountry "track". I have never been thrilled with the Eon when I am breaking trail; especially through deep snow (this happens to be my passion). At the beginning of the season I bought a fresh pair of Annums, and mated a NNNBC binding to them. The result? Pure, thrilling, efficient, stride, kick, glide, and light telemark. I am actually blown away to discover that the Annum is truly a classic off-trail xcountry ski in disguise as tele ski. It has smooth and snappy kick and glide, breaks trail effortlessly, and tracks very well. The design is brilliant. There is just enough progressive sidecut in this ski to be able to turn it when you need to. But, it has quite a straight tail and tracks beautifully. In all honesty I have never been thrilled with this ski as telemark ski. There are many other choices out there, with more of a parabolic shape, that turn more efficiently. Although the Eon has always been marketed as being "more about the tour than the turn"; I would argue that the same goes for the Annum. And that suits me just fine. For the off-trail xcountry skier; this is truly the go anywhere ski!
The dimensions appeared to be posted wrong...
The dimensions appeared to be posted wrong for this ski.
You are correct. I believe the dimensions should actually be 109/78/95mm. I will get that updated.