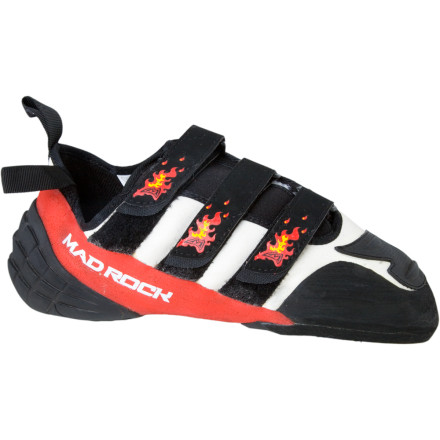 Detail Images
Share your thoughts
What do you think of the
Mad Rock
Super Loco Climbing Shoe - Men's
? Share a...
Best bargain for your first pair!
If you're looking for your first pair and want a performance shoe, then this is for you! It's got you covered right until you take your climbing to the next level... that's of course the if it lasts that long. As for sizing, I think Mad Rock anticipated people would size down so it might feel 0.5 to 1 size smaller even if you buy it in your street shoe size.
I bought this shoe primarily based on the...
I bought this shoe primarily based on the recommendation of BC.com reviewers and went one size down from my street shoes. But the problem is that it is killing my feet!

So should I return them and upsize or will they expand and I just have to suffer for a few days? I do agree with everyone else... the red flame is atrocious !!

Thanks for reading :)
Best Answer
It really varies with who answers the question as to what response you'll get. There are those that argue if it isn't killing your feet, then the shoe is to big. While others will say it should be comfortable and tight, but not painful.
I have a similar model of shoe from madrock and they are extremely painful. However, try wearing them as long as you can stand while on the computer/watching a movie/reading (don't walk around in them, just sit). Over time they will stretch some and your feet will get accustomed to the feeling...
Great shoe bizarre styling
Performance and comfort the super loco rocks. The styling with the excessive flames on both sides is a little ridiculous. But if you can get past the styling flaws then you have an amazing shoe that can heel hook as well toe hook. Break in period was a few climbs, definitely stiff at first. Solid shoe and if you can score one on sale bonus
Unanswered Question
how do these compare in size to the 5.10...
how do these compare in size to the 5.10 coyote lace up?
One of the better shoes I have tried
Great fit (I ordered 0.5 size smaller then my normal size), Took me about a week before I could really wear them without them being kind of uncomfortable. Only request for next time would be to get rid of the lame fire all over the shoe.
So since these are synthetic these wont...
So since these are synthetic these wont stretch out AT ALL? i bought these up a half size bigger even when most recommended to size down and these hurt so bad. For those of you who said they stretch after a while, how long did it take?
Best Answer
all shoes stretch outprobably after a week theyll stretch
the best ... in my opinion
this is really the best shoe that ever fitted my feet...the toe and heel hook are awesome and the rubber allows to step on very small edges or pure friction. i am very satisfied with this shoe which i ordered for the third time by now.
referring to the size of the shoe i got to say that i wear it 1.5 sizes smaller than normal outdoor shoes.
p.s.: the first times you wear them it may hurt a bit but it expands very fast.
Great shoes! Really good toe hoking, very confortable, perfect for boulder and sport climbing...
I love this shoe. Very sticky rubber. Excellent edges. Turned down pointy toe is great at locking on the small stuff. I'm confident when toe and heel hooking alike. Got a tough comp? This is a great shoe!
One of the best.... except for...
This is one of my favorite mad rock shoes, mostly because of the excellant heel and toe hook capability. The rubber is also exceptionally sticky, and the downturned toe has some advantages. The only thing that really bugs me about these shoes (and the Mugens, for that matter) is the idiotic red fire on the sides of the shoes. without it, the shoe would look pretty cool, but to me, the fire makes them look REALLY UGLY. One time I tried to peel the rubber off, but there's red paint underneath!! Anyways, aside from that, its a really great shoe.
love the shoe!! but don't size down that much, like I did after reading those reviews. I did go two sizes down, but with a big regret. It could be because of my a little wide foot I couldn't get my foot in.
So if you will size down, size half or one down only
The shoe is great, it just didn't fit right and they were out of a larger size.
mad rock "super loco" vs. mad rock "loco"
Both shoes are really high end products and perfect for steep walls!!! When you order the "super loco" take it 1.5 size low!!!
Very nice shoe. Good toe, great heel. I would recommend ordering a size or two low... though I treat my shoes very badly, the only thing I don't like is that heel has seemed to miss-shape since I first bought them. Very sticky rubber.