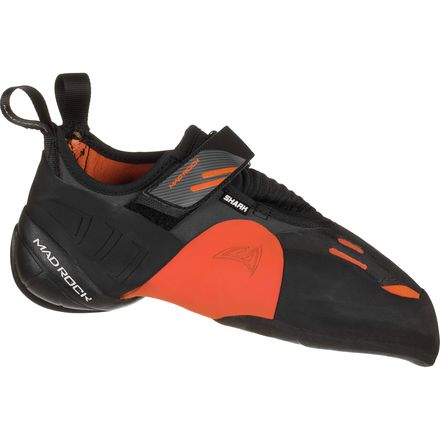 Detail Images

Videos

Community Images
Description
Eats double-digit boulder problems for breakfast.
The Mad Rock Shark Climbing Shoe is back, and this reincarnation is a more effective killing machine than ever before. The concave shape of the AES midsole provides a high level of sensitivity without compromising edging performance, making the Shark an ideal choice for competition climbers, hard sport routes, and elite-level bouldering. Plus, the Arch Flex system gives you a powerful glove-like fit without the pain typically experienced in a high-performance shoe.

Syn Flex uppers provide a snug fit and next-to-skin comfort
Slip-on design with a single power strap makes for easy on and off
AES midsole is exceptionally soft in the center and stiffer on the edges to provide increased sensitivity without compromising edging performance
Concave sole shape enhances your ability to use your feet like a second set of hands
Science Friction 3.0 rubber is specially formulated to be sticky and durable
Asymmetric last shape and an aggressive downturn make the Shark ideal for the steepest terrain and competition climbing
Arch Flex system utilizes elastic R2 rand rubber to lock your foot into place without the pain typically experienced in a high performance shoe
Molded Edge Heel provides an improved fit and heel-hooking performance
Sticky rubber toe piece allows you to toe hook and bicycle with ease
I wear a 38.5 in La Sportiva Solutions, what size do you think I should get?
I wear a 38 in la sportiva (the mythos in 38 stretched almost too much but still solid for non technical stuff, and so far my Tc pros are great too in 38) and I got 39 in these. The first 3 or 4 times I wore them I could have cried they hurt my feet so much. I've had then since July and they've broken in now and I LOVE them. I wear them for boulders and techy sport climbs. Hope that's helpful.
Brother's Favorite Bouldering shoe
Familiarity:

I gave it as a gift but have feedback to share

Fit:

True to size
My brother's toe was sticking out of his five ten shoes after climbing this season so as a graduation present I decided to get him these as he has been doing a lot of bouldering indoors and out. He wanted to go for a more moderately aggressive shoe as he was progressing so I went with this, sizing down a half size. So far so good, they did seem very small at first and hard to get into, but after a week or so at the indoor gym he says they are now much better and only moderate toe pain after climbing for several hours. He likes the aggressive curvature and says they are more comfortable than he thought they would be. He would recommend it for any one that wants a dedicated boudering shoe.
The Go To Boulder Shoe
Familiarity:

I've put it through the wringer

Fit:

True to size
The shoe fits perfect. i wear a size 8 in Vans so i got a 40 in the Sharks and they fit perfectly. For being a down turned, slightly aggressive shoe they are some of the most comfortable i have ever put on my feet. Very little break in will occur as they are mostly rubber and you will get some stink. (nothing the washer can't cure) The toe box allows for precision toe placement and the stickiest toe hooks in the game. The "mohawk" design in the heel will lock on top anything when heel hooking. The soft inner and hard outer rubber on the forefoot is great for schmearing and also maximum toe pressure. The colors also are great for me, being i am a fan of the SF Giants. [Mad Rock clearly knows black and orange is the color of Champions!]
Nice Sport Shoe
Familiarity:

I've put it through the wringer

Fit:

True to size
I demo'd a pair of 10.5's climbing on Quartzite, Granite and then on a trip through out Colorado in early June. I really enjoyed them but they began to stretch and became a tad big on me.

Size:
My normal shoe size is a 10 but we only had 10.5's of this in the office to test out. I really enjoyed these shoes especially for their price-point. I ended up buying a pair of 10's knowing they'd stretch out but I returned them because of the pain just sitting in them.

Curvature:
These are not as aggressive as some other shoes out there like the Evolv Nexxo but for someone that routinely climbs trad and doesn't really own an aggressive shoe, these are a great intro to aggressive shoes.

Heel Cup:
I find that La Sportiva shoes and some other brands don't hold my heel in place as much as I'd like (my heels might be slightly smaller proportionally to the rest of my feet). But the Shark's do a nice job of keeping my heels snug.

Velcro Closure:
Easy on, easy off for bouldering or gym sessions.

Middle Section (Arch Flex):
This makes the shoe far more comfortable. Normally I get pain in this section of my foot from the pressure but the flexibility here is great


Shark Fin:
It looks pretty funny but for heel hooking it can make a slight difference. Not a game changer but has some slight benefits.

Shoot me an email anytime you have questions!

Jared D.
Expert Gearhead
801.736.4336
jdowns@backcountry.com
Great sport shoe for the money.
Familiarity:

I've put it through the wringer

Fit:

True to size
These shoes are excellent on sport and boulder routes. I wear 8 in street and in these. Size up if you can't handle the pain of sport shoes. The rubber lasted longer than my $150 la sportiva's. They can begin to smell with use. Definitely a huge deal on a great shoe.
Incredible
Familiarity:

I've put it through the wringer

Fit:

True to size
The shark is an amazing shoe, especially with the price of them. The possibilities of what this shoe can do are literally limitless. The rib on the heel allows you to heel hook like a god on basically anything and the rubber on top of the toe makes toe hooking a breeze. I wear an 11 street shoe and got a 10.5 and they fit phenomenally after a short break-in period. I would absolutely recommend this shoe to everyone I meet.
couldn't even get my foot in.
Familiarity:

I returned this product before using it

Fit:

Runs small
I wear an 8.5 street shoe and 8.5 Evolve Pontas and I couldn't even get my foot in this shoe.
Amazing shoe
Familiarity:

I've put it through the wringer

Fit:

True to size
I have gone through four pair of the sharks and don't plan on changing shoes anytime soon. The super sticky rubber and the amazing heel has helped me send many projects last year. Toeing in on invisible feet,heel hooking on crimps, and bat hangs have never been easier. Best climbing shoe I have ever worn.
So good--its like cheating
Familiarity:

I've put it through the wringer
I have climbed in this shoe for the past 2 years, and it has changed the way I train. the biggest advantage is the spur on the heel. This is a revolutionary design such that I have discovered how to heel hook small directional footholds and small crimps on all angles up to about 60degrees. I can still heel hook bigger crimps on roofs, but 60 degrees is about as steep as I can go with heelhooking footholds.



I have to wear other models when I train because I have become dependent on the spur. The spur allow me to take weight off and I have to engage my lower body less. This is great for climbing and competing, but I am relying on it to much for training. In comparison, a regular shoe forces me to toe-in on small directional feet.



The heel does not have any baggy sections.



Overall performance is amazing. I have never failed due to performance of the shoe. It rules at toe hooks and bicycles. Low angle slab work is great. I feel as secure as possible on small footholds.



Any pro- athletes who don't use the spur are MISSING THE BOAT. This is one of the all time greatest shoes.
Fits like a glove.
Familiarity:

I've put it through the wringer

Fit:

True to size
In the past, most rock climbing shoes I've worn have had problems with my heels popping out on really aggressive moves. The Sharks were the solution to this problem. Also I have noticed the rubber lasting longer than other brands.
Love the Sharks!
Familiarity:

I've put it through the wringer

Fit:

True to size
I have climbed in FiveTens for years but my go to shoe lately have been the Sharks. Fit me perfectly and I never slip. Highly recommended.
My absolute favorite climbing shoe
Familiarity:

I've put it through the wringer

Fit:

True to size
The shark is a truly great climbing shoe. It is downturned enough to tackled steep angles, but I've found that at the same time it works great on slab. The Mad Rock rubber helps the shoe stick to pretty much anything. It also covers the entire top of the shoe and heel making it ideal for toe and heel hooks that aren't going to budge. The Shark is my go to shoe to tackle any type of climb, and it does not disappoint.
Favorite shoe of all time
Familiarity:

I've put it through the wringer

Fit:

True to size
I've worn shoes from pretty much every big brand and the Sharks are my favorite by far. They're the only shoe I've ever worn that perfectly fit my heel. They do everything. They're aggressive enough for overhang, yet the softer rubber can handle tricky slab and smears with ease. Bonus: only $120, can't be beat.



I wear the same as my street size or half size down.
Great for steepness!
Familiarity:

I've put it through the wringer

Fit:

Runs small
Great sensitivity and really good on steep boulders and sport routes. Toe is really good for grabbing small feet, and good ant hooking. I might with something a bit stiffer (demon, redline) for hard face climbs, as this really excels on the steepness.



I wear a 10 1/2 street shoe and the size 10 Shark fits perfectly.
Try em before you buy em
Familiarity:

I've used it once or twice and have initial impressions

Fit:

Runs small
There was a Mad Rock rep who came into the bouldering gym I work at (The Mine Bouldering Gym in Park City, UT) and had a whole bag full of these funky shoes.

They look really cool and I was excited to try them on, but for the life of me I just couldn't find a pair that fit me right. They were all way too snug around the heel, to the point to where I couldn't really step down into them all the way. And I definitely don't have a wide fit by any means.

Anyway, I'm sure they're awesome shoes if they fit you, but they seem to be pretty limited in what kind of foot they can accommodate. SO, like I said, try em before you buy em and make sure.
Slab Dancing to Overhang Wrasslin
Familiarity:

I've put it through the wringer

Fit:

True to size
The shoes do it all. From being absolutely the best shoe on the market to bat hang in, to being absolutely the best shoe on the market to heel hook in, to being one of the most comfortable shoes - next to Mad Rocks M5.



I've danced up delicate granite slab, pulled on some steep prows with opposing toe hooks, double heel hooks, rocked roof climbs, and all around crushed face and slight overhang. These shoes do it all. And an unbeatable price for the best climbing shoe on the market.
It's not the shoe, it's my feet...
Familiarity:

I've used it once or twice and have initial impressions

Fit:

Runs large
This is a fantastic bouldering shoe IF it fits your feet. Great Sportiva quality, good rubber and excellent design. I just couldn't tough it out long enough to stretch them right. I've got weird feet, though (long toes). I'd size them 1 to 1.5 sizes small and just be prepared for pain until they stretch (they will). They run narrow, as well. I think these would be killer shoes (aggressive, glove-like fit) for outdoor and gym problems--wish I could've made them work...
La Sportiva Solutions on a budget!
Familiarity:

I've put it through the wringer

Fit:

Runs small
I would have to disagree with some of the other reviews on here claiming that the the rubber is sticky. Granted it may be in fair weather above 50 deg. F. In the cold, the rubber durometer plays a huge factor and it definitely loses in terms of stickiness when compared to the Vibram XS Grip2 found on the Solutions. In every other respect, however, these are GREAT!



About the fit: I had some doubts if I had bought the right shoe size. I bought a size 8.0 (normally I wear an 8.5 for street shoes). It was extremely tight. My *PROTIP* - use Dr. Scholl Odor-X powder, before any use. I also use this regularly after climbing because my feet sweat. The shoes stretched less than a 1/2 size, and are maintaining the same size (4 months of heavy use indoor and outdoor bouldering) Egress is still a little difficult and requires a "peeling" technique to roll the heel off your foot first.