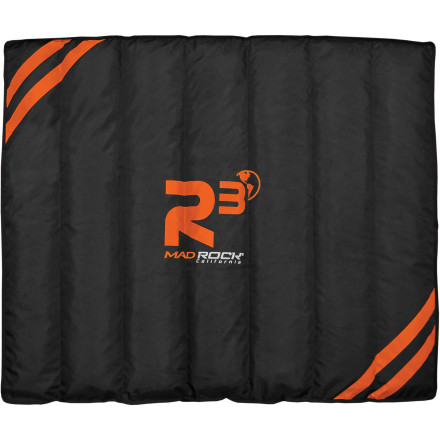 Detail Images

Community Images
Description
In the unlikely event that you peel off your problem, land with ease on the R3.
Ankles sure come in handy when you're working an elusive boulder problem, which is why the Mad Rock R3 Crash Pad protects your valuable climbing assets with ferocious dedication and recycled foam. This eco-conscious pad makes an excellent second pad for complicated landings, so you can keep that random rock from ruining your day.
Small size makes this an excellent satelite pad
Recycled foam protects the earth while protecting your ankles
Minimalist design eliminates useless features to keep cost from skyrocketing
Great Crash Pad
Familiarity:

I've used it several times
I've used the R3 on two bouldering trips now, and it is awesome for creating soft landings and protecting awkward obstacles on the ground. It's also great for carrying stuff with the 'burrito' style backpack wrap without anything falling out the bottom as you hike. The flexible roll-up design also helps when you are trying to fit one last crash pad into your car - the R3 squishes into weird spaces quite nicely! Overall a great pad and great value for the price.
Wonderful pad!
Familiarity:

I've used it several times
Love the pad! I'm a fan of the design.

Great for protection. But I wanted to also point out some nice thoughtful perks. The backpack mode is very useful for hauling gear. Just one huge bucket to carry gear. It's also got a cover that protects your backpack straps from mud and dust when you roll the pad out for protection. The pad worked great as a sleeping pad for camping too.

The only downside is the weight. It's noticeably heavier than other pads like the metolius session pad.
This pad is incredible. It's just firm enough to protect you on those darn highball problems but is still soft enough to keep you comfortable on low falls. It's shape is great in areas with uneven landing for landing zones with large rocks/roots in the way. This pad also carries an insane amount of gear
Perfect pad to compliment..
Familiarity:

I've put it through the wringer
the usual taco and flat pads. I got this because all of my friends had the usual taco and flat pads, and i thought it would be a nice addition. Boy was i right! Fits perfectly over rocks that are in the landing zone and oblong feeling with other pads on it. I was a little skepticle about the bevel system and how deep each crease was and the possibility of rolling an ankle from a high fall, until i got the pad and properly broke it in, a I have tested and tried to purposely roll my ankle and have not thus far. I have rode freestyle BMX for 17 years and know how to take a fall, and falling on this is a treat to say the least!
First Crash Pad
Gender:

Male

Familiarity:

I've put it through the wringer
I really like this thing overall, but my one gripe is that it doesn't seem to close properly. I just couldn't get it to look quite right, and it pulls on the clasps in weird ways when shut, ultimately leaving a flap on the bottom where things could fall out. Overall, not a big deal if you just put something big on the bottom, but it's kind of annoying. It feels great to fall on though! Also the fact that it's made out of recycled materials (hence the name R3) is really great. Wish more companies would do stuff like this, because it works really well!
Will this be back in stock soon? Is there shipping to Ontario? Thanks!
Looks like we do have an order placed with Mad Rock, we should be getting quite a few of these the first 2 weeks of July.



We are able to ship this item to Ontario, If you needed here is the link to our international policy (if this link doesn't work you can also check it out in the help center)



http://sales.liveperson.net/hc/s-9551721/cmd/kbresource/kb-2338806627216134037/front_page!PAGETYPE?MESSAGEVAR!Topic=InternationalOrders&MESSAGEVAR!home=no&category=119&product=94&VisitorProfile=BCS2&MESSAGEVAR!cookie=no
When are you all stocking this again? Is there any kind of system set up where I can be notified so I can jump in and buy one once they do become available? thanks!
Hey Kristen,



We have them in stock right now! Feel free to contact me and I'd love to set an order up for you.



Ben

brabinowitz@backcountry.com

801-746-7564
Unanswered Question
need more in stock so i can use the summer coupon!!!
Will you get more Mad Rock R3 Crash Pad's in stock? Any idea when?
Best Answer
Just ordered mine :)
Awesome Pad
Gender:

Male

Familiarity:

I've put it through the wringer
This pad is great. It's bit heavier than others, but the comfort of having this under me while climbing is worth it. We stuff it with plenty of gear every day and there is almost always room to spare. The only downside was when we laid it on a sharp rock in one of the landings, a buckle for the chest strap broke off. However, for me the positives easily outweigh (the one) negative. Looking forward to getting another R3 soon.
My absolute favorite pad
Familiarity:

I've put it through the wringer
Although it's heavier than most, I absolutely love it. As long as MR keeps making them, I'll keep buying them and beating them up. Worth every penny.
My first pad
Familiarity:

I've used it several times
I didn't realize how amazing it was until I used someone else's pad. Super happy with it, especially for the money. You won't regret it.
Crash and Sleep pad
Familiarity:

I've used it once or twice and have initial impressions
I decided to purchase this crash pad after using a friend's during a bouldering trip to Joshua Tree. The falls held up solidly and it's design allows it to contour to more difficult to protect areas. After a few uses, I'm very satisfied with this product. It's able to hold a lot of gear once folded and has additional daisy chains outside to strap on additional items. The hip belts are a plus especially when you load the pad with heavy supplies. It also doubles as a great sleeping pad. It kept us warm during 40mph winds in Anza Borrego. It fits well in an REI two person quarter dome tent, though trying to sleep on it with two people ends up becoming a pushing war at night. It's great when you win though :D Guess you can consider it as a cuddle pad. Overall great product that I would recommend to others looking to buy a solid crash pad and it's ecofriendly as well!
Love the new Mad rock R3
Familiarity:

I've used it several times
Let me start out by saying I love the R3. Its been great and has stood up to everything I've put it through. I live in Northern California and do a lot of bouldering down on the beach. There are a lot of sharp rocks and uneven surfaces, and of course wet sand. The R3 works great for all of these. It's durable material holds up great even with the grinding of sand from the bottom of shoes and the sharp rocks. It also conforms to any surface very nicely, great for laying over rocks and uneven surfaces!



The amount of gear that you fit in this pad and hook onto the two big daisy chains on the backs speaks for its self. Great for a long day trip. Over all this is a great pad and would definitely recommend this pad to anyone. Hope this helps.......CLIMB ON!
Phenomenal Crash Pad
Familiarity:

I've used it once or twice and have initial impressions
I bought this as my first crash pad, and I have to say it has already been a great asset. The place we went boulder was littered in rocks all around landing areas, and many sharp edges on the bottoms of climbs. The larger standard pads worked great for ground cover, but the R3 came in super handy for handling the edges and terrain that was quite rocky. It also has the added benefit of not folding up if you land on it like other pads may do. The foam feels sturdy, and when all bundled up it has a ton of space in it. You can roll it all up and then just push your gear into it, no hassling with folding your gear in. This also means you can get gear out without having to undo the pad. It doesn't feel heavy at all when carrying it, and the suspension and straps are decent for whats there.



I can't think of any cons, or I haven't encountered any at least. Two things though: it does take up more space than a pad of similar dimensions in a different form, simply because it doesn't fold flat, but rather like a burrito. In addition, it does seem to be fairly slick when you are sitting on it on a hill, my feet were sliding down it pretty easily compared to other pads, there is also no carpet bit to brush off your feet, not a huge deal for me though.
I bought this crash pad because my friend had it and I love it. It is the best crash pad. First its pretty lightweight. Second you can actually put all your stuff in it, so it also acts as a backpack. The way that the crash pad is designed makes it perfect for rocky areas, it basically conforms to the ground. (Its also nice to sleep on) I took my pad out to smith rock this last week and it was perfect, took some good falls on it and it did the job! Definitely recommend this crash pad!!
Big and Beautiful
Familiarity:

I've put it through the wringer
I got this pad for 2 main reasons:

1) good suspension system

2) flexible around rock's, roots, and trees



What I found after using it was that it was very comfy to fall on, of which I did many times. Often suddenly and unannounced. It also has a great wrap feature for the bottom and side to that it doesn't lose anything you packed into it. Two downfalls, it's very heavy, and the taco fold make it very bulky. However, the suspension system handles the weight very well. No matter what, it's still a big pad (as can be seen in the attached picture. It take up most of the space in my hatch. If this is the only pad you're going to bring however, it's a very good one. It molds around trees and rocks like no bodies business. I've taken some really big falls (7 feet onto my hip) with minimum discomfort. It's really a great pad if protection is hard to come by, and if you're going solo to a boulder field. It's not great for long hikes to unknown boulders +2 miles from the car because that weight will start to wear on you. So, if what you are looking for is a 1 pad wonder, this one is for you. If you are looking for an arsenal of pads, then this might not be the best one for you. Overall great pad, it saves your bum, side, legs, and head.
I have had this pad for a couple of years...
I have had this pad for a couple of years and I just moved into an apartment with limited space. Does anyone have a good idea on how to store this? I have a closet that it could fit into, but that's about it. I feel like it's just too heavy to hang, that's my biggest problem. Thanks!
Hey Luke,



If you are trying to get the pad out of sight you could always store this under the bed or behind your tv stand. Otherwise if you are still thinking about hanging it look into securing it to the wall with toggle bolts. This pad is only 18 lbs, I have hung heavier cabinets then that directly to drywall and haven't had any fall on me yet.


Thanks for the idea. I ended up using 4 eye-bolts sub-flush to the corners with a bungee cord to stand it up flat up against the wall of my closet. Works like a charm, and easy to access.
atomik climbing makes screw on handholds that act as mat hangers. looks cool and preforms.