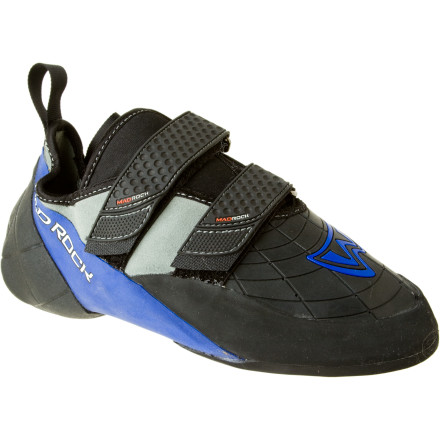 Detail Images

Videos
Mad Rock beefed up the already popular Mugen climbing shoe by adding a hemp lining to eliminate stretch and a rubber-covered toe for better performance on step climbs and in cracks. Mad Rock also threw in a 3D Shark Tooth heel cup for better heel-hooking performance to help you send the most horrendous routes out there.
Hemp lining eliminates stretch
Rubber-covered toe area for better performance in cracks
Aggressive heel shape increases heel-hooking ability
Dual hook-and-loop closures get you in and out quickly and keep your feet secure
How much do they stretch?
Based on the materials used, little to none.
Great Shoe for the price
Familiarity:

I've used it several times

Fit:

Runs small
I've been using these shoes for about an month and they have been great. Holds well on foot holds and great in cracks. I ordered the same as my actual shoe size and they are working so far just cant wear them for longer than 20 minutes.
if I wear a size 11 street shoe what size...
if I wear a size 11 street shoe what size would I wear in these? or are they pretty true to size
Check out some of the reviews below, it looks like they run small. Probably wouldn't go with anything smaller than a 12, but that's currently out of stock so you'd probably need the 12.5 or a different shoe altogether.
i've had madrocks with hemp lining and they definately broke in and formed to my feet. however, the mugen tech's toe box is completely surrounded by rubber, so that will really cut down on stretch. as far as what size, it really depends on your specific foot shape and how long you've been climbing. if this is your first pair of climbing shoes and you have normal shaped feet, anywhere from same size to a whole size up from street shoe size. after you've been climbing regularly for a couple years, you'll want to size them tighter. for a performance fit, you shouldn't need to go more than a full size below your street shoe size.
Very tight
Familiarity:

I've used it several times

Fit:

Runs small
Love this shoe, great grip and solid construction. Due to the hemp lining there isnt a whole lot of stretch. Definitely go with a half size up from your normal climbing shoe. I got my normal shoe size and I have blisters on the tops of all of my toes.
Smaller than I expected...
Familiarity:

I've used it once or twice and have initial impressions

Fit:

Runs small
I wear a size 10.5 street shoe, size 9.5 motorcycle boot, and a size 11 snowboard boot. At climbing gyms, I usually rent a size 11 climbing shoe, so I went with an 11 with this product as well.



Unfortunately, the sizing on these seems to run really small, and after one top-rope climb, the circulation on all my toes was cut off to the point where they started to turn blue. I rested up and tried again, with the same result -- and thats when they went back in the box to be returned.



Couldn't get a feel for how good/bad they might have been other than that, since I was concerned about losing some toes altogether. Will try again once I get a replacement pair in a larger size. Perhaps a 12.5?
Mad Rock Mugen Tech with Hemp Lining
Versatile shoes with durability issues
I got these about six months ago; first climb with them I was SO pumped on the combo of solid edging and reasonably aggressive shape with a sole that could still smear. Still love all that, and the fact that they've got rubber basically everywhere, which suits my toe-drag heavy style. But after six months (with several lengthy rest periods) I'm about to blow through one of the straps!



The fit is also a bit weird, although that could just be my super-low-volume bony feet. I do really wish they had a third strap a la current Evolvs--there's a soft spot that pooches weirdly between the straps as is, and I don't get as much snugness through the arch as I'd like.



Maybe having to crank down the straps is why I had issues, but the design is poor--just a piece of rubber with velcro sewn directly onto it, it looks like. I'm looking at a new pair of shoes (or a janky repair) way too soon as a result. Bummed.
Durable Comfortable All-Around Shoe
Gender:

Female

Familiarity:

I've put it through the wringer
I've been climbing in these shoes since September, and the rubber is still in great shape. They have performed well both bouldering and sport climbing, but are not a very down turned shoe. Fit for me is a size and a half smaller than street shoes. Very comfortable after breaking in the Hemp Lining, which takes a few days of climbing. Great shoe!
Best All-Rounder
Gender:

Female

Familiarity:

I've put it through the wringer
The Mugen Tech's have been my go to shoe. Whether I'm bouldering, sport or trad climbing these shoes have always demonstrated excellent performance. The Mugen Tech's heel, aggressive toe, and velcro closure make them great for bouldering, while the dual rand is great for edging your way up vertical climbs, and if you need more protection when jamming your toes in gnarly cracks, then look no further!
Best Mad Rock shoe in the current lineup
Gender:

Male

Familiarity:

I've put it through the wringer
These are hands down my favorite shoes from the current Mad Rock lineup.



* Sticky and powerful!

* These fit wider than the Conflict 2.0 lineup

* They offer great mid-range stiffness

* If worn small they perform great on edges and smears.

* Worn big they fit great in finger cracks

* Extra rubber on the toe is great for toe hooks and bicycles as well as cracks.

* Hemp lined so there's very little stretch






Must have for tecnical edging
Familiarity:

I've put it through the wringer
this is the only shoe I take to Smith Rocks or any other wall that is vertical or slighly over-hanging. The toe fits perfectly in small pockets and on edges and the rubber wont let you down
The Mad Rock Mugen Tech loves crack!! If you take the time to get a slightly more relaxed fit, this shoe is a crack master. The Power Flex Upper is a fusion of 2 way stretch brushed polyester and Science Friction 3.0 rubber making it one of the stickiest desert shoes I own. Be warned, these can get hot as there is a lot of black on the shoe, but the hemp foot bed is antimicrobial and antibacterial which keeps the shoes from smelling like a diaper with Indian food in it.
Incredible performers and a great price too!
Wow! These shoes perform and stick! The rubber is very sticky in all temps and the shoes are comfortable and precise. On small vertical holds or pulling on steeps, I have been able to used them for everything on sandstone, limestone and granite. Strongly recommended for all abilities.
Painful, but short break-in
My first thoughts after getting these were that they are way too small. Being a new climber I've never broken any climbing shoes in before. After 3 sessions of 2 hours each climbing I was comfortable wearing these for extended periods. They work great, are sticky, hold on almost anything I put them on, and do break in enough, even for a moderately painful first wear. I definitely recommend these to others!
Good shoe, needs improvement
I bought this shoe as my second pair of climbing shoes. The first pair I ordered a half size smaller than street size and it was way too small. I returned them no problem and went a whole size up. These, after stretching, are still too small and painful but make for a very aggressive shoe. I love the shape and the rubber but one problem I had was a hole formed on both shoes in the same spot after about 6 months. I put this to the fact that rubber is so soft and sticky it wears through easily. Other than that though they have proved to be a great shoe.
I can really feel the power upper working. The shoe is super comfortable. It fit easily but still felt tight. There was really no break in with the shoe. Very very good on vertical and slabby climbing, every foot step felt solid never had much trust on that type of climbing with any other shoe. Try it out!