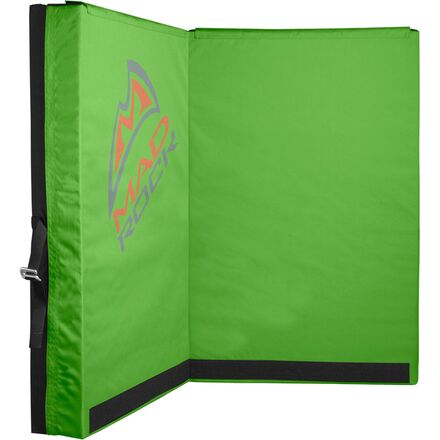 Colors

Videos

Community Images
Description
Crush and then chill.
Mad Rock made its Mad Pad Crash Pad with a cushy five inches of foam padding to boost your confidence as you top out the mantle on your problem. Closed-cell foam on the top of the Mad Pad disperses the force of your fall into the open-cell foam on the bottom. This Mad Rock crash pad converts into an oversized lounge chair when it's time to relax between sends.
Converts into a chair
Five inches of padding to boost confidence on highballs
Unbreakable metal buckles
Padded shoulder straps for easy transport
Terrific value, light, fun colors
Familiarity:

I've put it through the wringer
I went on a trip to the Virgin Islands, and after unsuccessfully searching locally for rental crash pads, i knew i had to bring my own. I was worried about the airline check in as well as damage from saltwater etc, so i decided to buy two of these pads understanding i may need to write them off.



No need to write them off! Checking them with the major airline was a non issue - they are slightly oversized, but super light, so we had zero trouble. The local small airline was more complicated and the pads ended up arriving a day late, so be mindful of that if traveling.



We used the pads all week, used them as flotation devices to cross bodies of salt water, used them as beach beds, chairs and tables, we even used them as a privacy screen for changing clothes. Ah yes, we also used them for bouldering ;-) ;-).



They performed amazing, stood up to the elements, and were super easy to carry around with the backpack straps. The other feature we really LOVED was that they velcro together very sturdily.



Awesome product!



Photo: beach bouldering in virgin gorda
Awesome for the price
Familiarity:

I've put it through the wringer
I have two of these pads that I regularly bring out solo bouldering. A couple of highlights:

One of my pads is 4 years old and still in nearly perfect condition, just a lot softer than it was new.
The pads can be velcro'd to each other to prevent dangerous gaps.
Two of these pads together weigh barely more than some other large pads.
Two of these pads costs less than some other large pads.

Buying an expensive Black Diamond Mondo won't make you climb harder. These pads will protect you and don't cost a lot. Highly recommended.

However we still do use them on taller boulders, usually we do stack them though.
Solid on lowball blocks
Familiarity:

I've put it through the wringer
Good pad if you are just getting into climbing, need a couch by the fire, a sleeping pad, or prefer short blocks. I bottom out on this pad almost every fall over 11 feet.


My 6 year old son loves your pads in our basement!
Great for indoor use
Familiarity:

I've used it several times
We built an indoor climbing wall in our basement with a 45 degree and 30 degree walls. We bought two of these crash pads to protect all the neighborhood kids (and adults) when they fall. Yeah, it isn't as crazy as some of these awesome rock climbing shots that some of these other folks share, but it works really well for our purposes! No one has broken anything yet, and it's been about a month. They are small enough that the kids can reposition themselves easily, but thick enough that it doesn't hurt when an adult falls on them either. Overall great pads. Larger ones would be even more awesome I'd imagine! But you can't beat the price on these. The colors are lovely too, and very true to the website pictures.
This is our first pad ( my son and I ) it has been very durable and we have had a lot of fun bouldering with it well worth the price going to get another one soon .
Poorly Made?
Familiarity:

I returned this product before using it
Just returned it after having it out of the box less than 24 hours. The stitching holding the velcro on where the pad opens to the foam was torn away on both halves of the pad. Can't imagine how this product would hold up in use! Bummer.
Great pad to protect from falls
Familiarity:

I've used it several times
I have three teenage boys who use these pads. We built a ninja warrior course and these pad have literally saved my kids' butt! They protect their falls and keep them from getting hurt. I have three of them. They are durable and lightweight for easy transportation. Best crash pad around.
Greatness
Familiarity:

I've used it several times
All around awesome, took a fall a big fall today and didn't feel a thing. I haul around two of them since I do a lot of bouldering by myself. At 10lbs it's no problem carrying two at a time, and they are also great for a quick nap or rest. The velcro for the shoulder straps comes undone occasionally with the two strapped together but one by itself is no problem. Don't hesitate, they are great.
'ol faithful
Familiarity:

I've used it several times
I have had my Madrock pad for over 15 years and it continues to be our best pad. It has been durable and dependable for soft falls. The thickness of this pad gives you added safety and confidence when falling from high balls. When bouldering solo, only one Mad Pad is needed...there is no need to stack more pads on top of this one! Would love to own another Mad Pad to Velcro them together to make an even better LZ.
My ankles are safe again!
Familiarity:

I've used it several times
I picked up this mat because it was on sale. I'm happy with it's weight and padding that it provides. It's easy to toss on your shoulders and move from place to place. It comes stiff, but breaks in well. If I were to do it again, I'd probably try to buy one that's a bit larger, but still, it's a great pad and I recommend it.
Safe and sound
Familiarity:

I've used it several times
I purchased two of these pads. Knowing how they performed for quite some time. I knew it was time to replace the two I currently have been using. They are a little stiffer then the ones I currently own. Which translates to a safer mentality when on the rock. I know if I blow a hold the the Mad Pad has my bacon. I would recommend these to anyone who wishes to get a great value and have a pad that will last for quite some time.
Solid entry level pad
Familiarity:

I've put it through the wringer
I bought this pad to replace a Metolius pad I had been borrowing long-term from a friend traveling internationally. It's a solid basic crash bad without too many bells or whistles. It's certainly not the most bomber pad in terms of construction, but it'll get the job done. It had a rip on the outside within a few days, but that's entirely cosmetic. My main worry is the sew-in points of the various straps, which appear to be starting to come undone with time. The straps themselves also feel "cheap" compared to other pad straps, but they don't seem to have any issue, so it's hard for me to fault them too much.

Overall, this pad lets me get out and boulder safely, it holds my shoes and chalk when closed and doesn't give me any issues. If you're looking for a first pad, I definitely recommend it.
Rad Pad
Familiarity:

I've put it through the wringer
This is my first crash pad, so I must admit I'm not the most knowledgeable in this department, however, it has served me quite well. No broken ankles or rough bail-outs. Really dig the chair feature, as its super comfy once it's broken in. Best part is the backpack straps for those long approaches. I would have liked to have seen a pocket for snacks and gear, but its not a big deal. Great, affordable first pad- I'd highly recommend it!
Great Pad.
Familiarity:

I've put it through the wringer
Ive been borrowing them from my friends for years now, and finally got around to buying my own. 2 of them actually. great quality, they attach together via velcro flaps, and turns into a great camp couch. best piece of car camping gear ever. Priced to not break the walled, built to break your fall. 5 stars.......

and it comes in green!!
Gets the job done.
Familiarity:

I've put it through the wringer
It seems like this crash pad will never die. I've slept on it a bunch too. Easy to move around, from boulder to boulder.