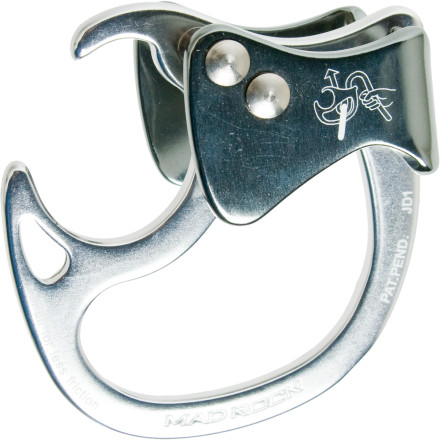 Detail Images
Representing the next step in gear innovation, the Mad Rock Mad-Lock Belay Device brings more to the table than just a cool rhyme scheme. Built burly with aircraft-quality aluminum, this auto-locking device lets you safely belay a second when you're sketched out on a questionable ledge during your next multi-pitch work day. A 45 degree loading design gives you extra leverage to manage friction and braking speed, and this mad-cool device is fully equipped to handle cords ranging in size from 8.4mm to 11mm.
I bought this to compare to the Reverso, but why bother? The only advantage this has over the Reverso is the removable pin to adjust for rope diameter; other than that this thing sucks! Buy a Reverso!
Unanswered Question
Does anyone have a picture of this in...
Does anyone have a picture of this in auto-block mode? I'm curious to see how that works.
Which protrusion is the "horn" people keep...
Which protrusion is the "horn" people keep talking about? The one next to the tube, or the one on the loop that the biner is clipped through?
If the belay device were a screaming metal chicken, the horn would be it's lower beak. (The protrusion with the hole in it).
I got mine for the same reason as most other people...it's half the price of a guide or reverso! I've been totally stoked with mine, been using it for about 5 months now and have yet to have the horn snag on me. I've even tried to make it catch on the biner and the belay loop just for research and its not happening. Not saying it doesn't happen, just would like to hear how. If anyone has a story please share!

and yeah, the horn makes a pretty handy bottle opener ;)
any good for rap'n? is it as different as...
any good for rap'n?
is it as different as it looks, or everything same mayte?
At the end of the day, this is just a quirky tube device, and does everything a reverso or guideATC can do. The unique feature is that horn that is used to add extra friction when rapping on skinny lines, which would require an extra carabiner for most rappel brakes. So if all you want this for is canyoneering, it could be good since it has the most variable friction of all the tube devices. Otherwise, on multi-pitch you might want a simpler device for belaying off the anchor.
Well, the horn actually have its function to lowered your climber smoother but it get caught either on carabiner and even belay loop.. I would say the design is silly.. Anyway the horn can be use as beer bottle opener :)
Horn gets caught on biner
This device is nearly perfect except for one fatal flaw. It works smoothly for a wide range of rope diameters, the locking mechanism works well off the harness and off the anchors, it's lightweight, it's durable, it's simple, and it's inexpensive. It seems to solve the problems of all it's predecessors. However, I no longer use it because of one fatal flaw. The horn has a tendency to get caught in the carabiner causing the belay to lock-up, which is a real nuisance and potentially hazardous. Even with a wide HMS carabiner this happens often.
Hi, does anyone have instructions for the...
Hi, does anyone have instructions for the belay???
thanks
Luis
its just like a regular atc.
you take a bite in the rope put it in the belay device and attach the carabiner. then when your belaying someone take slack in accordingly and if they fall quickly pull the rope down to lock it. please use professional instruction to learn. dont take my word for it but thats basically how you do it
Hey Luis, when I got mine I had the same question. I figured the basics would be obvious but wasn't sure about the horn feature. The packaging that comes with though has some really good explanations and illustrations showing everything that can be done.