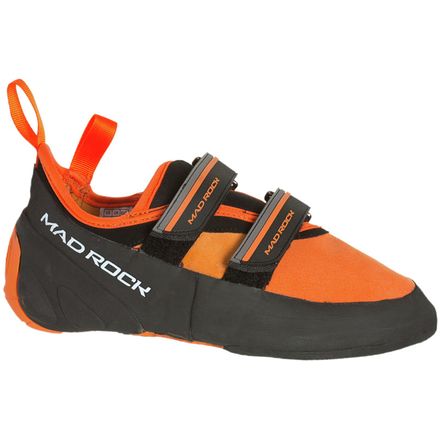 Detail Images

Videos

Community Images
Description
More climb, less whine.
The Mad Rock Flash Climbing Shoe shows that having an all-around shoe doesn't require sacrificing edge in your chosen vertical discipline. The Flash tackles competitions and multi-pitch days alike. Mad Rock threw the stickiest rubber they could conjure, Formula #5, into this design for optimal adhering power. A padded neoprene tongue keeps you comfortable and encourages circulation, while traditional construction earns this sensitive shoe its 'all-around' designation.
Unanswered Question
Looking for a less aggressive shoe to give my toes a break. I have the Evolv Shamans and love them. They are 8.5 and my normal street shoe size is a 9. Since these are a lot flatter would 8.5 still give me tight comfortable fit without being too tight or would a 9 be the way to go? Id rather try on shoes but the closest place to where I live is over 1.5 hours away.
Great shoe, awesome price!
Familiarity:

I've put it through the wringer

Fit:

Runs small
I climb 2-3 times a week at the gym and this shoe performs. It's comfortable while belaying and when on the wall , easy in and out with the velcro, good grip, good fit.
Great Affordable Beater.
Familiarity:

I've put it through the wringer

Fit:

True to size
I got these shoes to be an affordable and comfortable shoe to use both indoors and out. I wear an 8.5 street shoe, and got these in EU 41. They're just about perfect for me in that size. I can stand around in them to belay, and they aren't too loose for the more delicate footwork. I do have a small heel, so I have significant dead space in that department, but that's pretty typical for me.

I've used these in the gym, on garage woodies, and outdoors. They edge surprisingly well for such a cheap shoe, and impressed me thoroughly on the vertical, techy routes that are common in my local crags. My only real complain is that the velcro straps like to come undone, but that is likely because my foot is low volume and when I tighten them down they have significant loose ends.

Overall, if you're looking for a sub-$100 pair of shoes that won't let you down on most routes, these are worth your consideration.
Great so far!
Familiarity:

I've used it once or twice and have initial impressions

Fit:

Runs small
I haven't had a chance to take this climbing too much because I'm trying to find replacement shoes for my brother since we go climbing together, but the shoes have been great! I normally wear a size 13 but the 12.5 feels just as tight as it should, and I've already made huge improvements in my routes as compared to using rental shoes at the gym. The shoes were also on sale, so it was a great bargain.
Great shoe!
Gender:

Male

Familiarity:

I've put it through the wringer

Fit:

True to size
I'm a newbie climber started about 4 weeks ago. Bought these shoes after wearing the Mad Rock rentals at the gym. Used 9.5s at the gym but got these in 9s. Shoe street size is usually 9-9.5 since I have wide feet. My 2nd toe is longest on my foot and the size 9 was super tight for the first day of climbing. By the 2nd day though, the shoe has stretched out nicely with my toes still slightly bent for a good tight fit. Been climbing with these for over 2 weeks now and everything is perfect.

**Update**
I've had these shoes for about 2.5 months now and they're still working great. My feet don't get as orange anymore from the dye. Velcro is awesome to easily put on and take off the shoes. Couldn't have asked for anything more

**Update2**
4 months of gym climbing 2-3 times a week have work holes in the rubber. As others have said, the rubber doesn't last very long but I'm planning to resole as I do like the fit.
Definitely worth the money.
I find these to be my go to shoe for taking it easy or moderate trad. They do wear alittle quickly, but you can get two pair for the price of a pair of VS's. These aren't the shoes for hard sends, but if you want a pair of shoes that are comfortable to have on all day these are it. I've owned alot of "cheapo shoes" in my time and I like these the best. Fit is alittle large. I bought about a half size smaller than my street size and since these are my comfort shoes I find that about perfect.
I climb mellow multi pitches, and love this shoe. They do stretch out quite a bit, but I bought them to hurt and they feel like a cast now when I put them on. I climb on the colder days don't know why but I do any ways. If I have to warm up my feet its easy to take on and off on the wall, and they don't really have pressure points
Definitely a beginner shoe
Familiarity:

I've put it through the wringer

Fit:

Runs large
I started climbing on sandstone this sumer and the shoe was great for about a month. It started to stretch a lot. i would recommend getting a very very tight shoe to get the most out of it. With that in mind within 3 months i put holes in the toe of both shoes. These shoes are not very durable, but if one is trying to go cheap this is an good shoes. If your into climbing spend the money and get some la sportivas.
these shoes wil perform decently out of the box, but my buddies and i all agree that madrock rubber wears down quicker than other brands. then your edging performance and ability to toe in on small holds will suffer. also, i thought the two velcro straps were narrow and i couldn't get the dialed in fit that i expect from other shoes.
First item I purchased from BC.com
I purchased the original Flash shoes several years ago. I found Mad Rock's quality to be on par with other manufacturers. The durability of these shoes was excellent and I wouldn't hesitate to purchase the Flash 2.0 shoes.
Mad Rock Flash 2.0 Climbing Shoe - Men's
A girl lovin this "men's shoe"
This is not my first climbing shoe, I am coming from the La sportiva, Nago and a variety of Evolv shoes. I was sceptical, especially with the gel-injected heel. But love them. They are the most comfortable shoe I've had (my foot shape: wide toe box, narrow heel). But they have performed well so far in every situation I've put them: gym mostly 5.10 range, trad multi-pitch, granite crack/face, sandstone. I spend a lot of time in my shoes, so the gooshy heel is nice. People have complained of orange dyed feet...not had that problem. Overall, I love these shoes, they perfrom as well as my more expensive La Sportiva's. I guess we'll see how long they last!
As many have said, these are good starter shoes. I bought these is size 9.5 US (recommended from sizing chart). When I first tried them I thought no way these will ever fit. After some breaking in they fit very nicely and I feel comfortable and in control on the wall with them. They are a huge step up from rental shoes for a fair price (especially if on sale at backcountry). I would recommend for novice/recreational climbers.
This isn't a super aggressive or super durable shoe. But it delivers 90% of the performance of a comparable 5.10/evolv shoe, for HALF the price. If you have less than 1 year climbing experience, don't waste money on a more expensive shoe that you'll shred while learning. In this price range, the unlined leather is nice too.

0.5 size down from street shoe size gives comfortable, full-day wear.
im edward cmilleri of abseiling and climbing...
im edward cmilleri of abseiling and climbing in malta
i bought a stock of mad rock shoes for climbing from the distributor in holland
but i cannot find their e mail or their web site
can you please help me ??

Ramesh@madrockclimbing.com

or you can fill out their email form online:
http://store.madrockclimbing.com/contact-us.aspx
http://www.madrockclimbing.com/
Okay shoes
Gender:

Male

Familiarity:

I've used it several times
This shoe is okay. I'm happy with the velcro, I hate fighting laces. They fit well, and work well. They just don't WOW me. Side note: I don't like how the shoes make my feet a dyed orange color after climbing. Going to go with the sportiva next go round.
I'm a girl and my feet were a little too wide for the MadRock Onsights. These are my first climbing shoes and I love them. Super easy to get on and off. Heel hooks are extremely comfortable and supportive with the extra rubber they put in the heel. I'm a beginner climber still learning and my shoes are still perfect. They're comfortable enough for me to walk around the gym without looking like I'm in extreme pain. I'm very satisfied with these shoes! Ladies, don't be afraid to buy mens shoes!

Decent everyday shoe
Gender:

Male

Familiarity:

I've put it through the wringer
Having used these shoes on and off for over six months I've found they do a good but not great job. I sized these like my street shoe but in retrospect I should have downsized by a half size. They are far less sturdy than my Anasazi making for a much more comfortable out of the box experience but a less precise fit after break in. The rubber sticks well but I find they are not very supportive leaving my feet aching after harder sessions compared to other shoes: I'm not sure that the 'polycarbonate support' in the sole does anything.

The sole started to separate slightly after crack climbing in them so I'd definitely advise against using them for this purpose. The shape and heel means they edge and heel hook quite confidently. The soft sole makes smearing quite effective but doesn't support the foot in small toe pockets as well as others. The gel pad in the heel seems to be more of a novelty than anything else.

Overall I'd say that they are a reasonable choice for the price compared to the retail on others and well suited to a beginner boulderer/climber. Having said that I think I'm better served by keeping an eye on prices and getting a higher end shoe at a discounted price (still about $30 more).
Jack of all Trades
Gender:

Male

Familiarity:

I've put it through the wringer
This is one of the most comfortable shoes I've ever worn, even when sized down I keep them on for an entire gym session. The material is very comfortable and conforms well to your feet, yet I've seen little if any stretch in either of the two pairs that I have over about a year of use. I've used them for everything from climbing desert towers (cracks), to slabs, face, overhanging sport routes and bouldering. They provide the sensitivity to give you confidence on smears and still provide enough support to stand on anything but true dime edges.