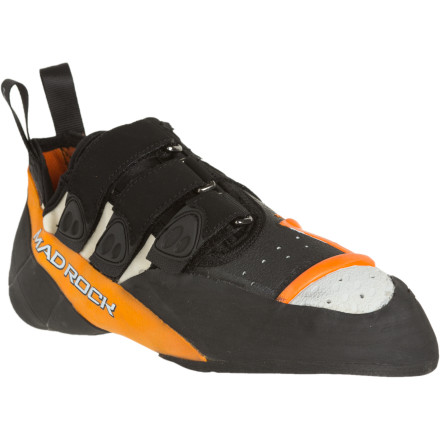 Detail Images

Videos
Pull on the Mad Rock Demon 2.0 Climbing Shoe and pull like you've got fiery monsters licking at your heels. We don't blame said monsters for trying, but they're not going to get anywhere; Mad Rock outfitted the Demon 2.0 with super-sticky Concave DDS soles for unbeatable adhering power on the vertical challenge of your choice. A Tek Flex upper offers durability and comfort, so your feet are likely to be the envy of the underworld and aboveworld.
dope
Familiarity:

I've put it through the wringer

Fit:

True to size
these are rad shoes, they fit true to size and haven't noticed any stretching on them yet! the rubber takes a minute to break in but once you do these things are super sticky! great for any type of climbing!
Demons
Familiarity:

I've used it several times

Fit:

True to size
I've been using the MR Demons for a few months now, and they have to be one of the most comfortable aggressive shoe I have climbed in. It's true when MadRock says "projects beware" The Demons are just an overall good shoe and I would recommend them to anyone looking for an aggressive shoe!
Trying to figure out sizing on these, does...
Trying to figure out sizing on these, does anyone know how they compare to evolv shamans, five ten dragons, or five ten quantums? Thanks
I wear an 11 in the dragons 11 in shamans and 10 in these. They don't stretch hardly at all btw.
The size displayed on this site for this...
The size displayed on this site for this pair of shoes,is it US or UK?


Best Answer
Hi Parthi,



The Demon 2.0 is listed in standard American sizing--Mad Rock is an American company, and their sizing will be consistently US-based. Hope that helps!
Mad Rock Demon 2.0 Climbing Shoe
Demon 2.0
Gender:

Female

Familiarity:

I've put it through the wringer
Great shoe! I've worn this model since it was the Loco and through it's various remodels, I think this one might be my favorite. I use mine for bouldering and sport climbing, indoors and out. They break in well and are durable. I've finally started to phase out a pair I've climbed in for almost a year!
Awesome shoes
Familiarity:

I've put it through the wringer
I have owned several pairs of Demons and I love them. They are grate for sending hard bolder problems as well as sport climbing.
Demon 2.0s - Tools of My Trade
Gender:

Male

Familiarity:

I've put it through the wringer
Just like the Demon Originals, these have become a weapon of choice for myself when it comes to hard projects.

The edges never seem to wear down and the rubber on top of the toe hasn't got holes in it; even after countless toe drags up the wall (unlike many other shoe brands I've worn in the past).

As said before, it seems the rubber never loses it's stickiness and really does seem to get better with time.

Big ups to MR for releasing such a high performance shoe; can't wait to try the Sharks!
Great shoe for steep sport routes
Pros - near perfect heel and toe hooking, down turned toe lets you agressively edge on steep terrain while saving core strength, snug and comfortable once broke in.

Cons - hard to put on at first but definately worth the effort!!!
demons, yes please
Gender:

Male

Familiarity:

I've put it through the wringer
The madrock demons are a great shoe for overall performance. I've had these shoes for over 6 months now and I still use them. They hold up better than other brands of shoes that I've used in the past and I feel like the rubber gets better and better over time. (at least for my preference) They break in very nicely and are comfortable for how aggressive they are. I think these are one of madrock's better shoes and would recommend these shoes to anyone that wants to try a high performance shoe. Good for heal hooking and toeing in on small footholds! Ready to get another pair of these badboys.
The Demons are one of my favorite climbing shoes--they top my list for aggressive shoes.



These are tough to pull on my feet, but once on they are the snuggest fit--the Demons fit my feet perfectly (I have a medium to narrow foot with very narrow heels). The toe is sharp, letting me get an edge on the smallest foot jibs, while the body of the shoe is aggressive, letting me project the steepest roof climbs I've been on.



These are a great pair to own, especially if working on steep climbs. I wouldn't recommend them for slab or even nearly vertical walls. Otherwise, I love the Demon 2.0!!


Madrock Demon's
Gender:

Male

Familiarity:

I've put it through the wringer
I got my first pair of the new demons two years ago when the new style had just come out. I won them in a climbing competiton. I had them in 9.5 and it was the best shoe ive had yet. Sadly to say I just busted through the toe just this week bouldering. I had a feeling this was coming so I bought another pair last year and havent worn them. I love these shoes, except the second pair the velcro laces are way too long. The rubber is really nice and the shoe holds up to abrasion really well. the major stress points inst on the toe bottom near your big toe, but just above your toe. The rubber is just now starting to peel away from the midsole, so i think ill get them resoled. My old ones that i won fit better than the new ones i just broke in. This is a overhang boulder and sport climbing shoe. Especially for slighty overhung to big overhangs. Great for edging and snaggin small foot placements. heel cup is wonderful and you can heel things all day long with it. the heel is comfortable where it needs to be. This is a really good shoe. I only wish my new ones had a tighter feel on the velcro, the laces are just too long to make the shoe fit tight. Overall, these shoes are great for 10's and 11's on a slight overhang and overhanging boulder problems or anything else you want to put it throguh.
Rob D loves his Demon 2.0!
Got these a few weeks ago and love them, rigid aggressive shoe that edges like none other. Though the break in period is a bit rough on the big toe shoe stands to be the best i had so far. I sent the hardest route of my life in these.



Pros-

-fits relatively true to size

-heel locks hold

-edges amazing

-built well

-synthetic upper constructed well

-velcro system genius



Cons-

-break in is painful and is a bit longer then other shoes

-doesn't stretch much



*have only used them indoors so far



all in all 9/10
Picked these up and immediately took them outside. Out of the box they felt amazing, I was edging on stuff that I wouldnt trust any other shoe in. Amazing performance but they didnt sacrifice comfort for me.

I have a really wide foot, so these shoes are super comfy for me. Being super down turned but still wide, it was like someone made the shoe directly for my foot. Even though they are "super performance" and "competition" based, I can see myself wearing these all day and not having any issues with them. HIGHLY reccomended.
THE CONS--my toes become very sensitive after multiple times of taking shoe on and off during the break in period. After a couple of weeks that is not an issue.

The heel is a little to stiff really feel insecure /sloping heel hooks.

THE PROS-- They feel great out of the box. I can take a brand new pair straight to my project without worry of breaking them in first.

Overall, great stability for bicycles, toe/heel hooks for steep terrain of Priest Draw.

They edge on the smallest crystals and dimes from Hueco to Leavenworth.

Great power on steep terrain from the downturned toe box.

Above all, a comfortable shoe for the long training days in the gym.
The Demon 2.0 is great, I've used it for indoor sport and bouldering as well as outside and it has performed wonderfully. I like this model more than the original Demon, this model breaks in a bit quicker than the previous Demon.