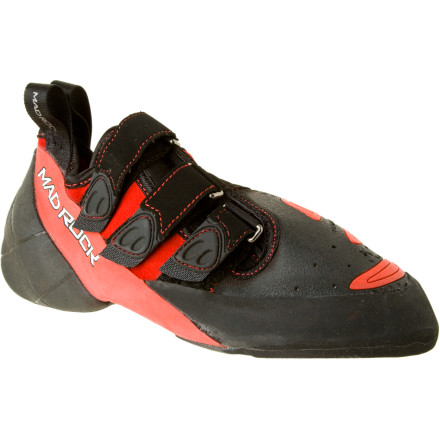 Detail Images

Videos
The Mad Rock Con-Flict Climbing Shoe comes with a three-strap hook-and-loop closure to look your foot in place and help you take advantage of the super sticky Science Friction 2.2 rubber. Mad Rock put a little though into the steep stuff as well and gave this shoe and over-wrapped toe area so the sole's friction can help you send even when you're desperately toe-hooking your way out a roof.
Three-strap hook-and-loop closure for a secure fit in seconds
Rubber over the toe helps you on steep routes with creative footwork
Slingshot-style rand locks your foot in place and eliminates slip
very tight
Familiarity:

I've used it once or twice and have initial impressions

Fit:

Runs small
I'm a size 12 but with slightly wider feet; I bought a size 13 to compensate but it was next to impossible to put on. Once on, I liked the rubber and the edge. I cried when I had to take them off. Seeing other reviews and how they will not stretch, I had to return them. My expectation was large discomfort from side to side due to my feet but they do run small from toe to heel.
I'm a intermediate climbing without a lot...
I'm a intermediate climbing without a lot of experience purchasing shoes. I normally wear a 10/10.5 in street shoes but my left foot is a good 1/2 size larger than my right foot. I'd love some input/advice on what size shoe to order!



Thanks - Tanner
Best Answer
Tanner,

For a climbing shoe to be most functional, it should fit like a ballet slipper. For those of us who have never worn ballet slippers before (right Tanner?), that analogy may not help much, but the idea is that they are snug so that the shoe is practically part of your foot and will not rotate or slip off a hold unless you want it to. When you are standing on a minuscule edge you want the shoe to stand on that edge and not roll, or be able to jam the toe nicely into a thin crack where there is no room for a loose fit.



A lot of people have different opinions about how climbing shoes should fit. My personal opinion is that they should be as tight as you can get without diminishing your foot's ability to function for climbing. Others I know will go snug without causing discomfort, but I figure if I am jamming my bleeding hand into a narrow crack I have left comfort long behind. For me this has turned out to be about a full size down from my street shoes for slippers and a 1/2 for laces, and I think that is probably the extreme end of the spectrum. The other side would say to stick with your street shoe size, and that is probably good advice if you are climbing multi-pitch routes where you won't be able to take your shoes off for an hour or two.



The last thing I would say is to try on climbing shoes, especially if this will be your first personally owned pair. Try on lots of them. When you have them on don't just ask yourself if they are comfortable or solidly snug standing there. Imagine that you have the toe of that shoe on a thin edge of rock that is the only thing preventing a fall. Will that edge hold? Will you have complete control of that edge through your toes? Or will the shoe roll on you?
I'm female and wear 8.5 to 9 in street...
I'm female and wear 8.5 to 9 in street shoes. what size should i get in these? it doesn't specify if the sizes listed are in mens or womens.
Most brands including Mad Rock will list theirs shoes as mens sizing unless it is specifically called out as a womens specific item.
http://www.zappos.com/c/shoe-size-conversion



you can match up the lengths in inches or centimeters to see what you think gets the best fit.
Mad Rock Con-Flict Climbing Shoe
Serious Shoes for Sport Sending
Gender:

Male

Familiarity:

I've put it through the wringer
First off, I have the lace-up version of these shoes, the Concept 2.0, but they are the same except for closure system.

When I got these shoes, I had been climbing in LaSportiva Miuras and loved them. While I still like those shoes, the MadRocks were a game changer, as illustrated by my project at the time. I had sent my project, a gently overhung, technical and sustained 13c with delicate footwork and foot-dependant moves and rests. When I climbed it in the Mad Rocks, it honestly felt a letter grade or two easier! I was able to put more weight on my feet and climb more efficiently in these shoes than I had in any others.

The shape and construction of the shoe focuses power into the big toe, and the downturned shape is retained through wear and resoles!

The toe rubber is also awesome for durability and toe-hooking.

Overall an excellent shoe for hard sport climbing.

Sizing Notes: I wear 11.5 or 12 street shoes, La Sportiva Miuras in 42.5 and these Mad Rocks in size 44.5
Pretty cool
Gender:

Male

Familiarity:

I've put it through the wringer
I like the way these shoes feel, the toe is pretty good, and I really enjoy the toe-hooking capabilities with the full rubber on the top of the foot. Only 2 things I didn't like about the shoes; I wasn't impressed with the heel hook capabilities in these shoes, anytime I need to do a heel i switch back to my Galileo's. Also, the velcro straps are unnecessarily long! Overall they are pretty good, certainly worth their price.
Could anybody comment on how to size these...
Could anybody comment on how to size these if I'm "upgrading" from MadRock Flash (original)?



I'm intending to resole my pair of Flash's for the gym and buy these for projects/outdoor -- good idea?
most people get their first pair of climbing shoes too big. if the flashes are the first shoes you've ever had, you should probably size down at least a half size. if you truly feel that there was no slop, you should order the same size and it will feel a little tighter due to its more aggressive last.
Comfort and Performane
Gender:

Male

Familiarity:

I've put it through the wringer
I've been using the Con-Flict over the last year and have been amazed on how they perform and to top it all off I'm climbing in close to my street shoe size. Mad Rock has definitely closed the gap!
Does anyone have sizing info on this shoe?...
Does anyone have sizing info on this shoe? I wear a 42 in cobras and solutions. My street size is 44.
Best Answer
Go in at a half size down from your street shoe size. You don't have to down size these and they will not stretch!
Got my first pair of Con-Flicts two years ago, still have the original Con-Flicts, they last a good long time! My Con-Flict 2.0 are put on when I need hard stuff to go down. They are just soft enough to really let you feel everything, but stiff enough to let you edge on crazy small chips and edges. So far while in the Con-Flict's I have never had my foot pop (That wasnt my direct fault of course) and blow a route. With these on, I know my feet will stay right where I put them.
Great for steep outside climbing
These shoes fit well right out of the box, fitting my feet "like a glove" from the git-go without pain, and yet without stretching too much on the break-in either. I'm surprised that people with wide feet are finding that these fit well, as my feet are narrow and low-volume and these shoes fit me really well. I find these work amazingly well for outside climbing on steep terrain because of the more aggressive toe, but aren't so stiff in the toe that (like some downturns) a face or slabby topout after a roof can be more tenuous than it needs to be. Really awesome shoes in Hueco Tanks... much sending was done in these shoes! :)
I have bigger feet, anywhere from a size 12.5-13.5 in regular running and hiking shoes. This makes it hard to find a climbing shoe that fits well, especially with a larger forefoot. And even more difficult to find an aggressive or high performance shoe. I have played in many different shoes and recently climbed a few sessions in the Shaman's from Evolv, and while I loved the shoe and its features, it just wasn't fitting, even when I tracked down the 13.5. Now, this shoe is as comfortable as any shoe I have ever worn, its fit is like a glove and the new material in the upper stretches perfectly for a nice snug fit without becoming misshapen or sloppy. The SciFri 3.0 rubber is like glue for your foot and despite its softer sole it sticks to everything and holds on the smallest of edges. They are snug but easy on and off at the gym and the crag with the pull loops and three strap side entry set up. And the heel hooks and toe jams are as good as any shoe out there. Highly recommended for the hard to fit crowd and anyone looking to find comfort and preference in the same shoe for once.
Trust my life in these bad boys!!!
Great shoe pretty agressive, great toe box!!! Super good edges been climbing super hard in these for the past couple months and they are holding up great! pretty sticky for smearing but is starting to wear off a little. But other than that great shoe!!! 9/10
I normally wear downturned and stiff shoes and I decided to give this shoe a chance. I wanted something comfortable but still perform well. The Conflicts fit perfectly. It was tight and a little painful but broke in well after 2 days. Great heel. I'm not a fan of the soft rubber in general so I can't say much on the toe, but it is great rubber. Recommended for the moderate and up climbers.