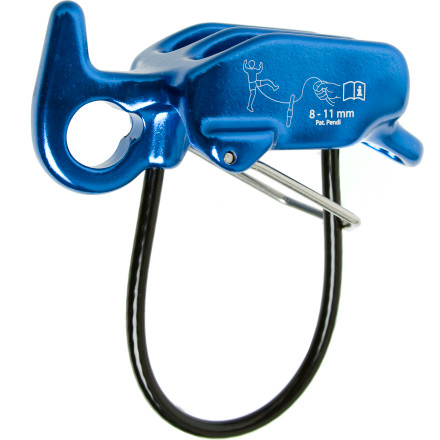 Detail Images
Description
More exciting than an airplane ride.
The aptly named Mad Rock Aviator Belay Device wants to help take you to new heights. Built with aircraft-quality aluminum, the Aviator features auto-locking capability for when you're sketched out on a ledge while belaying your second. An ergonomic fin helps you control friction and braking speed during your belay or rappel, and the unique removable spring keeps it from locking when feeding the rope.
Can be a bit...friction-y
Familiarity:

I've put it through the wringer
Used it only on my 9.8mm rope for a while, maybe a bit more friction than others which could get annoying, but not too bad.. But I ended up having to use it on a bit of an older, 10.1mm rope. For TR it was fine (I didn't use it on lead, and I use 9.8mm normally), and then I went to clean and rappel. I didn't use my brake hand to slow myself down, I used it to feed the rope through it. Makes it feel really sketchy. So hence, it's just okay.
I purchased this figuring it was a cheap alternative to a BD guide. I got it and it worked exactly like a guide, until I caught a fall and the metal spring got popped off and list in a sea of rubber. After losing it the device still works just fine for catching, but isn't all that smooth with lowering and locks up the instant you try to pay out slack for a clip.



I'm happy the spring didn't stab anyone in the eye, but if your device can be go from decent to pain in the butt with a detachable 5 cent piece, you probably need to redesign the thing.



I'm going to give it a 2/5 because it's inexpensive and it works well when the spring is in place.
Well, she works. And for the price, it's hard to complain. Does everything the reverso and xp-guide can, and the horn is kinda handy if you're lowering a fat dude.

However- the spring doesn't do anything (is removable, though) and with or without it the device tends to jam on the rope pretty hard...which miiiiight be safer, but also is a big problem when someone's leading. throwing out slack just isn't going to happen here, and rappelling's going to be a bit slow and jerky. Also, it's a pretty big piece of metal. much larger/heavier than my old xp (which got stolen, hence my switch to this)

that's my two cents. works, but not particularly smoothly
great belay device was able to teach my brother how to load and belay within an hour of use. great tool to climb with