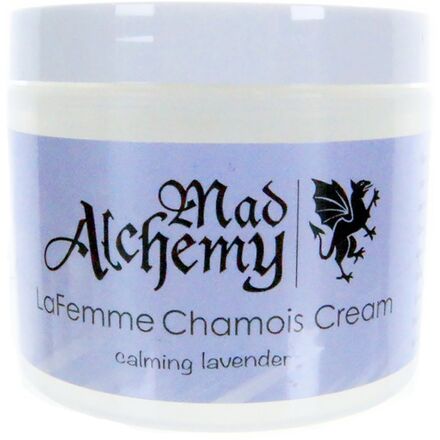 Description
Chamois creme for the most faint of bums
For the most part, the cult of chamois creme is a boy's club. 'Tis a pity, as the salves are designed to save the bottoms of men and women alike. To help remedy this disparity, Mad Alchemy has concocted their La Femme Chamois Creme. It has the same base lube and essential oils as their other creams, but adds lavender oil and ups the concentrations of tea tree, grapefruit and peppermint essential oils. Lavender is an age-old antiseptic and pain-reliever, peppermint is also a pain-reliever and adds a little cooling. Tea tree oil works the anti-viral and anti-fungal fronts to help keep infections at bay.
The scent is a little more flowery than Mad Alchemy's other chamois preparations with notes of citrus, but it will also work magic for men. Both sexes can dab it, rub it, or slather it on the sensitive skin or the chamois itself to lubricate and protect that delicate interface with the saddle.
It's worth noting that all three Mad Alchemy chamois cream formulations work with the same base ingredients. As such, they share viscosity, lubricity, and are safe for both hommes and femmes. They are all veggie-based with high-quality ingredients.
The Mad Alchemy La Femme Crème comes in a 4 oz (120ml) tub.
Share your thoughts
What do you think of the
Mad Alchemy
La Femme Chamois Creme
? Share a...
Best Chamois Cream Ever
Familiarity:

I've put it through the wringer
I've tried numerous chamois creams over the past years. I even have some sponsor deals for more economical creams. I ride over 10,000 miles a year, racing nearly all disciplines on the bike. Mad Alchemy is simply superior. It has has a nice calming effect for mosquito bites and other minor skin irritations as well. Highly Recommend. My husband prefers the femme to the regular, nicer mild fragrance.
Best chamois creme on the market
Familiarity:

I've put it through the wringer
There is no stinging on the skin and the lavender and tea tree oils keep the skin happy and healthy. The consistency is just right with no clogging of pores. Since I switched to La Femme, I haven't had a saddle sore in years.
I like the herbal smell, it's soothing without being overpowering.
Haven't had a problem in the saddle and prevents chafing and such. I'll use this till it's gone, and probably buy more.

Good stuff.
I love that it's veggie based, I don't particularly want chemicals I can't pronounce near my lady bits.

Good for Her... and Him
Familiarity:

I've put it through the wringer
I first used this stuff when I ran out of my own chamois creme and had to borrow some from my wife's supply, and was very impressed. Eventually I've tracked a supply down and so this is now my number one choice - it certainly seems to work very well for 2-3 hour mountain bike rides in Californian temperatures.
Lady chamois cream...good for dudes too!
Familiarity:

I've put it through the wringer
So, I've used the M.A. "pro" chamois cream for a long while. M.A. was out of it, so I ordered the La Femme. Same stuff, but with more essential oils, and antibacterial properties. Okay.
Jump forward a couple of years...
Still using the La Femme. It's thinner, lighter, and smells oh-so-good.
It's chock full of good stuff that will keep your under-carriage in top operating condition, regardless of internal, or external plumbing.
I'm a big M.A. fanboy, and use ONLY M.A. chamois creams and embros. Peter knows what he's doing, and he does it well.
No sting+
No sting
Familiarity:

I've put it through the wringer
This is a gently scented alternative to the icy sting of menthol chamois cream on your lady parts. Consistency is similar to hair conditioner. Not really thick like some of the others.