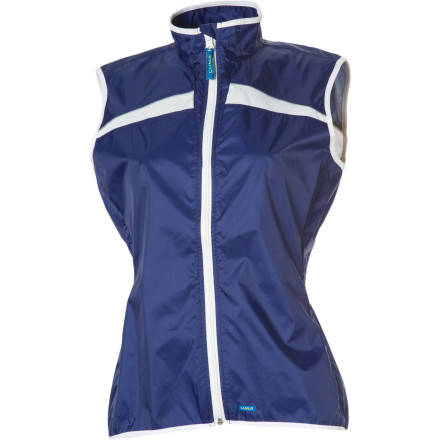 Detail Images
Weather can be unpredictable, so stuff the Luna Sports Women's Dellie's Vest in your back pocket.
Easily packable for stashing when not in use
Reflective elements for low-light safety
Mesh back panel for ventilation
What do you think about this product?
Have questions about this product?
I trusted that since Luna makes bike gear they'd know how bike things fit and ordered a M based on their size chart. So I have a vest that hangs down almost to my crotch and flaps in the wind... it's very loose. I normally get Hincapie S or XS and I would advise people to choose a smaller size for this item.
Got this vest in Skye and it was a prettier blue than pictured (lighter, almost periwinkle). I wore it on a 60 degree, fall morning ride, and it kept my core warm. I did however also have on a longsleeve polypro layer and a shortsleeve jersey (I'm cold natured). It fit well (ordered a small, I am 5'4", 120lbs, with a fairly long torso) and I liked the fact that there were 3 back pockets. My only grip is that the pockets are made of elastic mesh, so when I put all the necessities in them for this metric century ride, they sagged down. It wasn't so annoying that I will still wear it on longer rides, but FYI.
do these vests really help with cold...
do these vests really help with cold weather?
Vests come in 2 types. 1st kind is wind proof- either from a windtex type laminate or because the fabric itself is windproof- Mavic helium, say. The second type adds some insulation and a bit of wind barrier just cause there's some fabric there, but not wind proof. This is the latter. the issue then is how cold, how much wind, how layered. This vest will undoubetedly help keep you warmer. Layering is the trick, then windproofness. I like one of each. A wind proof vest and an insulation type vest. Layered right they each sort you out for the particular need that day. (There are also the real light type for a descent or for the first hour or so of a morning ride, that folds into a very small lump- so I suppose three kinds. But the helium fabric is very, very light, and windproof, so back to two types).