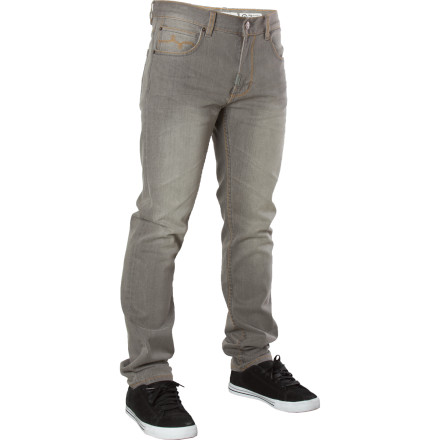 Detail Images
The LRG Core Collection Slim Straight Denim Pant offers around-the-house comfort even when you're swinging on jungle vines to escape a pack of carnivorous spider monkeys. Should they happen to catch you, they just might have enough respect for your street-wise style that they instead choose to make you their king.
not too tight, not too baggy
not too tight, not too baggy. kinda in between. nice fir. Pockets are kinda small though. i stick my iphone in it and its pretty much at the top.
Great fit denim not to tight not to baggy. just right Sick
awesome denim. i guess if i really had to have one con it would be that they need to have more of variety for inseam sizes. Im 6'3 and had to size up in the waist just so these would be long enough. They still fit well but about 2 inches bigger then id like on the waist. Even with that being said theyre my favorite fit jeans i own. very slim but not skinny jeans
SOOO SKINNY! And I love that! This is one of my favorite pairs of pants!
I admit to being something of a one-trick pony when it comes to my denim. I like it dark and simple.

Realizing the one-sidedness of my current wardrobe I sought to diversify a bit and landed at this pair of LRGeans (to use their clever terminology). A subtle wash to the grey denim gives some variation that makes them interesting straight out the package. Minor details like the pocket stitching stand out but don't scream, "LOOK AT ME!"

If you've been stuck on the dark denim train, do yourself a favor and consider grabbing a pair of these.