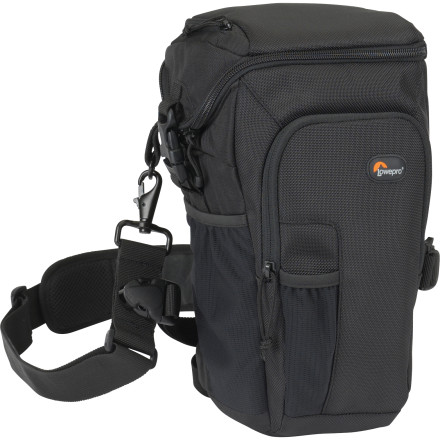 Community Images
Carry everything you need to take professional photos in harsh environments when you load up the Lowepro Toploader Pro 75 AW Bag with your DSLR camera and accessories. Whether trekking into an expansive wilderness or heading into the backcountry to document an epic pow session, this padded, weatherproof bag keeps your equipment working so you can keep snapping until you lose your light completely.
Fits pro DSLR cameras with a grip and attached lens (70-200mm)
Contoured, assymetrical shape matches the camera's dimensions
Nylon on the outside with closed cell foam and a soft nylon lining on the inside provides impact protection when moving quickly in an unpredictable environment
Included 360-Degree All-Weather cover sheds rain, snow, dust, and mud so your equipment remains in prime, working condition
Cover stows in front pocket and doesn't impede access to the main compartment (when deployed) so you're always ready to shoot
Clamshell-style access features a zipper and a buckle, so you can just close the buckle and have quicker access to your camera
Adjustable three-point harness secures the bag to your body in a variety of ways while a chest harness (sold separately) provides ultimate security while skiing or snowboarding
Internal divider locks down your camera and separates the main lens from bulbs, lenses, or other accessories
Outer zip pocket holds a lens cloth, small tripod, or other extras while the top zip pocket features internal pockets for your sunglasses, batteries and memory cards
External mesh pockets stash extras during your fast-paced shoot
U-Shaped zipper pulls work easily with or without gloves
Meets airline carry-on requirements so you can travel with ease
Strong bag for winter and summer
Familiarity:

I've put it through the wringer
I use it for working in winter time (I'm a nature photographer). it have a good rain/hail/snow cover. I cat in to it a full-frame Nikon D600+Tokina 100mm f/2.8 AT-X M100 AF Pro D Macro+AF NIKKOR 20mm f/2.8D+LED macro flesh. and in the small/flat pocket, an cleaning tool and filters.

I'm using a soft pillow like between the big macro lens and the wide lens.

It is a very strong bag and the canvas will live for years. I'm working in hard filed and using camera bags for years now (between 1-4 day a week every week), you can buy with a peace-full mind
Have a Crumpler 6MDH however I wanted a holster just to carry my DSLR around in. There was enough room for some filters/chargers/memory cards as well. You won't fit much else in this bag however that's not what it's designed for. It held my gripped T3i with 17-55 lens without any issue. Only concern/issue was the camera rests on the lens while seated in the bag. there is quite a bit of padding however having the camera being supported by just the lens is a bit wearisome. Wound up returning this bag and will stick with my 6MDH instead.
Will this bag hold a Nikon D90 + 1.7...
Will this bag hold a Nikon D90 + 1.7 teleconverter + 300mm Lens?
Hi Wolfgal

What is the sizes of the 300mm?

In the market you can fined large 300mm like the : Telephoto AF-S Nikkor 300mm f/4D ED-IF...in that case the lens is to big

Or: 70-300mm f/4-5.6 DG Macro...in that case yes

You need to check the size of the body an add to it the size of the less + 1" for the safe side