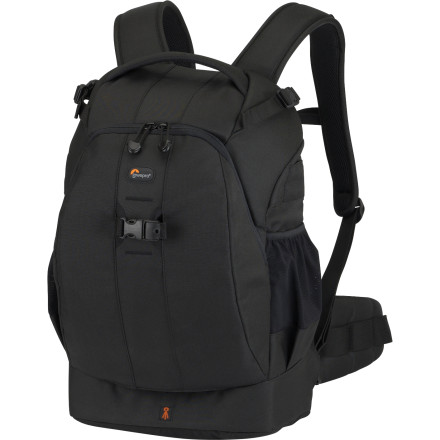 Detail Images
In order to capture that prize-winning shot, stash your trusty gear in the Lowepro Flipside 400 AW Backpack. This high-performance pack provides peace of mind for the photographer on the go who doesn't want to pay for wrecked or rain-damaged gear after an action-packed adventure and shoot.
Purpose-built for large capacity with a roomy interior and adjustable dividers
Built-in rain cover protects your gear from precipitation
Fits four additional lenses as well as accessories
Unique back-entry compartment allows easy access to gear from multiple angles during set-up
Readily accommodates a tripod on the outside
Lightweight padded waist-belt and contoured shoulders help distribute weight and pressure
What do you think about this product?
Have questions about this product?
Great Camera Bag, Poor Back Pack
1) Not made for backpackers. Uncomfortable and not easily adjustable. It hurts to where it.
2) You have to lay the bag down on its back to open it and get the equipment out. Just great in dirty enviornments and poor weather.
3) If you want to make a better bag, Buy a LLBean Mountainside Backpack 278910 OLYK9( 1200.
It's main features are: Three separate water resistant zipper compartments. An open access compartment for tripod and umbrella. It is easy to adjust with unique strap adjusters at shoulder height. It's easy to get on and off. And it's comfortable. However, it is not made for camera equipment. So, I have to foam it myself. But it has tons of room for anything one might need to carry along.
Questtion, what is the purpose of your bag? Not for backpacking into the rough, I would assume. I certainly wouldn't take it to a wedding shoot, would you?
Howie