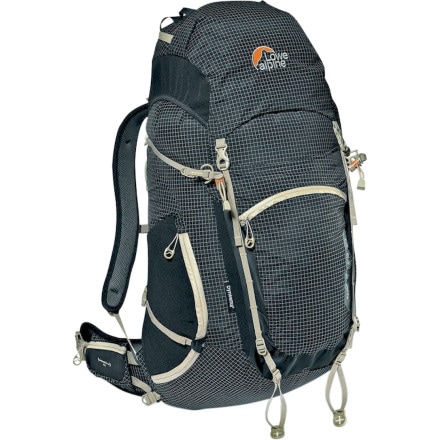 Detail Images
When there's nothing in front of you but a hundred miles of unexplored trail, weight matters, so travel light with your bare necessities inside the Lowe Alpine Nanon 60 Backpack. Shed some poundage when you cram your ultralight gear inside the expandable and durable Nanon, without giving up features that keep your body psyched to hike.
Centro torso system adjusts to your individual back length for a truly custom fit
Mesh on back panel, shoulder straps, and hip-belt provides a cool, cushy carry without too much weight
Top lid expands for 600cu in of extra space
SOS panel in the top lid illustrates standard mountain distress signals in case of an emergency
Trekking pole / ice axe loops include tip grabbers to prevent snags and tears in the pack
Share your thoughts
What do you think of the
Lowe Alpine
Nanon 50:60 Backpack - 4000 cu in
? Share a...
Unanswered Question
Posted on
This pack works also in lidless mode....
This pack works also in lidless mode. Anybody knows the weight of the lid alone?
Thank you very much
Posted on
Superb, for light and comfy hikers
Feel like you have a two-car garage for your Vespa scooter? Here's the answer, at least for those who like a little comfort while packing light. This pack has the right level of down sizing from an Exos 58 with the right level of simplicity and support. Putting this on loaded was like a stranger giving me candy...

I give this product a 4.5 on a scale of 5: it really is very near to the pack I've been craving, since I carry a load of about 25 lbs for one week of on/off trail backpacking trips in montane and alpine zones. I bring a solo tent, pad, down bag, and cannister stove. What matters to me in a pack is balance, good support with the frame, and simplicity. This is a very fine pack on all three counts.

The balance is very good for a pack that pulls away from your back (i.e. "breathable"), although I find this feature is not worth the little extra sweat it takes to have the pack hug close in times of ridge scaling, creek crossings, or blowdown traversing. However, back space is all the rage in light packs these days, and with a load of 25lbs or less it is not really that much of an issue.

The material is bomber and there is little to snag and trip you up when off-trail in the wilds. The capacity of the pack is perfect for me, with the 50L being more than enough for a week long trip. The extended collar is superfluous for me but it may be useful for others who pack bulkier (but light) gear. The narrow webbing is plenty hefty enough for the task required and the zippers are sufficient. The bottom loading access is very handy for a rainy day when your tent is at the bottom of the pack and you don't want to unload all your contents to get to it. The Dyneema material is exceptionally tear resistent which is probably why Lowe Alpine doesn't bother to reinforce the bottom area around the frame. With 20 days of backpacking use so far, I haven't seen the slightest sign of wear in this area. The single external zip pocket on the front is all I needed to carry repair kit, toilet kit, towel and toilet paper. The "catch-all" expandable pocket beneath it is sufficient for wet gear (I get rained on a lot), shovel, and sitting pad. The side pockets I use to carry tent poles, rain cover (maybe not necessary with this pack), and smelly socks. The top lid is positioned well for a reasonable load so that it stays up and on top, and does not sag down the front of the pack (which can disrupt the balance of many packs, like an underpacked Exos). Since I don't use trekking poles, I tied the pole loops into the daisy chains stitched onto the front, with little effort.

Pros: A quite, durable, comfortable pack with loads of 25-30lbs. Stable, simple, and tough. For people 6 feet tall and under, with "light comfortable" hiking styles, this is a top choice. Pack weight is light, though not the lightest. However, I honestly can't tell the difference between a 25lb loaded pack (Nanon) and a 24.8 lb pack (Exos) at the end of a 20-mile day; i.e. this will do you just fine. Easy-to-adjust frame mechanism. Snug, compact load.

Cons: Tall people, or those with a long back and skinny waist, will find this pack to be either too short in the frame or too wide in the waist belt. I'm 5'9" and 150 lbs with a 30" waist, and I have to pull the belt in to the buckle (as far as it goes). But then, with only 25 lbs of gear that is not much of an issue. Also, the lack of a manual and very little online information about the use of the pack is tricky (if you are experienced with lots of packs, this will not be an issue).

Very well done, Lowe Alpine!
Posted on
Highly rated in Backpacker Mag June 2010 issue
Lowe Alpine's Nanon 50:60 got a great write up in the June 2010 issue of Backpacker Magazine. This pack is included in the field test section on "Gear: Do-It-All-Packs" on page 62 where the new Nanon pack was touted as the "lightest" and earned a rating of 4.7 out of 5. Not bad. I have used this pack and it packs easily and carries great. Highly recommended. IMO it is one of the nicest packs to date from Lowe Alpine. Perfect for lightweight backpacking, weekend use or longer trips if you pack light.