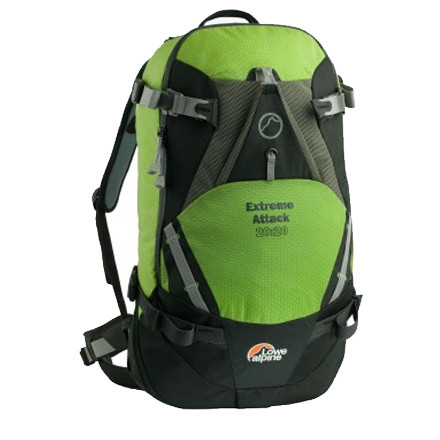 Detail Images
I did not take this pack out on the trail but rather bought it and eventually returned it after trying it out indoors only. I am trying to replace some of Dana Gleason's Mystery Ranch packs and I thought this was the ticket. This is definitely lighter than those but not the lightest I have seen. The outside material includes the amazing superfabric which I would have loved to see more of to protect from sharp pointy climbing gear. The other fabrics used on the pack and the seam stitching look tough enough but somehow left me unsure and "unsure" means it's not going to take this very high in the hills with me. The best thing about this pack is the 20-40 system implementation which I hope is added to all packs since it stays trim and neat no matter which deployment. The adjustable harness is a good addition but I prefer how others are implemented. As somebody mentioned, the tool carrying system looks serviceable enough but does promote some unease as to how secure everything is going to be. So this one is a good pack with nice and useful features but with enough questions to make me keep on looking.
Just wondering the height of this pack...
Just wondering the height of this pack from the bottom of the bag to the minimum retraction/extension of the adjustable back panel. I intend to use this in puddle jumper planes and every inch counts. Thanks.
I'll answer my own question since I got this then returned. It's compact enough so no worries on planes. The back panel does not extend quite like that of the old Dana Gleason Mystery Mountain packs which I was hoping to replace but still prefer (see my review).
Thumbs up: The collapsible part is both sleek and ingenious and it looks and fits well in both configurations. It's great to climb in and I was the only one in my group that didn't complain about not being able to see much.
Thumbs down: The gear attachments are strange and cumbersome. My ice tools felt shaky (though they never actually shifted much)and getting into the pack with tools strapped on is kind of an ordeal. Strapping a rope on top like it shows is horribly uncomfortable and it doesn't have attachments for crampons. (I know, right?)
Overall I'm pretty happy with it but it has some annoying quirks.
Great, durable, full-featured, alpine pack.
First holding the pack in my hands I noticed it's great build quality and attention to details. The suspension was well-formed and the materials feel durable. The features like the rope carry system, the 20+20 expansion, and the ice tool carry were built for function. Overall solid, functional pack.