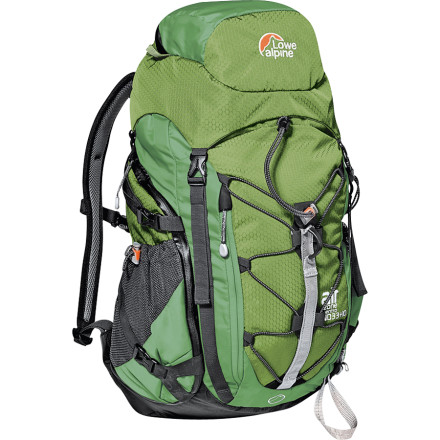 You've trekked the Haute Route and are getting ready for a weekend backpacking trip in Sawtooths. Or maybe you're just getting started in the backpacking world. Get ready for your next decade of adventures and treat yourself to the Lowe Alpine Women's AirZone Centro ND 33:10 Backpack. The combination of a female-focused fit in the back and hip belt, plus AirZone channels along the back, ensure well-ventilated comfort mile after mile. The main compartment expands for an additional 600 cubic inches of space when you're packing for a long weekend trek. In contrast, side compression straps cinch the body into a manageable daypack if 2000 cubic inches is just too much.
Lowe Alpine designates women-specific packs by "ND" prefix. This means the pack contains particular design elements to enhance comfort and fit based on physical differences between men and women. The back is narrower, and the AdapativeFit hipbelt sports a milder angle between the lower and upper portions to account for the distinctly different shape between men's and women's hips. The TorsoCentro Fit on the ND33:10 can be adjusted to fit a range of torso lengths, from 15 to 20 inches. Even with a semi-custom fit, your back could get sticky from contact with the pack. Thankfully, the AirZone breathable back system creates channels between you and the pack so fresh air can wiggle through, cooling you off and taking away some of the heat you generate after hiking all day.
This mid-size pack holds everything you'd want for a summer weekend trip: change of clothes, flip-flops, a lightweight fleece for evenings, rain shell, head-lamp, trekking poles, freeze-dried deliciousness and gallon-bags of trail mix, bivy sack and bag liner, water purifier, and hydration bladder. Dark, rolling clouds don't scare you since this pack comes with its own rain coat, and has space for yours, too.
Women's Torso Fit Centro adjustable-length back, AdaptiveFit hipbelt
AirZone back
2000+600 cubic inches, accommodates max load of 33lb
Side access, side compression straps, mesh side pockets
Rain cover
Hydration compatible
Sternum strap with whistle, key clip
Ice axe/walking pole attachment system