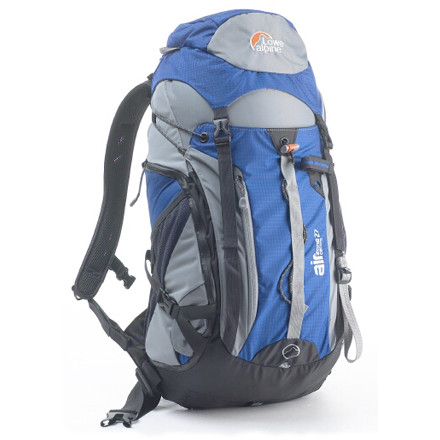 Detail Images
It can get hot during the day on a summer or fall hike. To avoid massive back sweat while you're clambering up the trail, Lowe Alpine made the AirZone Centro 27 Pack with a ridiculously airy back panel and an adjustable torso for a precise fit. While this back panel has minimal contact with your back, it still provides plenty of support for snacks, a wind jacket, and a water-bladder. A front stash pocket keeps sunscreen and trail maps at the ready, while a large side mesh pocket holds your water bottle.
AirZone breathable back panel helps cut down on sweat so you stay comfortable on the trail
Padded, ventilated shoulder straps and hip-belt enhance comfort
Torso Fit Centro adjustable back length ensures that you get a precise fit
Top-loading design makes packing and unpacking easy; zip side entry lets you get easy access to your kit without having to unpack and repack everything
Included rain cover lets you shelter your kit when rains come
Hydration-bladder-compatibility helps you tote your water bladder
A variety of side, front, and internal pockets help you keep your kit organized
Ice axe loop provides a secure attachment point for gear
I love the Lowe Alpine packs, they seem over engineered and very well made with exceptional adjustability. My only complaint is the lack of colors of this particular pack and the inaccurate color depiction of the blue pack. In real life it is more of an aqua color than a dark blue as pictured. Love it though, great pack!!!
Full Featured Weekender gets Shrink-Ray
Gender:

Male

Familiarity:

I returned this product before using it
Lowe Alpine threw the features book at this pack. I've never seen a 27L daypack with an adjustable suspension before, and it is very welcome. The trampoline suspension is very popular for hot weather. It's actually tall enough for the load-lifters to work properly for someone 5'10" to 6' - rare on a sub-32L bag. And the full-opening side entry is a great idea for getting to all of the stuff in the bottom of your bag easily. This is a great 45L weekender bag. Unfortunately, it's only 27L. Trampoline suspensions work best for deeper, taller bags. The frame forces the load away from your back right in the center of the bag. Lowe Alpine was aware of this and made the bag tall and thin to keep the load as snugged in as possible - but the curve of the frame forces weight either too far up the bag or too far to the bottom. It's very tricky to pack a small trampoline pack right. With larger volumes this problem goes away. The side entry is also too much of a good thing. It opens up the whole side of the pack from frame to kangaroo pocket, which gives great access. But the weatherproof zipper loses something solid to work against and you have to use two hands, one for the zipper, one smoothing out the fabric, unless the pack is well stuffed. Other side opening packs use only a straight-line zipper. Not as clear access, but more practical. I really wanted to like this pack, but the bottom line is it needs to be at least 35L to make all the features work well together. I regretfully returned it.
This is one tough little pack! Enough room for an over-nighter or multiday if you pack small without the extra weight. It is well made and very comfortable. I love the waterproof zipper side access pocket, great to get to things you want quickly without unpacking everything. I almost gave it a four because my gear for a 3 day 3 season hike really fills it up but that is not the packs fault so it gets a five. I do tend to carry more than I need.
This is a great pack, the adjustable frame was nice to get a custom fit w/o a lot of work. I just did a 10 mi break-in trip carried everything I needed. Felt supportive w/o all the extra straps and padding you find in other packs - personal preference is I don't need those things for short trips which is what this pack is sized for. The mess back with open space is a nice feature - still sweated but it wasn't trapped. The only downside to the mess is that it wears out the back of a shirt. I had a brand new performance t-shirt on and it it rubbed piling all on the back. So definitely not going to wear anything I care about in the future. The other thing was I couldn't reach the water bottle in either holster with the pack strapped in. But I don't think they could have designed it to do so based on the size/ length of the pack. Overall, it was super comfortable and carried the load evenly which is how I pick a pack. The rest are nice features.