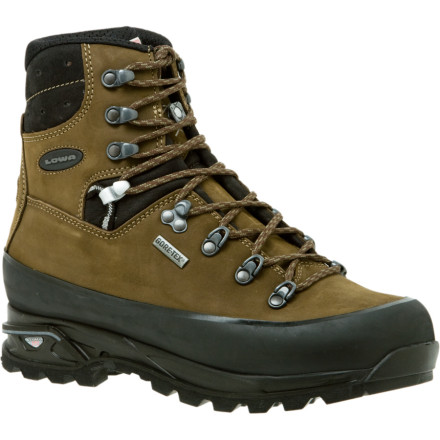 Detail Images
You don't just throw on a pair of sneakers, pick up your 50-pound pack, and head out into the woods. We've seen people try to pull this off. By the end of the day, their feet looked like uncooked hamburger meat. Lowa designed the Men's Tibet Pro GTX Boots to take the abuse of heavy backpacking so your feet don't have to.
Gore-Tex lining keeps your feet dry even when slogging through stream crossings
Hard-wearing nubuck uppers help protect ankles
SPS Dynamic midsole controls over-pronation and supination to reduce fatigue and increase comfort
Tough-wearing, replaceable Vibram Masai sole gives you traction
A 5mm full-length nylon shank for added stability and protection
Simply Great
Gender:

Male

Familiarity:

I've put it through the wringer
They say new boots hurt, these boots are tuff to break in. Its all well worth it. The boots are simply great. Run them thru anything. Bangin!, all the positive claims are true.
You get what you pay for!
This is an excellent backpacking boot that is suited for nearly every environment. They are comfortable to wear all day with a heavy pack and rarely do I have to have a mid-day rest to adjust or change my socks.

I spent a week on the 75 KM West Coast Trail in knee deep mud, abrasive sand, rivers and intertidal sandstone benches and found the traction and adaptability to be greatly superior to other boots I have used on the same trip. It rained for three days and both feet remained dry. Side note - Rocky Mountain proof.

Lowa has refined the gore-tex liner which significantly reduces hot spots that lead to blisters. As my first gore-tex lined boot this is the case - blister free (aside from initial break-in period of 25 km +/-, not uncommon).

The lace-lock is awesome for securing the needed ankle support on uneven/slippery terrain.

I will buy another pair...someday...if I need to!

Cheeers,

BB


Its a fairly good boot, and it a version of it is standard in all mountaineering institutes in India where they use it for everything. But I agree that these boots did soak in a fair amount of water from sweat and would retain it, actually visible on the leather. I took it as an approach boot on Ama Dablam last year, and the residual sweat would freeze causing the boots to become like wearing icechests. Also not a big fan of the lace lock system on the tongue, it positioned by ankle weird causing blisters, but a normal lace up would be fine. But I like the stormtrooper boots very much, they are pretty sweet, and is the best option given the current prospects.
Great, well-made boot with lots of useful and unique features. I have put hundreds of miles on this boot on 4 different continents... Find out more in my full video review at:

backpackersreview.com/gear-review/clothingfootwear/61-a-lowa-tibet-boot
Lowa Tibet Pro Boot Review
I have taken this boot on expeditions to 4 different continents, find out why I like this boot!
I have broken these boots in and hiked around 50 miles in them chasing chukar in the rugged mountains of Nevada. I can say Lowa makes an excellent boot. Great support and very comfortable. Other backpacking boots caused me grief with blisters during the break-in period, but these haven't. I had a pair of kenetek boots and liked them until the waterproof membrane broke down after only 2 year. Didn't want to go through the process of finding a new boot that works for what I need, but can't go with a boot (kenetrek) that is not really waterproof. So glad I did.
Unacceptable performance in the simplest situations
I must say, I had high hopes for these boots based upon the reviews here. And in all fairness, these boots will work in most situations. They are fairly comfortable and if this review was based on comfort alone, I would give them high scores. However, after wearing the shoes for about 12 straight hours, wetness begins to appear on the left and right side of each boot where the shoe flexes where your foot meets your toes. This is due to the humidity inside the boot. Now I cannot say that my foot is more or less humid than yours, but I can say that this has NEVER happened to me with any shoe before. Beyond that, the moisture spots discolor the boot permanently, and now both shoes have sweat circles on both sides of them. While this might be fine for a strictly hiking boot, I use these shoes for work as well. As for waterproofness, if the exhaust from my feet can cause these shoes to become wet on the outside, I don't see how they could possibly keep any amount of water out. I feel like I wasted $300 and won't be buying another Lowa boot.
I'm typically a lightweight hiker. But, when I decided to do a weeklong Daisetsuzan thru hike with my 10-year old daughter, I invested in an 85-liter pack and went with these boots to give me support. Having never owned a pair of heavy-duty hikers, I expected them to be uncomfortable at the start. I was surprised to find that I needed no break in time with these boots aside from wearing them through the airports on the way between Afghanistan and Japan. After that, I hauled a 50-lb pack for 4 days across mud, rocks, and snowfields. I never had so much as a warm spot on my feet. With a pair of gaiters or rain pants to keep the water out of the top, these boots will hold out any amount of water.The feel of these boots is nothing short of bombproof. I really love the tab on the tongue which keeps the tongue from shifting on the boot. The only negatives are that they are heavy and take forever to dry should you let water inside. But, I don't know that one could reasonably expect anything else from a boot like this.

LATER ADDED: These boots have become my workhorse boots. I even use them for winter snowshoeing. They keep my feet dry and my toes stay cozy.
These boots are an excellent choice for those looking for a sturdy boot for carrying loads over rough terrain. A little bit of break in is necessary, but the design and the quality of leather make them hotspot-free. The lacing hardware permits you to tailor the tension to where one needs the most support, and I have no reason to think that this hardware will fail before the rest of the boots are worn out years from now. (Lowa also has a clever peg integrated into the tongue to keep it centered, which is a nice touch). No one boot will fit all foot shapes, but these fit better than any boot I have used to date.