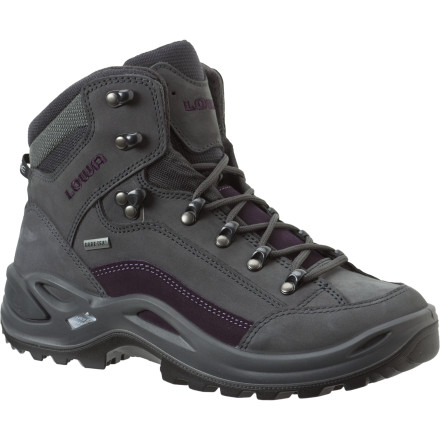 Detail Images
Lowa has upgraded its popular Women's Renegade GTX Mid Hiking Boot with a new Monowrap frame construction that not only reduces the boot's weight but also improves its stability for even greater comfort on your weekend hikes. Combined with a women's-specific last and a stiffer shank for extra support, the Renegade GTX is ready for miles of hiking on anything from gravel roads to boulder-strewn backcountry trails.
Monowrap construction utilizes polyurethane injected around the sides of the shoe to wrap the foot in a lightweight, comfortable and supportive frame
Gore-Tex liners seal out moisture while allowing water vapor to escape so you can ford streams and slog through mud with dry feet
Climate Control System allows air to enter the lining while the walking movement pumps heat and moisture out
Vibram Vialta outsole offers confidence-inspiring traction on mixed terrain
Terrible experience
Familiarity:

I've used it several times

Fit:

True to size
I am not happy to my purchase. After several use, the shoes had problem with sole and not comfortable with that.
Unanswered Question
I'm a geologist looking for a pair of boots that will last for more than half a season. All of the hiking boots I've owned prior to this have fallen apart, and I cant afford to keep buying new ones every year. Unfortunately, I'm not easy on hiking boots, as my research requires me to hike over very sharp rock daily. Any suggestions? Will the Lowa Renegade GTX Mid Boot hold up to long, multi-day field sessions? Please help!
So far so good
Familiarity:

I've used it once or twice and have initial impressions

Fit:

True to size
I first tried these boots on while traveling abroad and immediately fell in love. They were my first purchase when I returned home to the states! These boots were recommended to me based on my feet type (narrow-medium width, normal arches). A few thoughts:



Sizing - I ordered my normal size (Women's 8) and they fit perfectly, with plenty of room in the toe box with medium-thickness wool socks. They are a bit more snug with thick backpacking socks but not enough to size up. If you're unsure of your size, I'd recommend ordering your street shoe size and a half size up, try them on at home, and return the pair that doesn't work. I'd also be cautious about buying these shoes if you have wide feet, as they do seem to run a bit narrow, but Lowa does make the renegades in a wide width.



Break-in period - As other adventurers have reported, these shoes were comfortable right out of the box! I have a lot of trouble finding hiking boots that fit well, as my heels tend to slip/slide against the back of the boot as I walk, giving me horrible blisters. Not in the Renegades! After a moderate 11-mile hike in Big Basin this past weekend, I'm happy to report that I had zero hot spots or blisters!



Durability - I've only used them a few times, so I'll have to report on the longevity of these boots, but so far so good!



Comfort - While these boots are incredibly comfortable right out of the box, I would suggest replacing the insoles if you're going to be using them for anything other than moderate day hikes (<7 miles). Toward the end of my 11-mile journey, my feet were beginning to feel a bit strained. I'll definitely be slipping my Green Superfeet into these boots next time I head into the backcountry for added comfort/support, especially if I decide to use them while backpacking.


Brilliant!
Familiarity:

I've used it several times

Fit:

True to size
These are light for ankle supported hiking boots. I also have a decent tendency to get blisters very easily, especially in hiking boots, however I have had no issues with these. They were comfortable from the very first wear, and are very good quality.
Just What It is.
Familiarity:

I've used it once or twice and have initial impressions

Fit:

True to size
I saw some reviewers bickering (Lori/LSM/Jane) and I feel they have brand loyalty to the point that they felt the need to bash on another reviewer who did not have a stellar experience with these shoes. These are people's opinions and if they didn't have a good experience, it is what it is. As for me, I had a horrible time in these shoes! However, please note part of the reason isn't entirely the shoe's fault. It also had to do with my sizing choice and the other part was due to lack of support. So please, try to be rational and leave your biases out.

It all depends on feet type and whether or not you bought a size up to compensate for toe room and stuff, ladies. For example, I did a 15 mile hike in these and a 9.5 mile hike before that in order to break them in (each time incline was average 600 feet per mile with an occasional 1000 feet per mile in some segments of the hike). I got blisters and my heels felt like the bone was about to fracture in my feet. I was hurting in these shoes. One problem was my fault, I bought these in 7.5 which are my usual size in Vans shoes, etc. I tried these in store and felt the 7.5 was adequate and had enough space including compensating space for swelling due to altitude so I bought these in 7.5. It felt like my toes had enough space with medium cushion socks but when I hiked, those two times, I got blisters and my toes were hitting the top of the shoe and my heels felt like they didn't get enough support. The lack of space for toes and blisters were caused due to my shoes being not big enough. I should have gotten an 8 or an 8.5, but the lack of support is the other problem. Lack of support is out of my hands - the shoe just didn't give me enough support. AGAIN, this is due to the type of feet I have and how heavy footed I am when I hike (I walk heel to toes). I also could literally feel everything under my feet by the end of 10 miles during that 15 mile hike.

To give you more specifics I have narrow/regular (medium) width feet, about 10.75 inches from heel to toe length with a really big index toe. That was where I got my blisters (on each foot, on the big toes, between the crevasses). The other spots that hurt are my heels right on the bottom tip of the Calcaneus bone. I'm giving this a 4/5 because it is a good shoe. It held up really well and was really waterproof. I walked through 6 streams and even slipped on a rock with my shoe in the water up to below my ankle and no water came in.

Definitely recommended if you do longer hikes and if you go up a half or full shoe size with medium cushion socks. I ended up with an 8.5 and it fits great with medium cushion Smartwool hiking/trekking socks. I also use a Berry insole from Superfeet and the hiking experience in these improved immensely. Great shoes once the right size was found and insoles included.
Do these boots have a stiff sole?
Yes, I'd say 7/10 stiffness.
i wonder Lowa Renegade women's size in...
i wonder Lowa Renegade women's size in select option is UK or US size chart
Hey Byungdae,



These should be listed in the US sizing.
Excellent Boot
Familiarity:

I've used it several times

Fit:

True to size
About 15-20 miles into these awesome boots and in love with them! True to size, sturdy, great support and they're cute! Have tested these boots on some very steep terrain and they've saved my ankles from what would have been some very painful damage. Still happy with my choice with or without 30 lb pack!
boot love
Gender:

Female

Familiarity:

I've used it several times

Fit:

True to size
after much research and review-stalking, I got these boots for a 3-week trip to Norway, which included camping/roadtripping for 2 weeks and they actually made me-- a city girl who has to be enticed to participate in nature-- WANT to hike! I'm 41 and have had weak ankles in the past, not to mention a very un-athletic history of movement. I've never broken any bones, but have torn ligaments in my ankles in high school, so I've always been wary about ankle support. and in recent years, I've had knee issues due to turned out knee caps, which result in episodes of pain similar to a twisted knee.



with these boots, I felt like a mountain goat, hiking everything from the steep climb of Morkgonga in Honefoss... to the rocky terrain at Molen (pretty much a field of glacial rock deposits, dabbled with piles of rock cairns from the Viking days) on the south coast... to the mostly uphill 2-hour one-way hike to Pulpit Rock on the western coast near the fjords. in fact, my hiking partner said I looked like "a rabbit jumping from rock to rock."



as others have attested to, I didn't need a "break-in" period. they were comfortable and light from the first use, and I only used one pair of hiking socks.



without a doubt, these boots are one of the best pieces of gear I've ever purchased.




great all around boot
Familiarity:

I've used it several times

Fit:

True to size
I picked up a pair for these about 7 months ago and I'm finally ready to review them. I've been very pleased with their comfort and performance in different conditions. Through snow, mud and ice conditions my feet were nice and dry. I was surprised with how comfortable they were out of the box....and I can confirm after taking them on various trails they are still comfortable after 7 or 8 hours of hiking!



Because of a previous injury, ankle support is a concern of mine. These boots offer great support and I have found I'm able to navigate all sorts of terrain without worrying about my ankle with these Lowas. I wear an 8 in most shoes and these are an 8 for me as well.



overall, these are a great choice for boots, I don't think you can go wrong here!


Great Boots!
Gender:

Female

Familiarity:

I've used it several times

Fit:

Runs large
I love these. They fit slightly large, had to go down a half size. They are rugged-yet-good-looking. I tried on so many hiking boots and these won out. Great ankle support and arch support, (I broke my ankle recently and really appreciate that ankle support) and they just feel tough, like they could take on anything. Good traction on snow & ice and pretty much everything. I've worn them out several times here in Colorado on slushy/snowy/cold days, and they are great. I wasn't expecting hiking boots to be warm, but they are! But not so much that they would be too warm in the summer. Comfortable, NO break-in period, I just can't say enough about these. Before these boots, I had never even heard of Lowa. Now they will be my top hiking boot brand. I would so definitely recommend these to anyone in need of an amazing boot that is ready to tackle anything.



Update: I took these out on a pretty steep trail in the mountains a few days ago. Couldn't have asked for more out of them. Trekking through mud, snow, and ice, they kept my feet warm and dry. I climbed over huge rocks and small rocks and tiny slippery rocks and it was great. [I felt rather like a mountain goat.] Not one complaint whatsoever at all!!
Love Love Love
Familiarity:

I've used it several times

Fit:

True to size
These boots are so comfortable and come in wide, just what I needed for my always sore old broken toe. Good, thick, comfortable padding around the ankles and no blisters anywhere on my first long hike. The soles really grip and the beds are comfy. They are amazingly lightweight for being so sturdy.
Comfy from the start - Run Large
Gender:

Female

Familiarity:

I gave it as a gift but have feedback to share

Fit:

Runs large
I bought these boots for my Mom and this is her review of them.

"I just received my new Renegade Lowa Mid hiking boots a few weeks ago and I LOVE them. I have a very hard to fit foot and am always uncomfortable in shoes, however these hiking boots are comfortable immediately both before and after breaking them in. I find them very stable and comfortable and they don't weigh me down. I was more comfortable in these boots than in regular sneakers (my daughters preference) when hiking. I highly recommend these boots"

Having recently had her second ACL surgery my Mom likes to make sure her feet/ankles are supported and these boots have been successfully doing the job.

She did note that she usually wears a size 8.5 or 9 but these fit her in a size 8.
I have problem feet (bunions) and need an...
I have problem feet (bunions) and need an extra wide boot/shoe. Can anyone comment on the width and toebox?
These boots will run a little large for length with a generous toe box though the midfoot will fit like a standard "D" width.
I purchased a wide which was great for my problem feet!
Just used my boots in Zion National Park, and my boots felt great the entire trip! What more can a hiker say!
Comfy and Supportive
Gender:

Female

Familiarity:

I've used it several times
I need comfortable boots with support for both my ankles and arches. After reading LOTS of reviews, I bought these boots in January 2013, intending to use them for snowshoeing this winter as well as hiking in the coming summer. I have snowshoed twice in them and have worn them around town in Colorado on messy,snowy days--great support, no leaks, no blisters, warm feet. Waaay more comfortable than my previous leather, steel-shank hiking boots. They also accommodate my orthotic inserts when I choose to use them for extra arch support. Can't wait hike in them this summer. Very satisfied with my purchase thus far.
Great boot
Gender:

Female

Familiarity:

I've used it several times
Very high quality and comfortable. I love these boots.
Got these a month before my first Grand Canyon hike. No break-in; they were good from the first wearing. I've hiked from the South Rim to Phantom Ranch three times in the last four years in these boots and they are comfortable on rocks, hills, and in water (snow melt). I carried a light pack, about 20 - 25 lbs. I enhanced them with insoles from REI. That made them more supportive.
I'm still in search of boots for a Philmont...
I'm still in search of boots for a Philmont trek with my son this summer. I tried another pair of boots with a less flexible sole and quite bit heavier but after backpacking in them they were just too klunky and did not fit well. These boots are so comfortable but I worry that the soles are not as rigid as other boots. So my question is: are these boots "Philmont-worthy"?

PS. I weigh 115 lbs, so pack can be at max 35 pounds (i.e., max load will be about 150lbs)
Wore these in 2008 711-M4 And I am still wearing them. I highly recommend Lowa Renegades for Philmont.
ccop149363: yes these are true to size but I did go up 1/2 size because of the extra thickness from a liner + wool hiking sock.



Now to answer my own question in regards to wearing these boots for Philmont. I did indeed wear them at Philmont and I did like them. However, I did ultimately find them a little heavy for me personally given my size and my max pack weight of 30lbs. When I do Philmont again, I will go for more of a "trail" shoe with ankle support than a backpacking shoe. If you plan to have a heavy pack then highly recommend these boots.
Love these boots for easy trails, not too steep of hills. They're light and comfortable.
HOWEVER, when I started going up steeper, rockier trails, they didn't work for me because the sole is too flexible (my feet were tired after the soles bent over every rock and twig), and on steeper trails, my heel slips around enough to cause blisters.
I would recommend these for easy day hikes. I would NOT recommend for backpacking (really, any pack over about 20 pounds, these shoes are not supportive for backpacking).