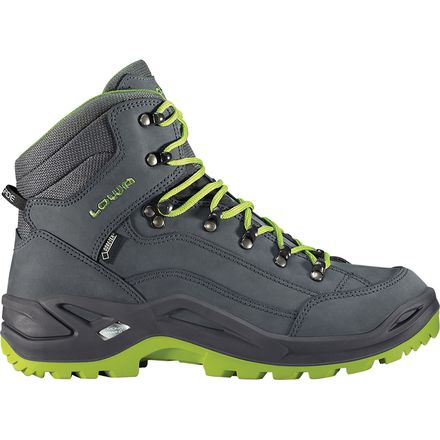 Detail Images

Community Images
Description
Break-in periods are just so old-fashioned.
Get incredible comfort out of the box and many miles down the trail from the Lowa Men's Renegade GTX Mid Hiking Boot. This Lowa bestseller combines a host of performance features with a Gore-Tex waterproof breathable protection from wet, muddy trails.
Monowrap Frame utilizes polyurethane injected around the sides of the shoe to wrap the foot in a lightweight, comfortable and supportive frame
Gore-Tex membrane seals out moisture while allowing water vapor to escape, so you can ford streams and slog through mud with dry feet
Full-length nylon shank provides enhanced support and performance on rugged terrain
Climate Control footbed features perforations that improve breathability
Vibram Evo outsole offers confidence-inspiring traction on mixed terrain
Ultralight = Ultra short life
Familiarity:

I've put it through the wringer

Fit:

True to size
As a backpacking guide I bought these to use on 7-15 mile moderate days with a 45-60lb pack. I never had hiked with a pair of high top boots before and wanted as much support as I could get, even though I do not have problematic (weak) ankles. I was sold with the awesome fit right out of the box and super light weight. However, after breaking them in for a few weeks I did start to get pain in my heel during the later part of 10+ mile days. It did seem to lessen with time, but moving to the Adidas Terrex Fast 475 ultimately made my feet feel better and allowed for better mobility for rocky trails.
I also found the durability to be lacking. If I would have read the specs before buying I would have learned that these boots are only designed for on trail use. I thought this was crazy at first, but it turns out this is more the standard than the exception for this type of shoe. Ok, so they were grossly inadequate for my intended use. Still, I put ~250 miles of on trail use on them before I decided that the longevity was insufficient. The final straw was snapping both shoelaces within a week. It's not a huge deal to replace these, but I expect a $230 boot to have some top-of-the-line laces. I heard that the quality has gone downhill, however it looks like Lowa has released a newer model in Fall 2015.

Follow my adventures up the mountains, down the canyons and around the globe @Frazier_Far_Out
Full leather boot
Familiarity:

I returned this product before using it

Fit:

True to size
This is a very comfortable boot. However I inferred incorrectly from the web description that it was a part-leather, part-nylon upper. The upper is in fact all leather except for the nylon tongue gussets and the padding around the cuff. I am looking for a backpacking boot with more breathability than my full leather boots. Those 2 small areas wouldn't provide enough.
Great Hiking Boot
Familiarity:

I've put it through the wringer

Fit:

True to size
My wife and I have the women's and men's version of this boot. As many have mentioned the break-in time was non-existent and the boots felt comfortable from the very first use. They are very light and we were concerned that they would not hold up to strenuous trail use. After a 12 hour hike through near constant mud, trail "rivers", and boulder climbing these boots did not let us down once. They remained waterproof and the grip was very impressive on all terrain including algae covered boulders. We had a knee cracking near vertical 4000 ft decent in 1.4 miles and these boots kept us holding true even though our wits were frayed. Very impressed.
Way too wide - Didn't order a "Wide" siz
Familiarity:

I returned this product before using it
These boots seem bomber. Super attractive, well made, good quality materials. They are just way too wide. I never knew I had a "narrow" foot till I tried these.

They seem suited for someone with a wider foot, sadly that isn't me.

Craftsmanship seemed on point.
Unanswered Question
I want to but a pair of the Lowa renegade gtx mids but I need a wide. Can you get a wide width at backpacker?
Amazing Boots
Familiarity:

I've put it through the wringer

Fit:

True to size
Out of the box these boots were awesome. They were extremely comfortable and amazingly light for their size. I have used and abused these boots from desert terrain to high alpine slopes. These boots have performed well and held together through scrambles over sharp scree fields in dry, dusty, and sandy conditions. Fast forward to the next several trips and these boots held up and kept my feet dry and warm through hours of kicking steps in soft slushy snow on several alpine peaks... didn't have the urge to double boot and carry the mountaineering boots in. Time and again these boots have proven themselves in environments they were probably not designed for but have held up and kick a%$ the whole time!
Amazing at first.
Familiarity:

I've put it through the wringer

Fit:

True to size
I got a pair of these boots and thought they were fantastic out of the box. Looked great and felt great, water-proof and gripped the ground very well. After a while I took these boots up a 14er, they did not preform well at all. I later used them in the Guadalupe National Park and they fell apart even more. The color faded rapidly as well. For the price these boots were not worth it for me for the small time I had them.
Best hiking boots!!
Familiarity:

I've put it through the wringer

Fit:

True to size
Finally gave in and got a pair and my feet are thanking me with every hike. Got a half size bigger then what I normally wear and they work great with padded socks. Have also worn them with thinner socks and don't have any problems. Easy to clean, water repellency is great, and solid feel.

Best feature I think is the stability in hiking down the mountain. No more foot slipping, solid feel on the ground, upper part of boot has just the right amount of stiffness to keep my foot planted.
Does anyone one know if the leather on the Lowa Renegade's already has DWR (durable water repellant) on it?



I just bought a new pair and was wondering if I should even bother applying waterproofing yet.



If the boot already has some type of DWR coating, I'm waiting to wear it out before applying. If it doesn't have DWR, I'm planning on applying now.



Anyone?


I couldnt find anywhere or anyone who specifically said it had a DWR coating. Usually when companies use a DWR coating they are super proud of it and post it everywhere so we can safely assume it was not. Either way it wouldnt hurt the boot at all, the Gore-Tex membrane should hold any rain at bay.
Thank you Bill.



It's true that Lowa does not mention anything about DWR on their website(s) for this specific model, nor any other if I'm correct.



I did run some water onto the leather and there seems to be some type of repellency going on. However, because Lowa hasn't mentioned anything about DWR I don't know if this is due to the leather's natural nature or if they've applied a very light coat of repellent of some sort already.



Either way I've decided on wearing the boot out first before reapplying anything on it.
What? They fit!
Familiarity:

I've used it several times

Fit:

True to size
I have weird super flat feet and most boots kill me. I bought these in the wide and so far I love them. I just got back form a 20 mile hike with a pretty dang heavy pack and my feet aren't throbbing. We were in the Tucannan/Wenaha wilderness area and we went through every type of terrain, long flat lunar landscapes to steep lush, wet and densly forested areas without any problems. They might not have the flash as some of the others but these are seriously good boots.
Round 3
Familiarity:

I've put it through the wringer

Fit:

True to size
I have a wide foot and these being available from Lowa in a wide had some appeal. Having had 2 other pairs of Lowa's I had high expectations. All 3 run different in width, and these are the narrowest of the 3 (Tibet and Ticam are the other 2 models I have). Very comfortable, have held up well, quite a bit lighter than the other ones as well. I would put these as a nice entry level boot, and Lowa's only get better from here. Water proof, comfy, they could use a little more cushion in the sole, but being that I have a bum knee I have high standards. I prefer a little higher boot for the ankle support, so I tend to use these are flat elevations.
Dry toes in Alaska
Familiarity:

I've used it several times

Fit:

True to size
These hiking boots DELIVER. Just got back from a two week trip to Alaska where I put the beat down on them. Hiked the rocky West Glacier Trail to the Mendenhall Glacier in Juneau, strapped crampons to the Lowas and ice climbed, then took a much harder trail back through inclines, mud, and dense brush. Hiked in hours of solid rain and countless times submerged my whole foot ankle deep in a stream or rain hole. My feet stayed warm and dry the whole time--as in not one drop of water penetrated. Used it for two more regular trail hikes and then went halibut fishing in them. The Vibram soles kept me slip free almost the entire time except once when I slid on wet moss--which will slip any sole ever made. All said and done I hiked probably 20-25 miles total and my feet felt great. No blisters--not even any abrasions or skin irritations thanks to baby powder, awesome hiking socks, and most of all these boots! And to think I got these only because they were the most comfortable hikers I tried on (I went a 1/2 size up to accommodate thick socks and potential swelling). I will wear these until they rot!




Best hiking boot in the world!
Familiarity:

I've put it through the wringer

Fit:

True to size
My husband has put these through the wringer and they've held up well. He is a geologist and has been hiking every day for four weeks straight. No problems. He also wears them when riding is motorcycle and they work well for that too.
Great Hiking Boot
Familiarity:

I've put it through the wringer

Fit:

True to size
I have put some miles on these boots. I live in Tahoe but have taken them to NZ, Nepal, Colorado, Sierra's, etc. and I wouldn't buy another boot because I haven't experienced any shortcomings.
3rd pair
Familiarity:

I've put it through the wringer

Fit:

True to size
I'm on my third pair, which is the good and not so good news. Pluses: VERY comfortable, hike all day boots. Minus: seams start to unravel long before the soles are worn out. I go through one pair per season, though admittedly I'm pretty rough on them -- lots of granite talus and scree in the Sierra high country. They work, so I just buy a new pair every season -- not a good idea to scrimp on boots. In the photo (which was not mean to be a photo of the boots) you can just barely see one of the seams starting to come apart. This has happened with all 3 pairs. At least I get a full season of happy feet for the price of the boots. If you don't hike as much or in the granite grinder of the Sierra, you can probably get multiple seasons out of these boots.
Hooves for Pops
Familiarity:

I gave it as a gift but have feedback to share

Fit:

True to size
My dad is a mountain goat, and needed some boots that would match his hiking abilities. He's been wearing a ratty old version of these bad boys for teaching field geology in obscure locations for the better part of a decade and they were starting to get prettttty sad looking (I'll try to snag a photo). Being the great kid I am, I picked him this years model and he was thrilled. He tells me they fit the same as the old pair, and only took a few hikes to break in. If you are looking to get a durable pair of hiking boots, I would absolutely recommend these, I especially like the high ankles to protect you from sprains and breaks on rough terrain.
Most comfortable boots I've ever owned
Familiarity:

I've put it through the wringer

Fit:

True to size
My boots are about 12 years old now. I've used them to hike and backpack in Shenandoah National Park, George Washington and Jefferson National Forests. Fit great right out of the box. I've never had a blister in these shoes. Great traction on rock.
Excellent
Familiarity:

I've put it through the wringer

Fit:

True to size
The color is as shown, dark grey / rust. Laces are strong and pull tight easily, the 3 hooks (on each side) on the high top part keep the shoe snug around the ankle. The entire shoe is strong, it's not going to fall apart, very durable. The only negative is they are not warm - they are not winter boots, they are spring/summer/autumn hiking shoes
Great boot.
Familiarity:

I've used it several times

Fit:

True to size
I bought these boots and hiked 8-13 miles a day in these boots for a week in Utah. They held up well. My feet hurt only after one 13 mile hike that was solely uphill and downhill (on the 6th day of hiking). I wear these to work because I don't own winter boots. I would recommend these boots.
Great Hiking Boot
Familiarity:

I've put it through the wringer

Fit:

True to size
Have had these for two years now, and after a good wash they look just as good as the day I bought them. They're comfortable, durable, and an overall high quality boot.

Update - I've had these boots 6 years now on backpacking/hiking trips all over the Sierras and they still look just as good as the day I bought them.