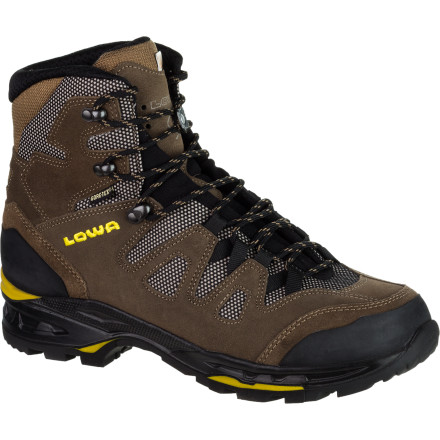 Detail Images
The spring thaw is quickening; the distant peaks call to you, your gear, and your Lowa Khumbu II GTX Backpacking Boot. Built with a Gore-Tex membrane for guaranteed waterproof protection and breathability, the Khumbu II boasts a honed design to help you reach camp before nightfall with plenty of energy for tomorrow's haul. Not only that, but proprietary technology breaks down the bio-kinetics of your stride to keep you efficient and injury-free.
Gore-Tex insert keeps moisture out while allowing water vapor to escape, creating a drier environment around your foot
Leather and Cordura upper resists weather and abrasion while you navigate tricky terrain and weather surprise storms
PU midsole with SPS Cushioning reduces over-pronation and over-supination to optimize energy transfer and reduce the risk of injury
Footbed utilizes slow-reacting foam to achieve a custom fit and reduce fatigue
Patent-pending tongue stud and x-lacing pattern help to evenly distribute pressure
C4 Tongue design contours with the foot for a natural feel and supreme comfort
Unanswered Question
tried some Lowa renegade gtx boots in a store for my kinda narrow foot and they fit well. Will these fit the same as the renegade gtx?
I've owned three pairs...
Familiarity:

I've put it through the wringer

Fit:

True to size
The good : supremely comfortable, so comfortable in fact that single point alone overrides anything else. The Khumbu II is not too wide and supports the foot perfectly. There are no ill placed seams to rub your heels. I overpronate and thus instantly replaced the insoles with Superfeet Green, so I can't comment on the stock insole. I've done two forty miles chase walks without a blister, plus countless miles up and down mountains. They hold well in snow and ice so you can wear them happily for winter mountaineering with C2 crampons.



The bad : These are not leather last half a lifetime boots. I'm now on my third pair in four years (just - there's still some life in the second pair though). The soles are soft and grippy, but wear down fast. The Goretex liner keeps out water for a little while but it will fail on wet heathland, cue Sealskinz socks. The bands securing the laces wear and shear.



These boots are available cheaply enough to be able to overlook the fact you'll need to renew them more often than full leather boots and they're comfortable enough to want to.
Unanswered Question
So, I've just received these boots and I'm a bit concerned about the narrorwness of the forefoot outsole. They are noticeably more narrow than others I have. I have had a habit or rolling my foot outward (supination?) and before I commit to these, wondered if anyone could share any feedback?
How narrow is the heel on this boot? I...
How narrow is the heel on this boot? I have a narrow low volume foot. I wear a 12.5-13. Looking for something stiff enough to go into the highcountry on an elk hunt but will lock my heel in.
The heel on this boot is not going to be extremely narrow, it will be on the average side but provides a lot of cushin so it should fit your low volume foot without an issue. These boots will also be stiff enough for hiking in the highcountry for elk or anything else that you want to hunt after.
Good Combo
Familiarity:

I've put it through the wringer

Fit:

True to size
I have owned a few pairs of Lowas, and I am probably more devoted to the overall brand than I am to these boots in particular. But these boots are great for their blend of waterproofness and breath-ability. Also, these boots will conform to your foot and provide a more comfortable fit than most high-top backpacking boots. These boots are very versatile as I have used them for everything from light hiking to long snowshoeing treks.
Not Tough Enough
Familiarity:

I've put it through the wringer

Fit:

True to size
I got these boots for hunting elk. I used them for about 12 days in September. I liked the fit and feel of the boots, however, by the end of September each boot had a small tear in it. What is more, they were no longer waterproof. I expected more from a boot in this price range.
Foot width is regular? Select options...
Foot width is regular?



Select options is US size?
Best Answer
Yes, foot width is regular and the sizes are US...Low does make narrow and wide sizes that you can find on their website...www.lowaboots.com/catalog/special-sizing/
do these come in narrow widths like a B...
do these come in narrow widths like a B width?
Best Answer
You can find Lowa special sizing on their website wwww.lowaboots.com/catalog/special-sizing/
I have owned a pair of the khumbu's made before the Khumbu 2 and really have nothing but praise for this boot. I tried the 2s out on a trip to give my buddy some insight as to whether he should stock them or not at his store and this was what I came up with after 2 weeks. They were easy to break in very comfortable with a ton of padding around the ankle and the incredible support. The lacing system cinches smoothly and does not undo during wear, the product is GorTex with a water resistant finish that is consistent to wear on the mountain. The vibram sole is of course grippy on most materials when finding proper footing even on wet terrain (watch out for moss and dense lichen though). The boot provides maximal protection to the foot and has the classical high rise of a mountaineering boot. This boot is in the trekking category which means that it is a crossover which could have some positives and negatives depending on what you are after. First of all this boot is incredibly light while still providing protection. This boot does not sacrifice stability by reducing weight, it feels like a light soft shell mountaineering boot. The foot bed is pretty neutral and has a nice articulation of the arch, but I threw a pair of the superfeet in it because I like the feeling of falling forward in a boot. This boot has a lot of qualities of a heavy duty mountaineering boot, with a fraction of the weight. I like that this boot feels insulated and wears warm in the alpine. Snow, rivers and creeks are impenetrable to the inside of this boot, unless you get in over your head. The grip of the vibram performs well above the trees. This boot also does well with a large load. I was doing some mountaineering and had about a 40 pound load all together and felt this boot really accelerated. This was more weight than I usually ever take out but I really wanted to push this boot and see what it could do. I used this in lieu of a mountaineering boot and it even fit a pair of strap on crampons quite nice (we weren't doing any vertical), so I like that it is versatile and able to perform in many different conditions. On to some specifics, the toe box felt adequate. I have a narrow foot and felt there was plenty of room for toe flex and expansion. The heal held my foot in snug with a nice fitting. I wear a 10.5 in almost all shoes, and fit the 10.5 brilliantly in this boot. Some changes of the Khumbu 2 from the original that I really like, are the heal protection and toe protection. There is now a rubber shield on the heal and toe making this newer model a bit more durable and aiding with toe kick. I think this is a big bonus because it also enables for more diverse scrambling and climbing depending on what your catch is.