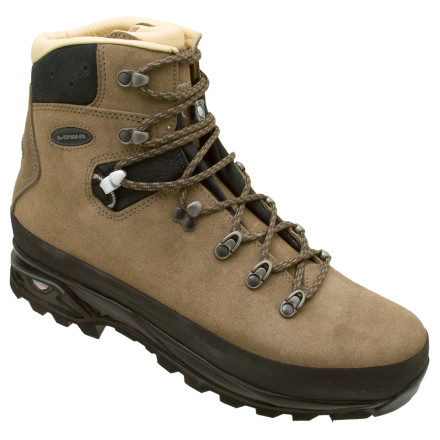 Detail Images

Videos

Community Images
Share your thoughts
What do you think of the
Lowa
Banff Pro Backpacking Boot - Men's
? Share a...
Lowa Banff Pro Backpacking Boot - Men's
Lowa Banff Hiking Boots - tremendous boot
I'll keep this short. Buy up all you can get!
I really wasn't expecting much from these boots. I bought them for wicked cheap, along with Asolo's Powermatic, The Lowa Trekker, the Scarpa SL M3, and the Danner Mountain Light 2. I bought them all through site's with good return policy's so I could really get a feel for them and return them if need be. All except the Danner Mountain Light 2 were really good boots (I personally think the DML2 is an dysfunctional paperweight and a waste of money). I have to admit, the Banff at the get go was the most uncomfortable boot of the lot. However they quickly broke in and became my favorites. I wound up keeping the Lowa Banffs and Trekkers, and getting rid of the rest. The Asolos and Scarpas were great, but even in a wide size they were still too narrow for me in the toe box. However, the Lowas (the one's made in Germany, not the ones made in Slovakia) have a huge, super comfortable toe box. The leather lining in them is also ridiculously comfortable. I've had a problem with blisters on my heels in fabric lined boots like the Asolos and Scarpas, but I haven't had any problems with blisters in the slightest when it comes to the leather lining. I waterproofed them with Nikwax Nubuk water proofer and I haven't had any problems in mud or downpoors. I haven't fully submerged them and there's no way I'm going to. I wouldn't with a Gortex boot either tho. Getting wet on the trail is something that you always wind up doing by accident. You don't just go and looking for that kind of trouble to happen. It might eventually- who knows? But in the mean time, the Nikwax seems to be holding up pretty well.

Lowa is phasing these boots out right now because they're basically the same as the Baffin Pro. This means you can get an awesome pair of backpacking boots for wicked cheap. If you have a wide set of toes like yours truly, give these a chance. They're going to be uncomfortable for a couple miles, but once the leather softens up a bit they will be one comfy pair of boots. Word to the wise tho- huck the insoles and get yourself some Superfeet.

Hope that all helps.
Would backcounty.com be able to get these...
Would backcounty.com be able to get these in a 10.5 narrow?
they don't usually carry narrow sizes (unfortunately). you could always use the chat now feature in the upper right hand corner to be sure, though.
Hi. I bought these boots a while ago now...
Hi. I bought these boots a while ago now and really like everything about them. The soles are about worn through in places. I plan to wear them till my toes touch the ground. I brought them to a local, grouchy, cobbler who didn't impress me as someone who would resole them correctly. I was hoping he'd have a sole to match the one on the boot (I think it's fairly common) but he didn't. Anyway, does anyone know how or where I can get these boots reliably resoled? Thanks for your time.
Dave Page the Cobbler in Seattle has resoled 2 pairs of mine and repaired the liners. Excellent work at a great price. cobbler@davepagecobbler.com
Unanswered Question
I know about these boots having a leather...
I know about these boots having a leather liner, which is just awesome. Leather just cradles the foot like no other. Mammut/Raichle also has some models with a leather lining. Are there any other makers doing this?
These are compltely bomber boots. After owning many pairs of boots over the last 17 years, these are hands down, great. Yes they are on the heavy side. Yes they do take a bit to break in. But they are meant for big loads across sketchy terrain. Not fastpacking 15miles in a day. The insole is flimsy and I feel that for the price, it should include a better one. Quality construction is second to none, and I see these being my go to boot for a long, long time to come.
Lowa?..more like Higha!..
lowa produces an excellent boot. the high quality leather craftsmanship coupled with the vibram sole is easily in the hype with all of its competitors. lowa boots have a good feel to them. pricey tho for sure.
How do these boots fit? Are they wide...
How do these boots fit? Are they wide with high volume or more narrow with low volume? I have a narrow, low-volume foot and am considering getting the narrow versions of these boots over the medium width. Any thoughts?
They are a higher volume boot. Wider toe boxes than something like a Vasque that tends to taper in towards the end, and have greater volume at the midfoot. I'd suggest trying them before you buy them, although I do believe that they are available in narrow widths.
Unanswered Question
hi all,

i use merrell intercept size 11.5,...
hi all,

i use merrell intercept size 11.5, so what size Banff i should buy if i want to wear a thick winter sock, and how is the space in the toe banff's box

cheers

zafar
These are the best boots you could buy. They are worth every cent, and will last for years. I would highly recommend this product to anyone who is looking for a quality.
Bought a pair of lowa banff's for my tree planting job in bc. This job is hiking 10-11 hours a day with a 60lb load on clear cut/logged blocks - up over under jumping from log to log etc with full bag ups of seedlings about 50-60lbs.these boots performed flawlessly. Comfy from day one of the season until the last day. Tree planting will wreck any boot not worthy of itself. Screefing, stomping kicking stuff out of the way all day and these boots are ready for another season no problem.I give these boots 5/5 stars no problemif you are looking at these boots for tree planting dont hesitate they out lasted alot of other 'top' brands such as scarpa and la sportiva no problem and no i wasn't a low baller i am a high baller over 2k almost everyday.the one downside is once they are wet they stay wet for a day or two when in bush camp which can be annoying.
My Lowa, banff was broken the front.
I live in Peru, buy a new boots LOWA, Banff, to use them in Peru, Cordillera Blnca. To the first use, in a simply trail without dificult or rougly terrrain, my foot scrimmage a rock and the leather nubuk it broken. Expect, for many years to be able to buy a LOWA boots, and when I used it broken with a hole was done in front of leather nubuk. Now I ask me, I should change them for another LOWA equal or to change them for another diferent trade mark and model but RESISTANT for rocks in a rough trail with mid a heavy load. Before I had, some boots like a Vasque and Asolo, and never happen. It is that the leather nubuk was wasted or the boot this badly manufactured. Helpme please
I really like my Lowa's. Yes, they are stiff, and maybe a tad heavy, but they offer super protection and support. I have worn mine for backpacking heavy loads, day hikes, bowhunting, and general knock around.

The breathe pretty well, and no they aren't water proof. Water resistant is a stretch as well.

I am on my second sole in mine, and they are holding up well. I did replace the insoles with the heat moldable kind, and liked them better afterwards.
Great boots!! Just one thing though....
These are nice boots. I got alot of miles out of a pair of Vasque Sojourners. The Lowas could be improved upon with a more substantial , padded tongue, which the Vasques hit right on the money. The padded tongue on the Vasques really made a diff. Other than that, can't beat these for comfort and craftsmanship.
Great boots but too heavy.After a day of use my knees were very sore and i had to return them.Never had this problem before.Backcounrty was good about the return tho.
I'm very satisfied with these boots! I have put about 70 miles on them, so far; they are comfortable, provide excellent support, are heavy duty and were just what I was looking for.
First off, the morning after i recieved these boots i took them out on a 12 mile day hike. Bad Idea. After about a week and a half of nursing the lovely blisters i got, i tried them out again. This time i didn't let the buyers euphoria take over and used them properly. I did an 8 miler and a short 4 miler with my lady friend. (You know, right socks, right insoles, proper tempo, etc...) They are properly broken in now and after the addition of the green superfeet insoles i don't want to take them off. If the soles didn't wear out so quickly on pavement I wouldn't. Also a note of importance, If you have thin feet these are the boots for you. Also don't buy these if you are a girly man and don't like stiff boots and don't mind going through some discomfort to get them just right.