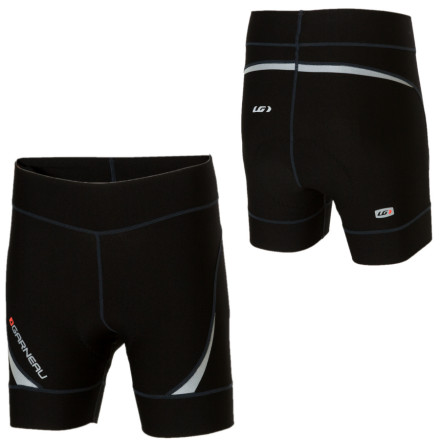 Detail Images

Community Images
Description
Hammer through the hot spots in the Zone 3K short.
When the temperatures are climbing into the '90s and the blacktop is threatening to turn into a bubbling tar pit, keep your cool in the Louis Garneau Women's Zone 3K Short. Your legs won't be sheathed in swathes of unnecessary fabric thanks to the short inseam, which also adds a touch of feminine appeal. For parts of you that do require coverage, the stretchy Alevo 3K features a mesh-like construction that provides great ventilation and excellent wicking properties. A Coolmax Silver topsheet on the Perfo HD chamois provides further moisture management, with the additional advantage of odor control. The chamois shape is also engineered with variable thicknesses for optimum fit and comfort. Louis Garneau's HuggFit waist won't bind around your belly, while the Powerband compressive grippers provide an even, comfortable fit.
Don't even think twice about spending $100 on these shorts. They are the best. I use them for mountain biking- the waist band is super stretchy and feels like I am not even wearing shorts. The legs stay in place and the fabric is very comfy.
Good short, a little short on inseam
These shorts are very comfortable. I really like LG products, I've purchased several jerseys and bibs. The only reason I gave it 4 instead of 5 stars is because they are a little short in the inseam. Wish they were a tad bit longer. I've worn these on rides and in spin class and have been very comfortable.
I need the most padded seat shorts available....
I need the most padded seat shorts available. I'm more concerned with comfort than too much bulk as I'm not doing long distances yet. I prefer shorter shorts as I have short legs and definitely like the support from a stretchy fabric.
Hey Letty,

It's hard to say which is the "most padded" short out there. However, the chamois in these is a great one. Very comfortable. It is also one of the shorter inseams you'll find. Sounds like it would be a great option for you.
Also try Giordana's "Silverline" for starters...top quality, and the Silverline series has a more comfortable fit. Their FR-C line is tops, when you're ready for something more serious (excuse spelling! Hope this still helps.
My first ride in these shorts was a 25 miler. Maybe not the smartest thing I have ever done but they were fantastic. The fabric is super stretchy throughout the whole short, wide waistband feels like you are wearing nothing. Chamois kept me comfy for 4 hours.
Love these shorts! They are my go-to pair right now. I was surprised about the fabric; not the shiny Lycra type. Almost a meshy, soft feeling fabric. Wide leg bands, no grippers (which i think is great!). You know how sometimes when you jump on the bike how you have to adjust your shorts EVERYWHERE... Not these! They just hug you and stretch where they need to. Very cool and breathable. Great chamois.
I returned these shorts. Sorry, guys, but they don't work. The pros: they are made of a breathable fabric. The cons: there is no elastic at the bottom of the leg, so if you try them on and sit down, they immediately run up your thigh and bunch up at the crotch. I cannot imagine riding in them. Not for me!
These are definitely my new favorites. I was afraid to order these because I knew the band around the bottom of the thighs would create the 'sausage effect'. Although they do have that tendency, it's not as bad as I thought it would be, and the chamois is a huge improvement to the Fit Sensors. I am short and the 8" inseam on the premium shorts hits my knee so I was looking for a shorter length. This is 5.5" and it is perfect for shorter riders who care about the length. I have to say, though, they are spoiling me and I may have to order another pair! The fabric is also great for wicking moisture, they dry at lightening speed and keep me pretty cool compared to the other shorts in my drawer. I believe these are the best chamois in this price range.
I've got flabby upper legs, is there a...
I've got flabby upper legs, is there a short that compresses the whole upper leg that comes in a size S or M?
Jackie

I'm sure you would look great in anything! But the way compression works, it can be tough on many body types. LG has redesigned a few compression pieces that are specific to the female anatomy over the males. Check out the LG neo power fit short: http://www.realcyclist.com/louis-garneau-neo-power-fit-short-womens The "half-moon" compression panel on the outside vs the full-wrap compression on most shorts works better with a females legs. You might also look into the Fit Sensors: http://www.realcyclist.com/louis-garneau-fit-sensor-7.5-wsf-short-womens

Let me know if you have questions between these two.
I am not (not yet!) a "lean, mean cycling machine", but I've just got the 'neo power-fit' short, and can say they fit great...not too tight/binding (I'm a street size 10/12, 5'6",and can wear the XL with no problems...no leg-grippers on these, either, and they will ride up a bit, but because they're a bit longer, it's not as much a problem as it would be if they were shorter. Hope this can still help!



F.Y.I. 'Realcyclist.com is basically no longer...as an alternative to B.C., go to Competitvecyclist.com, for most of the same, and for alternate views of products.