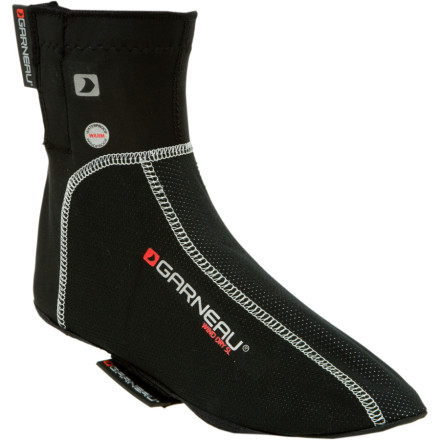 Community Images
Description
Cold feet suck.
Riding in the cold's fine as long as your feet are warm and dry in Louis Garneau's Wind Dry SL Shoe Covers. Thanks to a breathable laminate of Lycra and fleece and a hook-and-loop back opening, these shoe covers are easier to gear up with and less clammy then the old bread-bag-over-the-sock trick. Cleat and lug openings make the Wind Dry SL perfect for CX racing, while reflective tapes and logos make it just as good at warming your toes on dark rides along the road.
Good for wet & wind, but traps sweat
Familiarity:

I've put it through the wringer
These will keep you dry from the outside, but it traps sweat. They are good at keeping moisture out, but will also keep the moisture in. When below 40 degrees, my feet will not stay warm past the 1.5 hour mark - that's about the time it takes to build up enough sweat that it starts cooling down my feet. They are easy to put on and they work well with road or mtb shoes.
Great cover but you need to baby it
Familiarity:

I've put it through the wringer
I wouldn't say these are perfectly water proof but they are a great barrier and have kept my feet dry and warm in light Denver showers and when the roads are wet but I have gotten wet (but still warm) feet in full downpours. honestly nothing is perfectly waterproof (even drysuits and they arn't very cycling friendly). The reason I'm only giving 4 stars is the material is kinda thin making me want to baby them.
I found these warmer than expected, and they have been durable so far. My wife has the same ones, and she likes them as well. The putting them on before the shoes thing is easy to remember after the first couple of times, and I think it actually allows them to use a simpler and superior design. Why pay more?
Decent Warmth. Sub Par Quality
These covers kept my feet reasonably warm for an hour and a half to two hours in 30 degree weather. After that your feet get cold and stay cold. Very windproof yet they lack very good insulation. The fabric that covers underneath the toe ripped on both covers very soon after wearing them and left a small round hole.
Loues Garnea Wind Dry SL Shoe Cover
Worn in 30 degree weather, over Sidi road shoes. Feet were relatively comfortable. After about 2hrs my toes were getting cold, but not crazy numb like without booties! They are wind resistant, with a slight fleecy interior, but not thick material. (I am considering lining them with wool for more warmth.) Only drawback is that you must put them on before your shoes, then after shoes are on, pull the cover around your toe to fit onto your shoe and attach the Velcro tabs on the under foot. Fine once you get used to it. (Getting dressed to ride in the winter is a bit of a process) There is a Velcro closing gusset at top of ankle, to make room to pull on over thick winter socks, and silicone leg grips seal out rain.